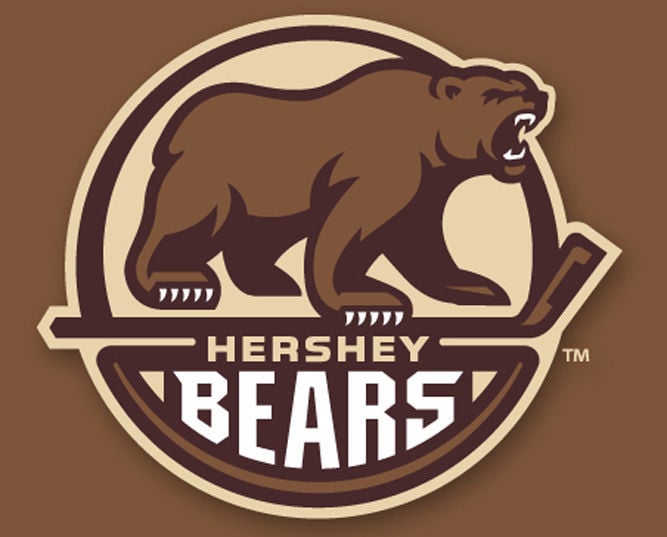 WILKES-BARRE — Pheonix Copley pitched a 31-save clean sheet in goal, and the Hershey Bears blanked the Wilkes-Barre/Scranton Penguins, 3-0, on Friday night at Mohegan Sun Arena. The shutout marked the 12th in Copley's professional career, and seventh with the Chocolate and White.
The Bears earned a power play chance only 1:36 into the contest after Jan Drozg was flagged for hooking. On the man-advantage quarterbacked by Bobby Nardella, Christian Djoos fired a shot off Casey DeSmith's leg pad, and the rebound sat perfectly for Matt Moulson. Wide open in the low-slot, Moulson buried the loose puck into an open frame at 2:28 for his 16th goal of the season. Shots after 20 minutes were 13-12 Hershey with Moulson's goal standing as the lone tally.
Once again in the middle frame, the Chocolate and White struck early. Garrett Pilon forced a turnover in his defensive zone and rushed north on a quick transition. Liam O'Brien feathered a perfect pass across to Pilon in the offensive end, and Pilon waited DeSmith into the butterfly, and stuffed a shot topshelf into the net at 4:32. Copley remained busy in net for the Chocolate and White, turning aside all 14 shots faced in the period. Shots after 40 minutes were 26-22 Pens.
Hershey finished the night 3-for-3 on the penalty kill, and two of the three kills came in pivotal moments during the final frame. The Bears successfully killed a tripping minor assessed to Nardella at 37 seconds, and Colby Williams was later framed for holding the stick at 17:05. The latter penalty resulted in a 6-on-4 power play for Wilkes-Barre/Scranton with DeSmith pulled for the extra attacker. O'Brien rounded out the scoring with a shorthanded, empty net goal at 18:42. Final shots on goal were even at 31-31.
The Hershey Bears record improved to 29-15-2-3 on the victory. The win also lifts Hershey into a tie for the Atlantic Division lead with the Hartford Wolf Pack at 63 points.
Be the first to know
Get local news delivered to your inbox!