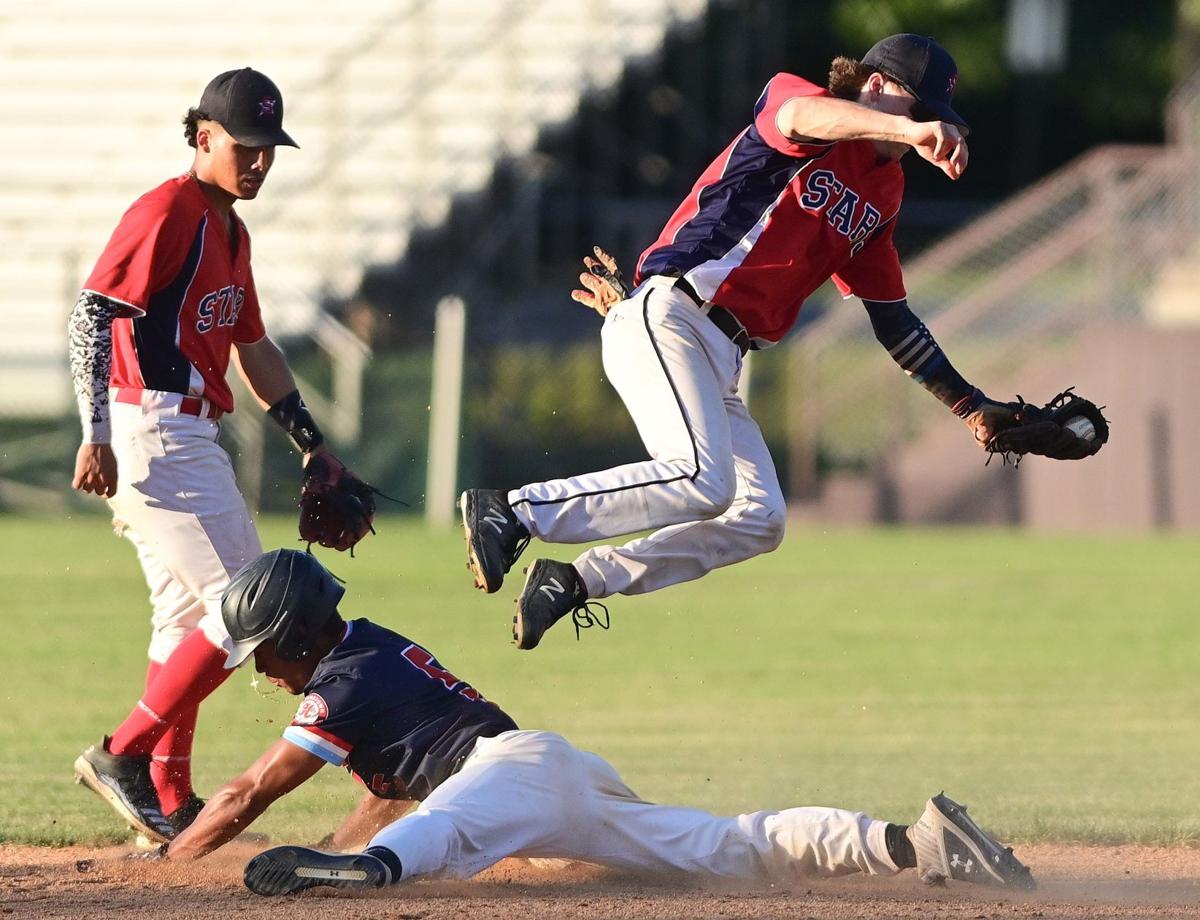 After the capsizing of the long-standing West Shore League last season, area Twilight baseball teams had to fend for themselves during a seemingly unrelenting and question-riddled pandemic.
Mechanicsburg — the West Shore's final champion — joined the York Central League, Enola and New Cumberland found a new home in the East Shore League, and Shippensburg and Newville merged, before transferring to the South Penn League.
It took some adjusting and patience, but after the storm settled and the pandemic slowly began to wane, Twilight baseball returned to its new homes for the summer with a slate could make any baseball fan's mouth drop and eyes widen.
Heading into the first weekend of July, Shippensburg holds the top spot in the South Penn League — with nine games remaining — while Mechanicsburg, Enola and New Cumberland all remain in the hunt for berths in their respective league playoffs.
Here's a midseason update on the five Sentinel-area Twilight teams with standings, stats and information on each ball club.
Shippensburg (Record: 16-1)
No team across the three local leagues is in the driver's seat any more than Shippensburg. Josh Petty's squad has kept the pedal down the entire season, in both the batter's box and the pitcher's mound, leaving any and all competition in the rear-view mirror. The Stars draw from the trifecta of experience, talent and team chemistry.
Shippensburg's only loss came June 14 at the hands of Littlestown, a 7-6 score. Since the defeat, the Stars have outscored their opponents 54-5. On the season, that edge stretches to 124-34.
"We've been able to get the job done up and down our lineup all season," Petty said.
As expected, Shippensburg bodes a handful of Shippensburg University Raiders in JuJu Cason, Justin Darden, Joe Barbera, Nick Zanic, Ethan Miller and Braden Petty. They back that bunch with high school standouts Carlisle's Jace Fetterman and Northern's Tommy Molsky. And to round out the 1-2-3 punch, former New York Mets farmhand Todd Weldon — the reigning league MVP — leads the seasoned cluster of the roster.
"Our pitching staff is the heart of our team but when we click on offense, we're definitely dangerous," Petty said. "And if our pitching can keep it up, I see no reason why we wouldn't be there at the end of the road."
Mechanicsburg (12-5)
It never hurts to have some postseason experience on your roster. And that's exactly the situation hall of fame skipper Bill Rickenbach finds himself in, as the Cardinals boast a plethora of playoff-tested players who have such experience, specifically high school players and alumni from Red Land, Cumberland Valley, Boiling Springs and Trinity.
Rickenbach's prolific roster begins with Brady Ebbert and Braden Kolmansberger, who played for the Class 5A runner-up Patriots in the spring. Logan Sauve, West Virginia University commit, and Zane Grimes have CV Eagle ties, and Charlie White and Maika Niu represent the Bubblers and Shamrocks. The Cardinals also sport some local Wildcats in George Mason University signee Josh Jamiolkowski and up-and-coming freshman and Duke University commit Jeff Lougee.
Mechanicsburg feeds off the energy of its starting rotation, a group that's posted a combined 2.61 ERA. Kyle Otstot, Riley Shafer, Teed Wertz and Travis Miller make up the quartet of starting arms. Otstot has yet to allow an earned run in 18 innings of work and Miller's line consists of a 1.75 ERA, a 4-1 record and 22 strikeouts in 28 innings pitched.
Wertz, Niu and Sauve fuel the Cardinals' success at the plate. Wertz is hitting .522 in eight games while Niu and Sauve currently bat .440 and .389. Ryan Gray has also contributed a .340 batting average to the cause and all the team's home runs (four).
Mechanicsburg holds a five-game win streak following a three-game skid.
He's the winningest manager in semi-pro baseball history. And this week, Rickenbach added to one of the most untouchable records baseball may ever know, picking up career wins 2,800 and 2,801.
Enola (6-4)
It's a challenge for Express manager Doug Knull to select his starting nine every game as the 11-year skipper's roster is flooded with past and future major-league talent.
"[It's] a good problem for a manager," Knull said via text.
Former MLB top prospect Joel Guzmán heads the roster. The 36-year-old, a former international signee with the Los Angeles Dodgers, provides the "pop" in the lineup. He hit a pair of the home runs in Monday's 16-10 win over Perry County.
On the mound, Enola features University of Vanderbilt signee and MLB Draft hopeful Michael Morales. The right-hander clocked a mid-90's fastball most of his senior season with East Pennsboro High School in a repertoire that includes a curveball and a changeup.
Other notables include the Cumberland Valley tandem of Tyler Dunn and Jerry Crispino, former Brewers minor leaguer Roberto Escalet — and his son Alejandro Escalet — and former and current college standouts Drew Kramer, Zach Sacoman, Dave Hafer, Max Miller, Mike Lebo and Max Cathers.
After taking some time to warm up, the Express bats have driven in 29 runs over their last two contests. They sit in second place in league standings at the midpoint of the season.
New Cumberland (5-4)
Manager Ryan Stephenson's crew is rife with Cedar Cliff roots. The crew — minus a handful of high school players — goes way back. The team's roster also includes 11 players with NCAA Division I baseball experience. It has helped the team settle into its second-year home, following an East Shore title in its inaugural season.
"Last year was very different," Stephenson said. "It feels good to get back to some sense of normalcy."
Second baseman Tyler Orris and pitcher/first baseman Vince Molesky are the pair of featured returning names for the team this season. Orris, a Millersville University product and 2016 33rd-round MLB Draft pick, spent one year in the Rockies farm system with a .197 batting average, 24 hits and 11 RBIs. Molesky is owner of a five-year independent baseball career. He played his most recent pro ball in 2019 with the Somerset Patriots — now the New York Yankees Double-A club — in the Atlantic League.
Stephenson also has some younger talent in William Stambaugh, Gabe Kocher and Brady Ward. Stambaugh and Kocher rep one more season in a Cedar Cliff uniform, while Ward — a 2021 Mid-Penn Commonwealth Division Second Team All-Star — plans to play at Penn State Harrisburg in the fall.
The Tigers are fifth place in league standings but remain only a half-game back of Hummelstown and Enola.
The five remaining teams have already joined other twilight leagues in south-central Pennsylvania, shuttering a league that dates back to World War I.
Dillsburg/South Mountain (5-11)
While Dillsburg's dropped 11 of its 16 contests, there's still a lot of baseball left to play. And first-year manager Brandon Wallace has the correct set of players, especially pitchers, to right the ship.
The Sox have multiple arms they can turn to with five pitchers currently firing a sub-4.00 ERA, each seeing a minimum of two innings of action. Carlisle alumnus Colby Saussaman owns a team-best 2.82 ERA in 17⅓ innings of work. Following him, Tyler Yohn, Jam Heisey, Zack VonStein and Kenny Runkel round out the quintet with ERAs of 3.00, 3.13, 3.50 and 3.93, respectively.
Dillsburg's struggles stem from the plate. The team has five batters above the .300 mark, but 10 others fall below .200. The Sox have found consistency in Yohn, Toby Sponseller — last year's league MVP — and Dylan Pentz, who each hit at least .300 across a minimum 10 games.
Wallace said Dalton Miller and Cam Kearns have also been major contributors. The duo is tied for third on the team with 10 hits apiece.