P Hunter Schryver
Team: Charlotte Knights (White Sox, Triple-A)
Last week's stats: 0-0, 2 IP, 0 H, 0 R, 0 ER, 1 BB, 4 K
Summary: The native Pennsylvanian returned to familiar territory over the weekend, making his return as a pro to his home state Friday through Sunday during a road trip against the Lehigh Valley IronPigs. The Cumberland Valley/Villanova grad tossed a scoreless inning with three strikeouts and a walk in front of friends and family in his only appearance of the series Saturday. The week was easily his best since his recent promotion to Charlotte, the first week in which he allowed zero runs. The effort lowered his ERA at this level to 4.32.
Cumberland Valley grad Hunter Schryver answered some questions before the Charlotte Knights take on the Lehigh Valley IronPigs on Friday.
P Ben Dum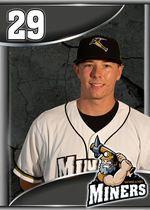 Team: Elizabethton Twins (Twins, Single-A rookie)
You have free articles remaining.
Keep reading for FREE!
Enjoy more articles by signing up or logging in. No credit card required.
Last week's stats: 1-1, 4.2 IP, 6 H, 3 R, 3 ER, 0 BB, 8 K
Summary: The West Perry product continued to get used in multiple innings in his first run with a minor league organization. Dum made three appearances last week, including two more that lasted two innings. He's now tossed 6.2 innings since joining Minnesota's rookie team. Dum did get rocked for four hits and two runs in a loss at Kingsport that lasted just two-thirds of an inning, but he bounced back with stronger performances in his next two outings, striking out three each time.
Turns out, the wait wasn't too long.
P Michael Hope
Team: Fargo-Moorhead RedHawks (independent)
Last week's stats: 0-0, 2 IP, 2 H, 1 R, 0 ER, 1 BB, 0 K
Summary: The former Camp Hill product continued a rocky stretch that's lasted two weeks now. Since July 30, Hope has struck out just one batter and allowed seven runs, six of them earned. Fargo-Moorhead did win at Gary in Hope's lone outing of the week, which lasted two innings.