That's what the players participating in the Beach ParaVolley World Series Tour call themselves, according to Team USA player Dave Newkirk.
The athletes don't consider themselves to be impaired. They play in the "same capacity, rules and playing field that traditionally labeled able-bodied athletes do," and play in all of the same tournaments.
Newkirk, a 1991 graduate of Cumberland Valley and a former boys volleyball player for the Eagles, and Dan Mickle, a 1992 Red Land grad, New Cumberland resident and a volleyball coach and player for more than 20 years, competed in the first ever Beach ParaVolley World Series Tour in Pingtan, China, in early May.
What is ParaVolley?
ParaVolley, or standing beach volleyball played with teams of three players with different limb differences or impairments, works within the Paralympic classification system.
"These are not specifically mobility related, but can be," said Newkirk, who has been missing his left forearm just below the elbow from birth and wears a prosthesis. "There is a classification system which rates players based on aspects such as limb absence (length of limb) and loss of muscular function. For example, a person missing their leg below the knee with a sports prosthesis would be classified as a B, where someone who is missing their hand but has a functional wrist would be classified as an A. An upper limb athlete with a prosthesis would be considered an A unless the prosthesis is shorter than the other side's wrist."
Unlike traditional beach volleyball with two-player teams, beach paravolley has three players on a side. According to the World ParaVolley rules, a maximum of one player per team can be an "A" classified player.
Each match is a best-of-three set format, with the first two sets going to 21 points. The third set, if needed, goes to 15.
Newkirk, along with teammates Eric Duda and Chris Seilkop, won gold in the tournament, beating Poland 1 — there were two teams from the country — 2-1 (21-19, 14-21, 15-8) in the final. The U.S. beat out Slovakia in the semifinals 16-21, 21-5, 15-12.
Mickle, the team's coach, did not make the trip. The players paid for their own travel and lodging, and in Mickle's place the U.S. sent Bill Hamiter, the director for sitting volleyball for Team USA, and coach Jon Aharoni, Mickle said.
Mickle made the most of his time back in the states, though, even if that meant staying up into the late hours of the morning staring at the broadcast on a screen.
"[It was decided that] I would just stay back and analyze the video and give feedback from afar," said Mickle, a 2000 U.S. Open Beach National Champion and coach to multiple Association of Volleyball Professionals teams. "It was kind of a bummer that I didn't get to see it live, but it was really awesome to stay up at 4 a.m. and watch these matches and analyze the video feed. It felt like I was there as much as I could be."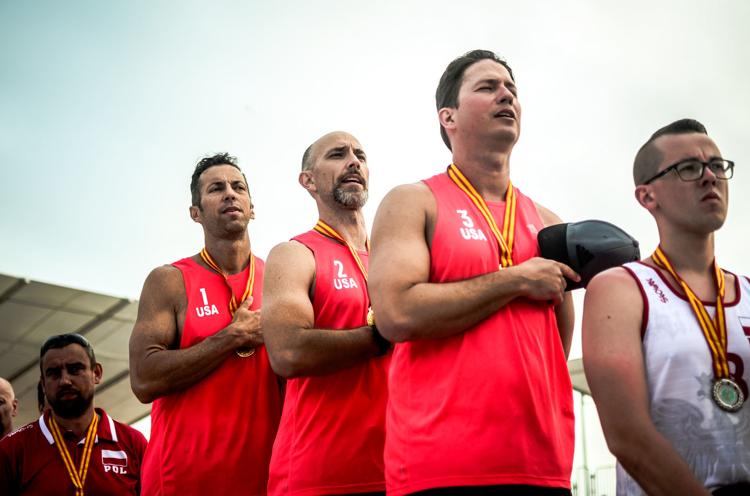 It was fate
After the Sydney games in 2000, standing volleyball was dropped from the Paralympic games in favor of sitting volleyball. But in the early 2010s, Beach ParaVolley formed in Europe, as well as parts of Asia, Mickle said.
In 2015, Newkirk and a few others formed a team to compete in Pattaya, Thailand, and lost in the final for silver.
And as fate would have it, Newkirk and his team — now under the U.S. banner thanks to USA Volleyball stepping up as the national governing body — saw Poland once again in a final.
"Two of the guys for the Polish team were the same guys that they lost to in 2015," Mickle said. "That was kind of the driving force, you know, that things would be different. ... Our veterans have just been at the same level for years, so we knew we had a pretty good chance to get back on the podium."
This time it was different. The U.S. had to overcome visa issues that cost them their first two pool play matches, forfeit losses to Poland 1 and Slovakia. Newkirk and Team USA won their final game in pool play, then went unbeaten in the playoffs to win.
"I've played the sport for 30 years now and have had success at various levels, but being able to captain the team on a big stage with the guys I've known for a long time was pretty incredible," Newkirk said. "I've played with Chris since 2005 and Eric since 2001. Winning is great, but sharing the win with teammates and our coaching staff was pretty special."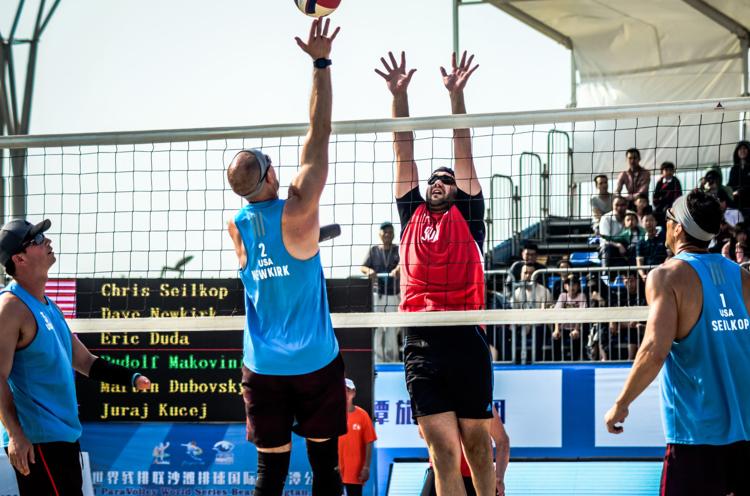 The road ahead
Right now it looks as though there is a good chance that the Beach ParaVolley World Series Tour will make its return in the coming years, Newkirk said.
When asked if either Mickle or Newkirk would join the U.S. team again, both didn't hesitate to voice their support.
"I loved it," Newkirk said about his time in China. "We did not get to spend any time touring, but the facilities and the people who we were able to meet and interact with were outstanding. There's a chance that this venue might host a world event again, and I would love to return."
Newkirk, who now resides in Olathe, Kansas, and is married with two kids in college, works with the NubAbility Athletics Foundation, which "exists to encourage, inspire, instruct limb different youth (congenital or traumatic amputees) by getting them out of the stands, off the bench and into mainstream sports."
Mickle said his teams were already training for the next cycle.
"We have a training block in two weeks in Oklahoma, and then we're going to train in July in Florida," Mickle said. "Then we'll do one final training block in Oklahoma again in August. By then we should know what the schedule is going to be for the next coming cycle. Poland and Australia are maybe looking to host the event."
Newkirk has no plans to give up his passion just yet.
"Although at almost 46 years old and I've been playing for 30 years, I have no plans to slow down," Newkirk said. "I've been able to take reasonable care of myself and remain in shape through rigorous strength training regimens four to six times per week. And as long as I can keep that up without injury, I'll continue to play.
"We've got a great program started, and with the help of our coaching staff and our willingness to learn, I believe that I could remain competitive enough to play in the 2028 games. You never know."