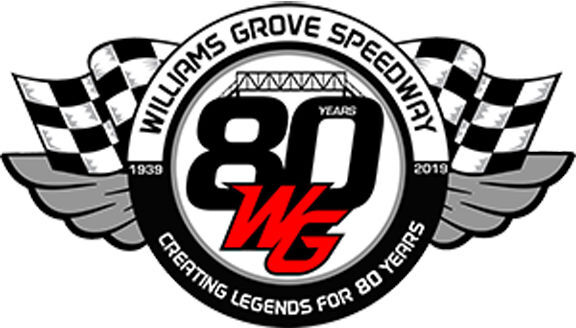 Danny Dietrich took advantage following a Lap 18 restart, snaring the lead from Anthony Macri to earn his 25th career win at Williams Grove Speedway.
The veteran claimed Friday night's 410 sprints checkered flag by 2.616 seconds. Macri was a bit off over the final seven laps, slipping to third behind Brent Marks. Macri and Dietrich battled nearly the entire race at the front of the pack. Brock Zearfoss and Lucas Wolfe rounded out the Top 5.
Carlisle's Derek Locke clinched his first career victory in the 25-lapt 258 sprints. Locke led wire-to-wire and fended off hard-charging Brett Wanner in the final laps.
Williams Grove Speedway Results
410 sprints, 25 laps: 1. Danny Dietrich, 2. Brent Marks, 3. Anthony Macri, 4. Brock Zearfoss, 5. Lucas Wolfe, 6. Ryan Smith, 7. Freddie Rahmer, 8. Jason Solwold, 9. Chase Dietz, 10. Matt Campbell, 11. Adrian Shaffer, 12. TJ Stutts, 13. Brett Michalski, 14. Nicole Bower, 15. Troy Fraker, 16. Tyler Ross, 17. Chad Trout, 18. Cody Fletcher, 19. Steve Surniak
358 sprints, 25 laps: 1. Derek Locke, 2. Brett Wanner, 3. Dylan Norris, 4. Jordan Strickler, 5. Scott Fisher, 6. Jordan Givler, 7. Brett Strickler, 8. Rich Eichelberger, 9. Chad Criswell, 10. Matt Findley, 11. Justin Foster, 12. Russell Hammaker, 13. Nat Tuckey, 14. Mark VanVorst, 15. Billy Heltzel, 16. Hannah Riser, 17. Zach Newlin, 18. Kyle Denmyer, 19. Chris Frank, 20. Wyatt H inkle, 21. Doug Hammaker, 22. Travis Scott, 23. Tyler Templin, 24. Kevin Nouse
DNQ: Brett Rose, Ashley Capetta.
Concerned about COVID-19?
Sign up now to get the most recent coronavirus headlines and other important local and national news sent to your email inbox daily.