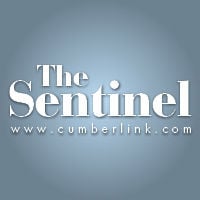 It was business as usual for the Cumberland Valley boys basketball team.
The Eagles put together a tough, complete game, including 21 points in the second quarter, to edge Mechanicsburg 66-56 in their second game of the season.
"Obviously, this season we are going to celebrate every win that we get," head coach Dave Vespignani said through text. "Mechanicsburg has a good team that will win a bunch of games. I thought overall we did a good job offensively of moving the ball and getting open looks. To our kids' credit, they knocked them down. Defensively we need to be better moving forward and that will be our focus. 
"We are happy to get the win tonight and our focus is now on Chambersburg and our Commonwealth [Division] opener on Friday."
Sam Sherry, a 6-foot-9 Elon commit, put up a team-leading 22 points and four 3's to lead the Eagles and scored the first eight points for the team. Max Krevsky added 15 points. Tyree Morris put up a game-high 30 points for the Wildcats, going 8-for-13 from the line.
Freshman Jake Knouse was lights out from deep, knocking down seven 3-pointers to finish with 23 points, but Big Spring lost at home to Greencastle-Antrim 62-54. Junior Matthew Ward finished with 20, going 9-of-11 from the charity stripe. The Blue Devils overcame a 25-21 halftime deficit thanks to 16 points from Adam Root.
Jayden Statum's 22 points led the way, but Shippensburg got 16-point performances from Isaiah Houser and Anthony Smith as well to edge out Waynesboro 72-67 at home. Held to just 27 points in the first half, the Greyhounds (1-1, 1-1 Colonial) erupted for 24 and 21 points over the next two quarters, erasing a 10-point deficit. Bryce Shaffer led the Indians with 25.
East Pennsboro rolled past Camp Hill 63-44 thanks to 33 points and five treys from Adnan Sbai. Devin Shellenberger had 15 points and two treys, while Camp Hill's Cam Ochs had 18 points and three 3's.
HS Girls Basketball
Natalie Uibel's 12 points helped lead Cedar Cliff past Palmyra 44-31. Eliana Hosey added two treys and nine points in the win, while Samantha Reilly added seven points.
Camp Hill went on a tear for 26 points in the fourth quarter to get the win 56-35 against East Pennsboro. Kendal McCall had 16 points, two treys and 17 rebounds to lead the Wildcats, while Ellie Goodwin added 15 points and 12 rebounds in the win. For the Panthers, Gabby Rentschler led the team with nine points.
HS Swimming
Mechanicsburg boys and girls tallied the sweep in their second meet of the season, dropping Lower Dauphin by scores of 87-82 and 121-49, respectively. Danielle Rodgers won the 200 free (2:17.16), helped the 200 free relay team to first (1:52.82) and helped the 400 free relay team to a win (4:07.84) on the girls' side. For the boys, Nathan Hoover won the 200 free (2:05.87), won the 500 free (5:52.26) and helped the 200 free relay team to a win (1:46.31).