Bradley Buchter is a person that thrives on routine and regiment.
Those are just two of the traits made the Trinity grad perhaps the most decorated high school diver in Pennsylvania high school history.
That's also what made the U.S. Naval Academy the perfect choice for Buchter to continue his athletic and academic careers.
"I love the place. I love the routine, the structure and everything," he said. "It's good to schedule out my day and get challenged, not only in the pool like I was in high school but with academics and everyone around me."
Still, Butcher remembers his path to Annapolis well. A run that included his four PIAA Class 2A diving championships, while also breaking four straight state records.
Now a junior with the Midshipmen, winning consecutive titles has remained a habit for Buchter, who last month won his third straight Patriot League 1-meter and 3-meter diving championships.
"I was proud of that, and it was part of my career and part of what brought me where I am today," he said. "Our Patriot League championships are held in the same pool at Bucknell, so it's cool to come back full circle and dive as a college athlete."
"He's a really hard worker," Navy diving coach Rich MacDonald said. "He's always on time to practice, never has any issues. He's pretty much the whole package, and it's great to see him get to the next level. Every day he wants to get better.
"He's a very big goal-setter. He's very organized. Everything has to be planned. Very structured and organized and keeps those thought and goals."
Of course, much of it comes naturally.
Buchter's father, Brad, dove at Cedar Cliff and then Pitt, the same school in which Buchter's mother, Shelly, was on the gymnastics team. Both helped coach his Soaring Eagles club team, and older sister Ashley Buchter was a standout diver in club and at Trinity before going on to compete at Virginia Tech.
In fact, Bradley said that Ashley set the standard, and he would not be where he is without everyone, especially his sibling.
"Diving was like a family event," he said. "We were separated throughout the day in school then we came together in diving. It brought us closer together and made us better because we pushed each other.
"She understands what I went through more than anyone because she was right there next to me. She did the same things, just did it earlier than me."
Nearly three years removed from Plebe Summer, a rugged indoctrination to military life upon arrival on campus, Buchter added that it's hard to believe that he's only a few weeks away from being considered a senior in college.
Up next is his five-year post-grad commitment as a Naval officer.
"It was very challenging. A six-week summer training was definitely tough, then you've got to make it through the academics just to keep standing through everything," said Buchter. "Diving has made me a better officer candidate in the fact that you learn to balance everything.
"It's another commitment in the academic side, the physical side and mental side of everything. Knowing you only have a certain amount of time to get through everything. That has prepared me to be a better leader in the future."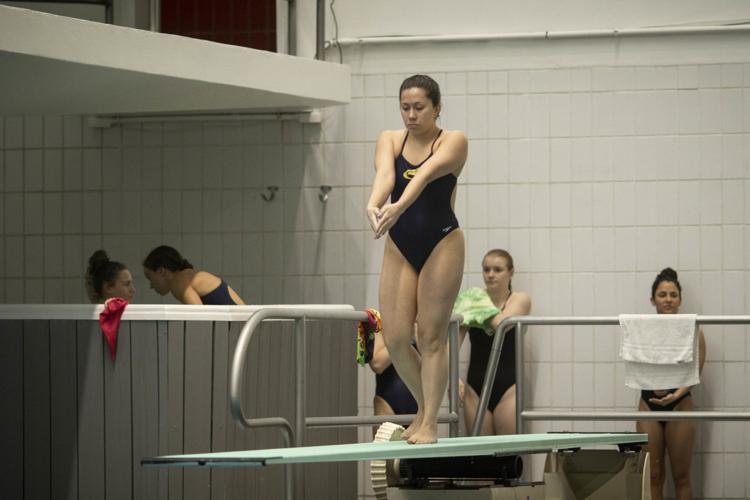 Sather a two-time champ
Former Soaring Eagles club teammate and friend Christina Sather recently completed her diving career at Clarion University in grand style.
The Cumberland Valley grad earned her second NCAA Division II diving championship. In March, Sather won the national 3-meter championship, one year after winning the 1-meter title.
Sather said the 2019 championship is extra sweet because Clarion's pool was under renovation all season, forcing her and her teammates to practice elsewhere.
"I went into the season just telling myself to have fun," she said. "It's my senior year, and I was one of the only people nationally and in PSAC that doesn't have a pool.
"I didn't think it was going to happen. Being able to do it the one year we don't have a pool, especially for my coach, proves everything we did under the circumstances that we could push through everything. It was awesome, emotional and overwhelming."
In many ways, Sather is understandably glad her senior year has concluded. The season dragged on, especially with the daily long drive to practice at Westminster College. Things got really dreary late in the campaign when she began student teaching.
"Drive an hour to practice, an hour home, then have to do lesson plans, go to bed and do it all over again the next day. It seemed like forever," she said. "It was something the whole team had to adjust to, and we lost a lot of people because of it.
"I don't know how we did it. We had the highest GPA of any sport on campus. It was amazing how our team went. As a captain this year, I couldn't have been happier."
After winning the 2015 District 3 Class 3A championship as a senior at Cumberland Valley, Sather went on to earn a fourth-place medal at the PIAA meet.
From there, she progressed to All-American status in each of her four years at Clarion.
Much like Buchter, Sather's time with the Soaring Eagles prepared her for collegiate diving.
"We all traveled to big USA diving competitions, and that's where I got my exposure to new dives and dove year round," she said. "I think I was ready for college, and it was more getting ready for the routine of college diving."
Sather also made the right choice in school and the sport. The former gymnast found diving to her liking and never looked back.
"All of my coaches throughout the years helped me get to where I am, not only as a diver and as a person," she said. "Diving can come easy, diving can be hard. You have your ups and downs, and I definitely had those. Coming out from them is the best feeling in the world."
Be the first to know
Get local news delivered to your inbox!