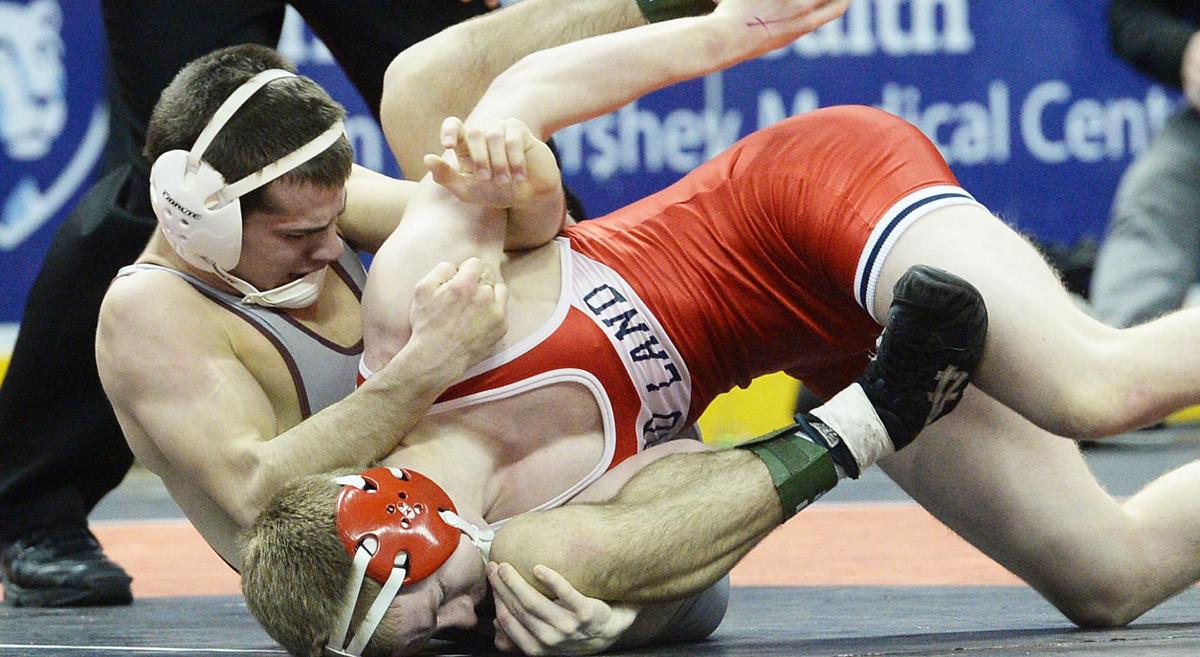 MECHANICSBURG — After losing wrestling partner Brady Serina to graduation after last season, Mechanicsburg senior Nick Tewell has taken over as the veteran in the room.
For him, it's been easy transitioning into the leader. He overlooks the underclassmen and tries to help everyone to the best of his ability. He just wants everyone to be the best they can be.
"We have a really young team and I'm just trying to mentor people, trying to make them the best wrestlers they can be," Tewell said Friday while watching the District 3 Class 3A Sectional Tournament at Mechanicsburg High School. "I'm really trying to build a foundation for the future. … Just trying to pass the torch on for next year.
"I learned from Brady's leadership style a lot last year. He was always a quiet leader, something I had to kind of take in, and it's really helped out with the group of kids we have. Just being a quiet leader and leading by example. It's been the best for the team."
Since placing fourth at the sectional tournament last year, Tewell put in more time and effort this offseason, working with college wrestlers and going to different tournaments, schools and clubs.
All of the work he put in is noticed by more than just the younger kids around him.
"He wrestled in the Virginia Duals, wrestled down at Disney, so he put in his time," head coach Greg Budman said. "Other kids look up to him because of the amount of work he does. After our practices, he travels to other schools and other clubs, so he puts a lot of time in and it's really paying off for him."
To help the younger kids out, Tewell went above and beyond during the regular season, even creating meal plans.
"[I've been] leading by example — doing things right, pushing everyone, trying to help out where I can," he said. "I've made some guys meal plans when the team's trying to get their weights down. Stayed after practice worked with some people. Whatever these guys need, I'm there to help them out. That's the kind of leader Brady was, and I want to continue to be that."
The realization that it was his senior year was all the motivation Tewell needed to kick it into high gear.
"I just kind of amped up my training over the summer and stuff because I realized, you know, this is it — senior year," Tewell said. "I know some guys, once they commit to college, they kind of take the easy coast. That's not the kind of person I wanted to be — I just wanted to get after it and be the best that I could be senior year.
"I really just took my training really seriously all summer long, worked hard and pushed myself. I've been working with some college guys all season, and I've had a sort of slow start to the year, but it's starting to pay off now. I've done really well in the past two months of wrestling."
Since Jan. 5, Tewell is on a 14-bout win streak and currently sits 24-4 on the season with 91 wins in his career. Tewell will undoubtedly hit the 100-win club, but it most likely won't come until a much bigger stage.
For now, Tewell will have to focus on Day 2 of sectionals — he had a first-round bye Friday — and go from there.
"He knows he's going to get his 100 wins, it just won't take place until states," Budman said. "It's something that he's striving for, so I think it's really going to carry him into districts and states and he's going to make some noise at states."
"[Saturday] I'm going to go in and wrestle a tough semifinal," Tewell said. "But at the end of the day, that's no bigger than the match before that I had. I just gotta take it one match at a time. I'm just having fun with it."
Day 1 recap
Here are some area wrestlers that moved into the quarterfinals after Day 1 of sectionals:
106: Shippensburg's Trystan Keefer. 120: Carlisle's Seth Bloomquist, Mechanicsburg's Asa Brunk. 126: Ship's Dylan Ramsey, Cumberland Valley's Mason Viehman, Northern's Evan Chapman, Mech's Logan Ledebohm. 132: Northern's Graham Shumaker, Carlisle's Bryce Dunkelberger. 138: CV's Jake McKenzie, Cedar Cliff's John Cunningham. 145: Carlisle's Jarrett Wilson, Big Spring's Hunter Gregoris (who got his 100th win), Red Land's Camryn VanValen. 152: Big Spring's Jacob Lay, RL's Robert Rodgers. 160: Ship's Ayden Reed, CV's Matt Barrick. 182: Carlisle's Logan Rhoades, CC's Bobby Whalen, Big Spring's Andrew Adams. 285: CC's Anthony Shires, Big Spring's Lucas Donovan, RL's Kyle Ritter.
After Day 1 of the District 3 Class 2A Section 1 tournament, Boiling Springs led the pack as…
Get in the game with our Prep Sports Newsletter
Sent weekly directly to your inbox!