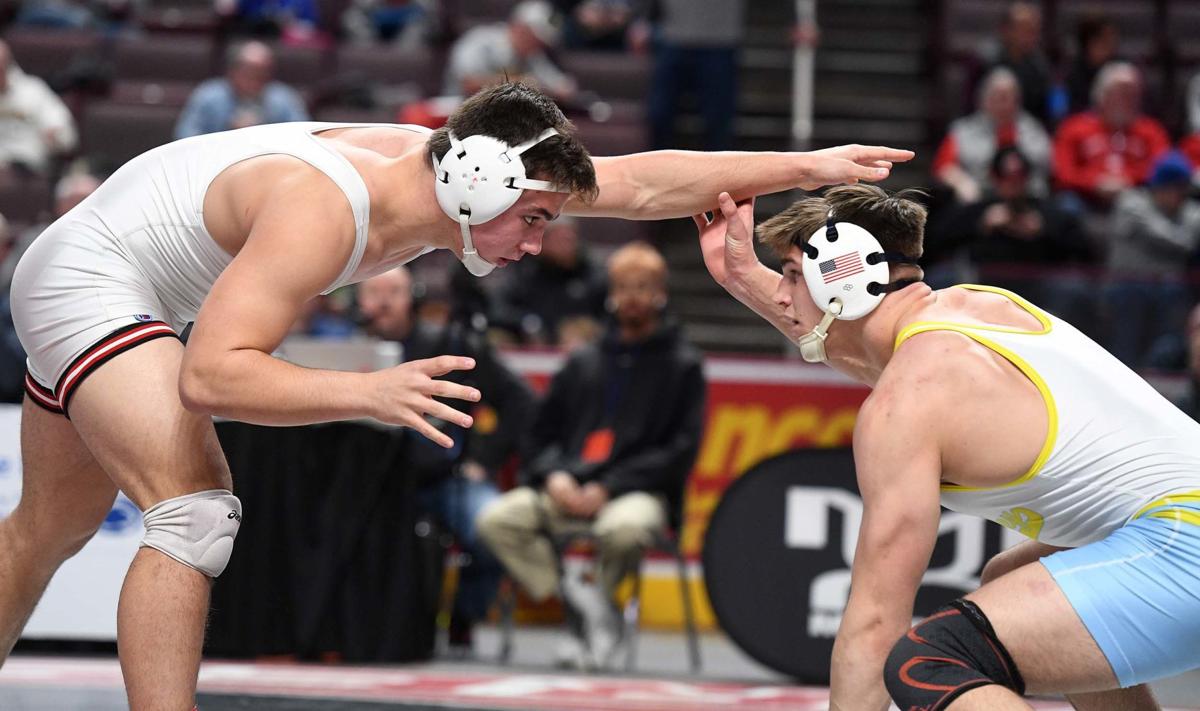 The National Federation of State High School Associates announced new rule changes for the 2020-21 high school wrestling season on Tuesday.
Not mentioned: reducing the number of weight classes.
The PIAA proposed a decreased from 14 weights down to 12 almost a year ago, sparking sometimes heated debate at various levels. The PIAA hoped the NFHS would discuss the change this month or grant PIAA the ability to serve as a pilot program for the rest of the country.
Now, after the NFHS chose not to address a reduction or granting Pennsylvania the chance to work as a pilot program for 12-weight wrestling, the PIAA is moving forward with another proposal they feel will work out better for everyone — moving from 14 weight classes down to 13, according to PennLive.
The new proposal effectively axes the 195-pound weight class. The 13 weights proposed are: 106, 113, 120, 126, 132, 138, 145, 152, 160, 172, 189, 215 and 285.
The reduction of one weight class was unanimously approved Wednesday by the PIAA wrestling steering committee. It awaits approval in May from the PIAA Board of Directors.
"The committee has heard loud and clear a desire to maintain lower weight classes as part of the sport," PIAA chief marketing officer Mark Byers said through email. "At the same time, 13 classes affords the opportunity for an easier tie-breaker, still addresses a reduction in forfeitures through the elimination of a class and will not adversely affect descent plans for wrestlers participating out of state or schools travelling to Pennsylvania for competition."
A study by The Sentinel during the 2019-20 wrestling season showed the majority of dual-meet forfeits involving teams in Cumberland County and Dillsburg occured at 106 and 113. But coaches have been adamant about keeping the lightweights as is.
The new proposal is set to go to the PIAA Board of Directors for a vote May 20. The NFHS is also set to talk about weight changes again in 2021, according to Byers.
"[Elliott Hopkins, Director of Sports for NFHS], shared the ongoing national conversation surrounding weights, which also includes adoption of girls wrestling weights," Byers said about a phone call he had with Hopkins on Wednesday. "He indicated there is still a desire for a reduction from many other states, but the NFHS Rules Committee was not satisfied with the proposals before them this current year. It will again be an item for discussion at their 2021 meeting."
If the proposal is approved by the PIAA board in May, it would not be a formally recognized NFHS pilot program.
"I was happy that no change was made [by the NFHS]. I understand now that the PIAA might make the change anyway," Carlisle head coach Joe Wilson said through email. "My feelings right now are that we have enough going on with COVID-19, so let's just let the weights alone for now and hope we can actually have a season."
The NFHS did approve several rule changes, none pertaining to weight classes, this week. Here is a rundown of the new rules set down by the NFHS on Tuesday:
Female wrestlers are now permitted to "wear a form-fitted compression shirt that completely covers their breasts in addition to a one-piece singlet and a suitable undergarment."
"Rule 4-5-7 was rewritten to require that a legal uniform (one-piece singlet or two-piece) be worn during weigh-in and that no additional weight allowance be granted."
Shoes and ear guards are now prohibited during weigh-ins.
"Male and female wrestlers are now able to weigh-in together in the same lineup, allowing gender-specific language to be removed" from three specific weigh-in rules.
The "form-fitted compression shirt offers females a more suitable uniform for post-weigh-in skin checks, which are typically done by male officials."
There were significant changes to hair length rules, which previously stated "a wrestler's hair could not "extend below the top of an ordinary shirt collar" in the back, below earlobe level on the sides or below the eyebrows in the front." All these rules have been removed by the NFHS, including a requirement for a hair covering that covered those limitations.
A "technical violation will be assessed in any instance where a shoe comes off, and the injury clock will be started to correct the situation."
"To avoid penalizing a participant twice for the same sequence of events … points will not be awarded to a wrestler whose opponent has fled the mat if that wrestler has already scored for a near-fall or takedown."
A "match will now automatically be stopped and restarted in the event a wrestler commits a fourth stalling violation."
The unnecessary roughness rules were edited to include "pulling an opponent's hair" as an offense.
A new rule was written to "discourage wrestlers from requesting injury time from the official as an attempt to stop an opponent from scoring. If the referee determines a wrestler would have scored had the injury time-out not taken place, the injured contestant will be charged an injury time-out and applicable points will be awarded to the non-injured party."
Get in the game with our Prep Sports Newsletter
Sent weekly directly to your inbox!