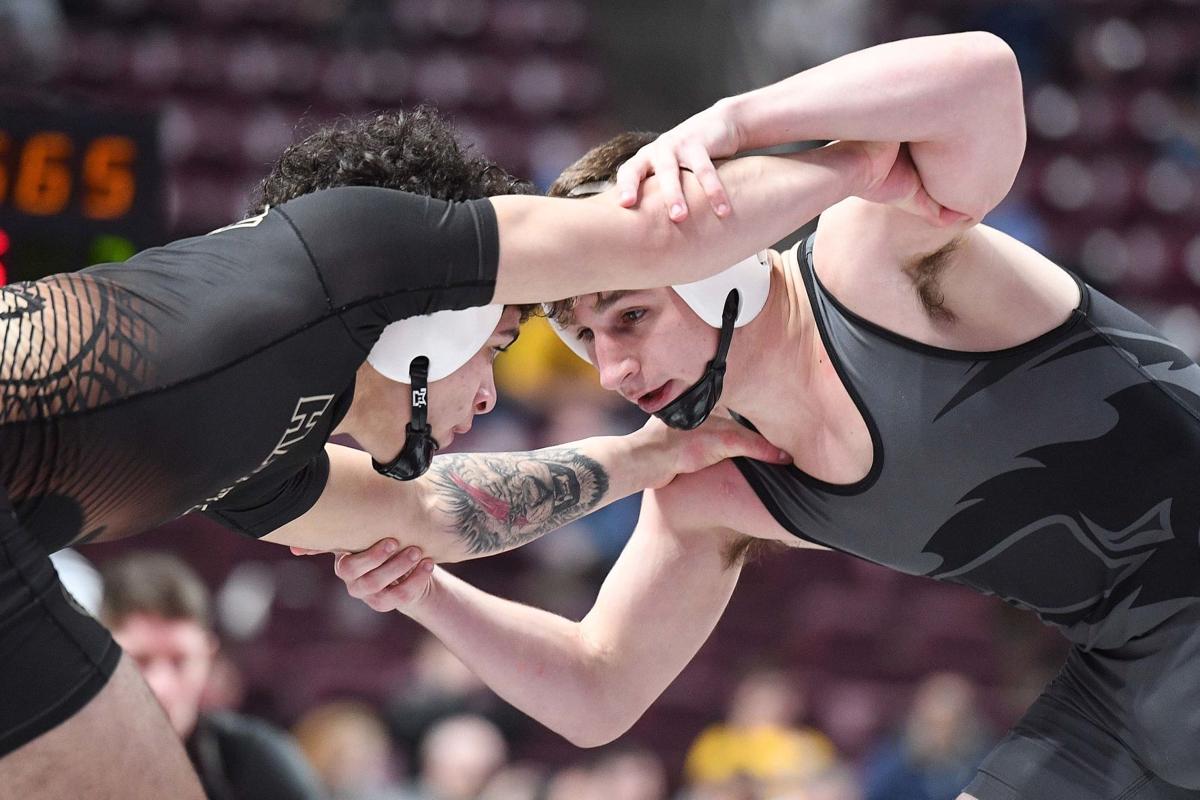 In a normal season, the biggest change facing Joe Wilson and his Carlisle wrestling staff would come in scouting a new set of divisional opponents and compiling mock lineups for their matchups.
Of course, the 2021 campaign will be anything but normal, and so the Thundering Herd's move to the Mid-Penn Keystone Division registers as a minor change in a year full of major ones. Try these on for size:
A shift to 13 weight classes
The cancellation of most regular-season individual tournaments
A new postseason format with far fewer qualifiers at each step
A schedule shuffle that places team tournaments after the individual postseason
In-competition mask requirements
In all, it's requiring a new level of diligence for competitors in the already mentally demanding sport — and that's just in the truncated regular season.
"What will be interesting is how compact the season is," Wilson said.
"You can't get too high on a win, or too low on a loss. It's going to be a grind. Usually you have at least 24 hours after a match, but in a lot of cases this season it's not going to even be that. You're going to have to turn around and be ready to go very quickly."
Carlisle's regular season begins Jan. 15 with a division dual with Lower Dauphin, followed the next morning by a tri-meet with Cumberland Valley and Central Dauphin. The following week sees division duals on three consecutive days.
That type of schedule is typical across District 3, leaving little time to ease into things. At Cumberland Valley, the Eagles have a schedule jammed with many of the district's perennial Class 3A team title contenders.
"We have a nice group," CV head coach Dave Heckard said. "We think it's the kind of team that at the beginning of a normal season, people would see us and say, 'Cumberland Valley is all right,' and then by the end we would have a team where people are saying, 'We don't want to face Cumberland Valley.' But you don't have that same timeframe to develop this year. Fortunately, the kids have been great and really want to be there and be working."
The wrestlers have already undergone their first test of self-discipline: three weeks at home — and without the structured conditioning of a wrestling practice session — during the holiday season.
Both Heckard and Wilson were pleased with how their wrestlers met the challenge of staying within a safe and reasonable range of their target postseason weights.
"Our guys didn't do too bad," Heckard said.
"We had a few guys that were up but not as many as we thought there would be. I feel you want to get the kids down to their postseason weights and get the kids matches at those weights early on. Seedings are so important this year, and you can run into some hang-ups based on common opponent and other factors. But it can't be all about losing weight. We are giving the kids some freedom to choose."
The time crunch is more acute at Carlisle, whose later start because the district moved to fully remote learning before the holidays and shut down all extracurricular activities until Jan. 4 means the wrestlers are in the unusual position of beginning their postseason weight descension plans more than a week before they wrestle a competitive match.
"Two of my seniors already have asked for their descension plan and have started working on it," Wilson said. "There's not much leeway at all because of how short the season is. Before you didn't really have to start until you were six matches in."
The biggest difference, however, will come in the postseason.
In Class 3A, just two wrestlers will advance to the district championships out of the eight-person brackets at the four sectional championships (the two Class 2A sections will both send four). The eight-qualifier format will be similar throughout the postseason, including in the only-for-2021 PIAA super-regional tournaments that act as the first two rounds of the state championships.
The Herd provides a ready example of the rigors of the new format.
Raphael Portilla, a senior last season, placed third in the section but then went on to place third at states; Colton Zimmerman, a senior this season and a three-time state qualifier, placed third at sectionals as part of a 160-pound bracket that included both eventual state finalists.
"We're going to see kids who were state qualifiers last year not make it out of sectionals this year," Wilson said. "Last year we had one wrestler in Sean Smith win a sectional title, and then we had three other studs in Raph, Colton and Noah [Clawson] who wrestled through the consolation bracket. Under this year's system none of those three would have qualified for districts."
The postseason will commence Feb. 19 with Class 2A and 3A sectionals, followed the next day by the Class 2A district championships at CD East High School. The individual postseason culminates in the single-day PIAA Championships on March 13.