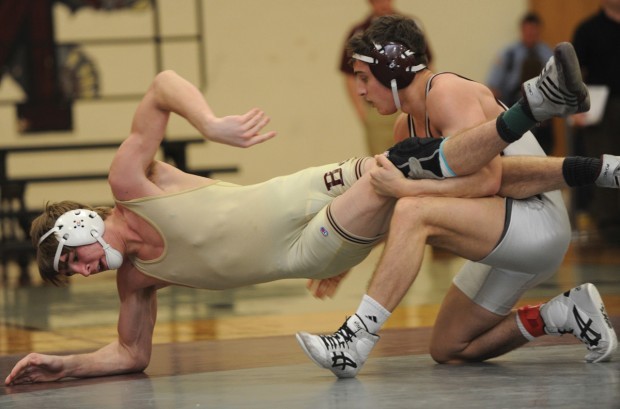 District 3 Class AA Wrestling Tournament
Friday-Saturday at Hersheypark Arena
Key: Central Dauphin (CD), Manheim Township (MT), Mechanicsburg (Mech), Wilson (Wil), Solanco (Sol), Middletown (Mid), Gettysburg (Getty), Spring Grove (SG), Twin Valley (TV), Red Land (RL), Dallastown (Dal), Palmyra (Palm), South Western (SW), Warwick (War), Exeter (Ex), Greencastle-Antrim (G-A), Chambersburg (Chbg), Penn Manor (PM), West Perry (WP), Governor Mifflin (GM), Hamburg (Ham), Lower Dauphin (LD), Big Spring (BiS), Waynesboro (Way), Ephrata (Eph), Shippensburg (Ship), Dover (Dov), Susquehanna Township (ST), Cumberland Valley (CV), New Oxford (NO), Cedar Crest (CCr), Muhlenberg (Muhl), Manheim Central (MC), Fleetwood (Fleet), Garden Spot (GS), West York (WY), Elizabethtown (E-Town), Conestoga Valley (CoV), Carlisle (Car), Reading (Read), Kennard Dale (KD), CD East (CDE), Cedar Cliff (CC), Northern (Nor), Red Lion (RLi), ELCO (ELCO), Northeastern (NE), Cocalico (Coc), Donegal (Don), East Pennsboro (EP), Lampeter-Strasburg (L-S), Central York (CY), JP McCaskey (McC), Conrad Weiser (CW), Harrisburg (Hbg), York Suburban (YS), Hershey (Her).
Zach Elvin, CD (38-6) vs. David Graves, MT (28-11); Alex Spaseff, Mech (17-17) vs. Connor Moyer, Wil (29-12); Connor Sheehan, Sol (30-7) vs. Todd Houser, Mid (17-7); Lane Sherman, Getty (29-12) vs. Zack Clingan, SG (32-4); Daniel Grant, TV (29-4) vs. Leo DeJesus, RL (26-7); Nick Shields, Dal (28-10) vs. Evan Bogdan, Palm (27-6); Logan Feeser, SW (25-5) vs. Josh Charles, War (22-10); Tristan Watts, Ex (24-17) vs. Cody Carbaugh, G-A (26-1).
Tanner Shoap, Chbg (30-7) vs. Cole Sterrett, SW (22-7); Ronnie Perry, Sol (33-8) vs. Jeremy Schwartz, CD (23-6); Rodney Sunday, Dal (30-4) vs. Matt Schneider, PM (24-13); Marshall Myers, WP (24-5) vs. Colin Ochs, GM (32-2); Matt Grossman, MT (31-6) vs. Sean Stanish, Ham (31-11); Dalton Deimler, LD (15-9) vs. Greg Warner, BiS (31-5); Derek Carlisle, SG (29-7) vs. Noah Yost, Ex (14-9); Colby Mowen, Way (20-12) vs. Zach Ulerick, Mid (21-2).
Bryce Killian, Mid (30-3) vs. David Rump, Chbg (18-16); Todd Dumas, Eph (26-4) vs. Kenny Arentz, GM (27-7); Alec Zorbaugh, SG (21-14) vs. Jake Werner, Wil (28-9); Austin Laws, Sol (25-13) vs. Wyatt Keck, BiS (16-7); Cortlandt Schuyler, MT (32-4) vs. Jared Furry, Ship (27-6); Calvin Anderson, Dov (12-15) vs. Anthony Marchione, ST (12-2); Alex Wolfe, CV (15-6) vs. Slade Storm, NO (20-12); Sean Hughes, CCr (33-5) vs. Zach Snow, Muhl (35-0).
Tyson Dippery, CD (41-2) vs. Ben Metzler, MC (31-10); Dustin Rook, BiS (35-5) vs. Austin Haas, Fleet (28-8); Dakota Laughman, SG (25-12) vs. Tristan Skelly, Mech (24-13); Nick Cain, Mid (23-9) vs. Scott Lopez, MT (24-5); Nick Cook, GS (32-4) vs. Jesse Stouch, Getty (29-12); Noah Townsley, WY (16-9) vs. Owen Bradley, E-Town (24-6); Ross Drawbaugh, Dov (27-5) vs. Nate Musser, CoV (31-8); Bryan Muchoney, Wil (24-14) vs. Patrick Duggan, CV (28-6).
Shyheim Brown, CD (40-2) vs. Joel Zepp, NO (21-10); Wink Charles, Sol (33-7) vs. Devon Fraker, BiS (37-5); Wes Hoover, Dal (25-8) vs. Colten Arnold, Chbg (37-5); Cody Bucher, MC (23-15) vs. Tim Beegle, GS (29-10); Alex Smith, MT (26-4) vs. Ian Shannon, Car (30-8); Alex Kramer, Ex (31-7) vs. Daniel King, ST (33-5); Reilly Colon, Read (23-7) vs. Pat Scarborough, KD (29-5); Jair Crosson, CDE (20-9) vs. Max Good, CC (28-5).
Zach Ross, Nor (27-4) vs. Matthew Lepperd, ST (15-7); Mason Bentzel, SG (33-3) vs. Chad Lammer, Eph (18-8); Nick Varndell, CD (14-5) vs. A.J. Votano, MC (27-10); Chad Wickard, BiS (33-10) vs. Mike Kern, Ex (35-6); Adam Smith, MT (28-4) vs. Will Finkey, GS (18-8); Nate Williams, Dov (26-4) vs. Chris Vassar, CC (32-8); Jeremy Rivera, E-Town (15-6) vs. Matt Harris, GM (30-10); Jake Green, RL (22-11) vs. Tanner Druck, Dal (32-3).
Garett Hammond, Chbg (31-4) vs. Isaac Warren, Sol (27-15); Troy Ernest, E-Town (20-6) vs. Rob King, GS (32-8); Mike Hartman, SG (25-13) vs. Aaron Davis, Mech (26-13); Josh White, Ham (30-10) vs. Mike Lammer, Eph (25-3); Keith Stednitz, GM (20-1) vs. Logan Ambrose, Dov (24-9); Cody Lloyd, CCr (35-4) vs. T.C. Warner, CV (27-6); Austin Halloway, RLi (9-6) vs. Zach Layser, ELCO (27-12); Jesse Smith, Way (20-10) vs. Austin Rose, CD (30-5).
Garrett Peppelman, CD (40-4) vs. Cory Bixler, NO (4-1); Ben Wise, MC (27-16) vs. Jake Colello, CC (24-7); Jeb Payne, NE (23-3) vs. Jordan Stouch, Getty (34-7); JP Kramer, CoV (26-14) vs. Teddy Wolf, Coc (36-3); Joe Welk, Sol (33-5) vs. Tyler Warner, Way (18-10); Parker Eidle, Wil (29-12) vs. Mikey Simmons, Mid (22-9); Tanner Leid, GS (26-8) vs. Tyler Miller, SG (23-12); Mike Fiore, CCr (34-4) vs. Rustin Barrick, Mech (33-5).
Mitchell Ramsey, Mech (26-5) vs. Jordyn Snyder, Don (27-11); Cooper Deller, Dal (31-5) vs. Andrew Francos, Wil (37-5); Colton Peppelman, CD (34-10) vs. Wills Long, CV (17-8); Austin Barley, SG (18-10) vs. Cody Shoenberger, War (37-6); Chance Marsteller, KD (35-0) vs. Patrick Sharkey, LD (15-4); Jake Buczewski, Ex (31-10) vs. Austin Hoover, RL (21-7); Tom Price, ELCO (19-4) vs. Steven Cain, Mid (16-14); Kyle Koser, Nor (26-10) vs. Mike Shermot, GM (27-2).
Connor Moran, Sol (35-3) vs. Jonathan Gross, SG (15-12); Jamison Peake, CD (21-16) vs. Cody Seibert, Bis (29-11); Ben Swarr, GS (38-2) vs. Boe Barrick, CV (26-7); Jeremy Bailes, Mid (24-8) vs. Brooks Morrison, Dal (27-5); Sam Putt, EP (27-3) vs. Michael Orner, Nor (19-7); James Moran, Ex (30-8) vs. Mac Evarts, PM (22-11); Tyler Schell, RLi (27-5) vs. Jake Wood, Ham (17-4); Colton Dunkle, ELCO (26-6) vs. Joey Krulock, Mech (30-3).
Josh Thomson, Mech (30-4) vs. Kyler Narber, WY (26-7); John Shorter, MT (27-11) vs. Marcus Johnson, GM (31-3); Korey Eberly, RLi (28-4) vs. Aboubacar Kallo, Read (30-6); Matt Hoare, CV (22-10) vs. Dorian Spradlin, CD (24-4); Kam Mueller, Coc (34-4) vs. David Wuestner, LD (12-16); Tommy Bennett, Hemp (22-11) vs. Danny Hockensmith, BiS (25-7); Austin Wilhide, NE (22-3) vs. Ryan Brubaker, E-Town (16-16); Hasan Alic, Car (6-7) vs. Dylan Hickernell, ELCO (39-0).
Jerome Beers, SW (25-3) vs. CaTray Parker, McC (28-9); Blailin Baker, Muhl (28-7) vs. Dontez King, Chbg (18-13); Terrance Parsons, CD (35-7) vs. Colby Auman, CW (26-5); Dennis Zaitsev, CV (21-4) vs. Jeff Pickel, L-S (31-2); Hunter Hatlee, Wil (34-5) vs. Scott Six, Getty (26-15); Jake Lehman, Palm (27-5) vs. Jon Altland, CY (12-6); Colby Graham, PM (31-12) vs. Aaron Moyer, ST (25-9); David Pelky, Dal (13-12) vs. Luke Weaver, Mech (29-7).
Thomas Haines, Sol (34-0) vs. Brooks Arnold, RLi (27-7); Andrew Brown, Hbg (30-5) vs. Dustyn Mumma, WP (18-5); Aram Moffitt, SW (21-6) vs. Brad Erb, CoV (31-9); Joel Chapman, CC (24-9) vs. Joe Giorgio, Ex (36-4); Bryton Barr, Mech (31-4) vs. Christian Brand, LD (10-5); Edwin Cruz, Read (26-9) vs. Joey Goodhart, Hemp (31-8); Jacob Gemmill, WY (21-4) vs. Ramon Perez, Muhl (30-5); Thomas Heenan, Ship (7-6) vs. Ben Martin, Palm (30-2).
Dawson Peck, Chbg (6-0) vs. Joey Bragg, CoV (26-14); Zach Smith, LD (22-11) vs. Jaron Burke, Read (28-9); Derrick Turner, NE (24-2) vs. Heath Rupp, Nor (22-7); James Sturdivant, Muhl (26-13) vs. Tom Devenney (War), 29-2; Josh Dierolf, Wil (30-2) vs. Devon Ackerman, SW (18-9); Noah Gesford, Her, (15-5) vs. Dakota Matthews, BiS (35-5); Nick Lucchesi, YS (33-1) vs. Aaron Lefever, MC (26-7); Sawyer Mundorf, Mech (21-8) vs. Averee Robinson, ST (35-2).
---
District 3 Class AA Wrestling Tournament
Friday-Saturday at Hersheypark Arena
Key: Schuylkill Valley (SV), Upper Dauphin (UD), Biglerville (Big), Bermudian Springs (Berm), Oley Valley (OV), Boiling Springs (BoS), Wyomissing (Wyo), James Buchanan (JB), Hanover (Han), Annville-Cleona (A-C), Bishop McDevitt (BM), Trinity (Trin), Lancaster Catholic (LC), Susquenita (Susq), Northern Lebanon (NL), Littlestown (Lit), Tulpehocken (Tulp), Fairfield (FF), Brandywine Heights (BH), Newport (New), Columbia (Col), Milton Hershey (MH), Halifax (Hal), Eastern York (EY), Camp Hill (CH), Pequea Valley (PV), Kutztown (Kutz).
Josh Giorgio, SV (36-2) bye; Derek Garber, UD (30-6) vs. Brady Mentzer, Big (18-13); Dalton Becker, Berm (12-7) vs. Ryan Fretz, OV (18-19); Korbin Myers, BoS (39-2) bye; Alec Torres, Wyo (27-4) bye; Hunter Faith, JB (31-3) vs. Giuliano Graziosi, Han (22-9); Matthew Darok, A-C (32-6) vs. David Pipa, BM (19-4); Devon Bentley, Trin (29-1) bye.
Ryan Diehl, Trin (31-0) bye; John Lubeck, LC (27-8) vs. Coy Campbell, UD (24-8); Terrence White, BM (26-6) vs. Alexander Watson, Han (22-8); Ryan Griffiths, SV (23-6); Dan May, Big (26-8) bye; Tanner Pyles, A-C (31-7) vs. Austin Sheibley, Susq (29-7); Ted Marines, Berm (33-11) vs. Kody Kreiser, NL (14-19); Joseph Byers, BoS (33-2) bye.
Austin Tucker, JB (31-3) bye; Jordan Matthews, Lit (10-20) vs. Caeleb Blatt, Tulp (23-15); Jaquan Gordon, Wyo (22-15) vs. Devon Hoffman, UD (18-13); Brad Farley, Berm (35-0) bye; Grant Bond, BoS (30-12) bye; Cameron Scalio, FF (33-8) vs. Dan Schmeck, BH (27-6); John Daum, Susq (22-13) vs. Colton McKinney, Big (12-19); Joey Fick, OV (22-1) bye.
Arty Walsh, SV (30-3) bye; Zach Huss, New (29-8) vs. Derek Zercher, Col (25-12); Trevor Hernandez, Big (32-5) vs. Angel Canela, Wyo (17-9); Kyle Shoop, BoS (34-7) bye; Robert Ritschard, OV (28-3) bye; Bryan Varra, MH (24-7) vs. Briton Shelton, Berm (15-15); Jeffrey Inman, A-C (34-8) vs. Shane Liddick, Hal (20-15); Ian Brown, Han (31-0) bye.
Shawn Phillips, OV (31-5) bye; Kyle Deimler, New (20-16) vs. Alec Hooper, Col (12-19); Austin Jackson, Berm (30-6) vs. Caleb Naylor, Wyo (11-15); Mark Lentz, BoS (36-8) bye; T.J. Renninger, A-C (32-6) bye; Ethan Stiles, UD (21-7) vs. Toby Barnhart, EY (20-13); Kyle Wanner, PV (18-13) vs. Alex Gallaher, CH (22-11); Laike Gardner, Big (32-4).
Tyler Shafer, Han (22-8) bye; Cody Kelley, OV (22-14) vs. David Miller, UD (25-11); Trevor Meyers, JB (29-5) vs. Jordon Halter, Col (34-6); Drew Jackson, PV (32-4); Jasper Hankey, Big (31-6) bye; Mason Smith, Wyo (27-7) vs. Tyler Kauffman, BoS (8-5); Donald Minnier, EY (28-5) vs. Evan Daub, NL (25-13); Sharron Townsend, MH (33-2) bye.
Robbie Moretz, Hal (32-2) bye; Dustin Grubbs, Big (16-13) vs. Colby Geisinger, SV (11-21); Cory Rank, Wyo (28-4) vs. Todd Meyers, JB (29-4); Colton Dull, Berm (30-15) bye; John Vaughn, BoS (31-14) bye; Josh Elliot, Col (18-10) vs. Travis Readinger, Tulp (26-10); Chris Eisenhart, New (21-13) vs. Mitchell Laratonda, EY (16-8); Chris Schmid, PV (31-10).
Clay Kocsis, FF (27-0) bye; Sandro Sanchez, Wyo (24-11) vs. J.P. Leitzel, UD (18-15); Quinn Frassetta, CH (28-3) vs. Nate Warner, Col (30-10); Pete Renda, BH (31-1) bye; Tyler Lieberum, Big (29-7) bye; Stephen Loiseau, LC (31-6) vs. Andrew Mellott, BoS (22-12); Noah Blasone, Berm (32-9) vs. Nick Roop, PV (20-16); Casey Glunt, JB (27-7).
Adam Mackie, BH (29-1) bye; Charles Stitt, MH (21-10) vs. Dillon Mackley, EY (24-9); Josh Asper, Big (22-9) vs. Chris Eaton, Wyo (15-12); T.J. Nickle, BoS (33-5) bye; Mitchell Ball, PV (33-4) bye; Ian Clay, New (23-12) vs. Nick Mort, FF (31-9); Adam Law, LC (24-9) vs. Joe Clipp, JB (17-10); Tyler Fitzkee, Berm (39-3) bye.
Tristan Sponseller, Berm (39-1) bye; Isiah Taltoan, LC (28-4) vs. Trey Campbell, UD (20-14); Jay Bennett, Susq (31-4) vs. Joseph Post, DC (17-14); Ryan Daub, NL (33-6) bye; Alec Warner, Lit (24-11) bye; Joey Waack, SV (26-14) vs. Kyle Taylor, BoS (17-13); Zack Martin, Han (24-6) vs. Harris Nowtarski, Tulp (38-6); Steve Murray, CH (29-3) bye.
Josh Naylor, Wyo (24-6) bye; Matt Huggins, New (22-10) vs. Matt Lentz, DC (11-13); Alex Cooley, EY (30-2) vs. Jonathan Tindall, SV (16-17); Todd Mullen, Susq (29-5) bye; Jon Ross, PV (24-12) bye; Teddy Ramsey, CH (16-16) vs. Jake Slonaker, Berm (23-14); Cody Madtes, Kutz (21-8) vs. Jermaine McQueen, MH (8-9); Joe Hurda, Big (31-7) bye.
Derek Wolford, Han (29-0) bye; Ian Stewart, NL (13-14) vs. Spencer Gallitz, MH (9-16); Brock Snyder, UD (22-12) vs. Zachary Harris, FF (20-20); Chris Langston, BH (11-9) bye; Brock Linebaugh, Berm (31-10) bye; Devin Lapp, Tulp (17-22) vs. Colin Schaeffer, New (23-10); Camden Stoops, EY (24-8) vs. Keith Beiler, PV (0-13); Logan Murphy, BoS (34-6) bye.
Ben Wertz, Wyo (13-12) bye; Gus Bostdorf, CH (28-4) vs. Jose Arriola, Berm (19-15); Ryan Vaughn, Lit (19-5) vs. Anthony Deyo, NL (25-13); Joey Kauffman, Hal (21-1) bye; Colin Conrad, BH (16-18) bye; Calvin Barrick, BoS (27-12) vs. Jacob Miller, FF (28-12); Dante Giorgio, SV (16-5) vs. Kevin Frey, New (8-24); Buck Kauffman, EY (29-1).
Omri Johnson, MH (25-7) bye; Tony Aguilar, Han (19-13) vs. Jordan Crouse, PV (25-15); Evan Schnader, LC (19-7) vs. Tyler Wentzel, BoS (28-10); Trevor Stover, Big (25-8) bye; Jonathon Hunsberger, UD (12-3) bye; Jon Jimenez, Berm (22-16) vs. Trevor Crupi, SV (19-13); Brent Sterner, Susq (29-7) vs. Kasey Snell, EY (16-12); Malcolm White, Wyo (23-5).
Get in the game with our Prep Sports Newsletter
Sent weekly directly to your inbox!