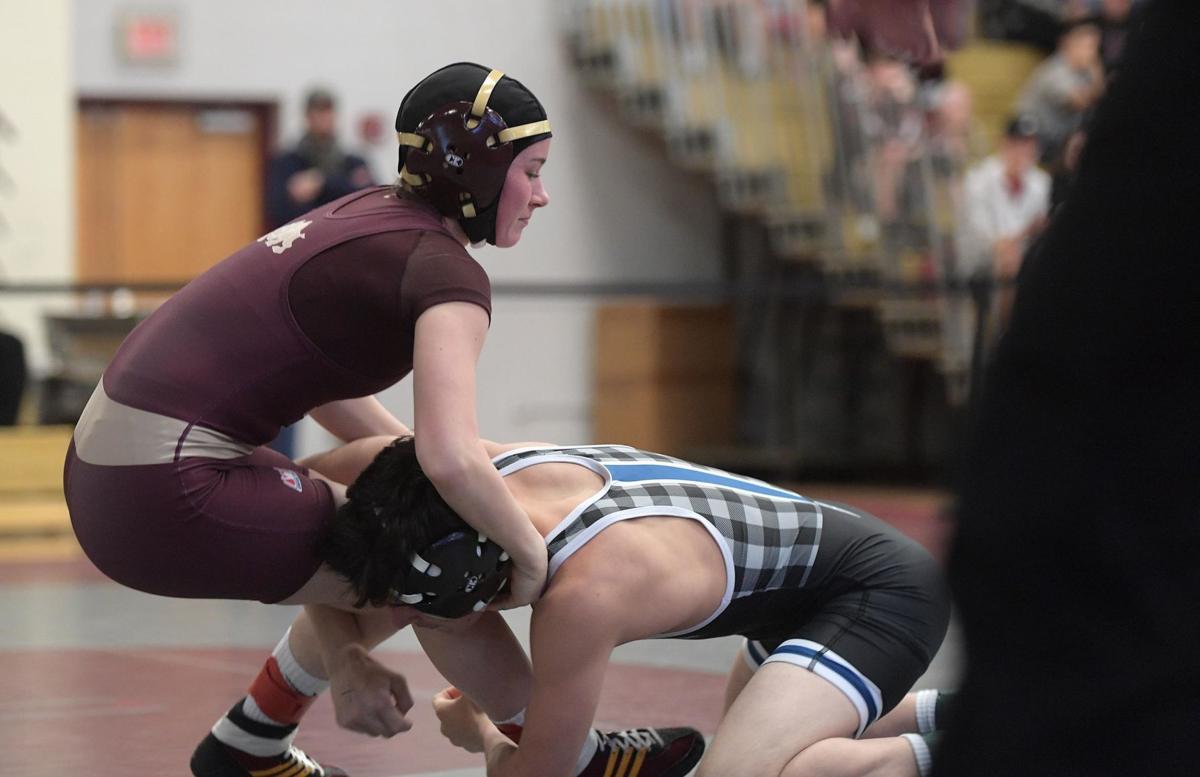 While most high school programs are absent of female wrestlers, youth programs around Cumberland County have a noteworthy number of female participants.
Carlisle has about five girls in its youth program, Big Spring has nine in its program, Camp Hill has five in fifth grade or younger, Boiling Springs has one girl in its youth program and Red Land has two in its youth program, according to their respective varsity head coaches.
During the 2019-20 season, there were no girls at the high school level at those schools, or on any roster for Sentinel-area teams.
"The idea of having someone take you down and drive you into the mat, that's not for everyone," Carlisle head coach Joe Wilson said.
But it is for some — including young girls.
It helps when they have role models.
Sometimes, those role models are other female wrestlers — like former Big Spring wrestlers Abi Sweger and Lyra Clark. The pair wrestled for the Bulldogs together a few years ago, and their presence appears to have motivated young girls to join the youth program.
"We have seen an increase [of girls joining] at the youth level since Abi and Lyra wrestled the last two years," Big Spring varsity head coach Nate Gutshall said.
Seven-year-old Jordyn Page and 8-year-old Tayla Zalewski both wrestle in the Carlisle youth program. Page was introduced to the sport by her mom, Amanda, who was also a wrestler. She showed Jordyn videos of her wrestling and got Jordyn interested enough to sign up for the program.
"I would like her to continue wrestling for as long as she wants to do it," Amanda said. "As long as she is enjoying what she does, I'll continue to support her."
For others, role models include siblings or friends.
Zalewski wanted to give wrestling a try after watching her twin brother, Zarek, wrestle.
"Her pap, Kevin Finkenbinder, and I have been extremely supportive," grandmother Tina Thompson said. "Her pap is also one of her coaches, and he spends time with her working on her moves and techniques."
And, according to Zalewski, she likes to "kick the boys' butts."
Cecilia Battisti, a 10-year-old wrestling in Camp Hill's youth program, took inspiration from Lions wrestler and friend Ethan Branstetter and decided to give it a try herself.
"It takes a lot for Cecilia to get nervous with regards to sports," Cecilia's father, Eric, said. "Wrestling, I think, was out of comfort zone, and she still stepped up."
Role models play a role getting these girls to try wrestling, and sometimes stay in it for the long haul. But support — from family, coaches and fellow wrestlers — keeps them engaged.
"The wrestling team has always been very supportive of the girls on the team," Amanda Page said. "It has been absolutely amazing all the people we have met along the way willing to help [Jordyn] improve. Overall, the community is supportive as well."
"All the coaches, parents and teammates are very supportive," Thompson said. "They have gone out of their way to make [Zalewski] feel comfortable, like she belongs, is treated like the boys and that the same expectations of training hard are required of her. Their words of encouragement mean more than they know. She loves her club."
Being welcomed and supported doesn't mean special treatment, though.
For wrestlers like Sweger, it was important she be viewed as a wrestler first. She wanted to be seen as "just a wrestler" instead of a "girl that wrestles." To her, it made her feel more included and less like an outlier.
Some coaches around the county know this and have done what they can to help make everyone feel welcome in the wrestling room.
"I tell all the children they are welcome to join the team," Camp Hill head coach Chad Gallaher said. "If they wish to wrestle at Camp Hill, we will accommodate their needs. We coach them up the same way as the boys and all get the same treatment."
"Female or male, I don't look at wrestling like that," Boiling Springs head coach Trevor Byers said. "I only look for kids that want to compete and work hard. To me, that's what makes a wrestler. Female or male — if you don't work hard, you're not a wrestler."
Wrestling, historically male-dominated, is a tough sport regardless of gender. But opportunities around the country are opening for girls to participate at the high school level.
It appears the momentum has finally reached Pennsylvania. Last week, JP McCaskey became the first high school with sponsored girls wrestling after the Lancaster School Board voted to approve the sport, according to PennLive.
If more schools follow suit, more girls might be interested in trying one of Pennsylvania's most-loved sports. PIAA by-laws require 100 schools to sponsor a sport before it becomes sanctioned. A rush of new girls teams could provide alternatives for those young girls who grow up competing against boys.
"I do think that girls are hesitant of signing up to wrestle because of the stigma that is attached to our sport," Mechanicsburg head coach Greg Budman said. "It is still seen as a boys sport rather than a sport for girls. Eventually, this stigma will be lifted when more girls join and compete in the sport."