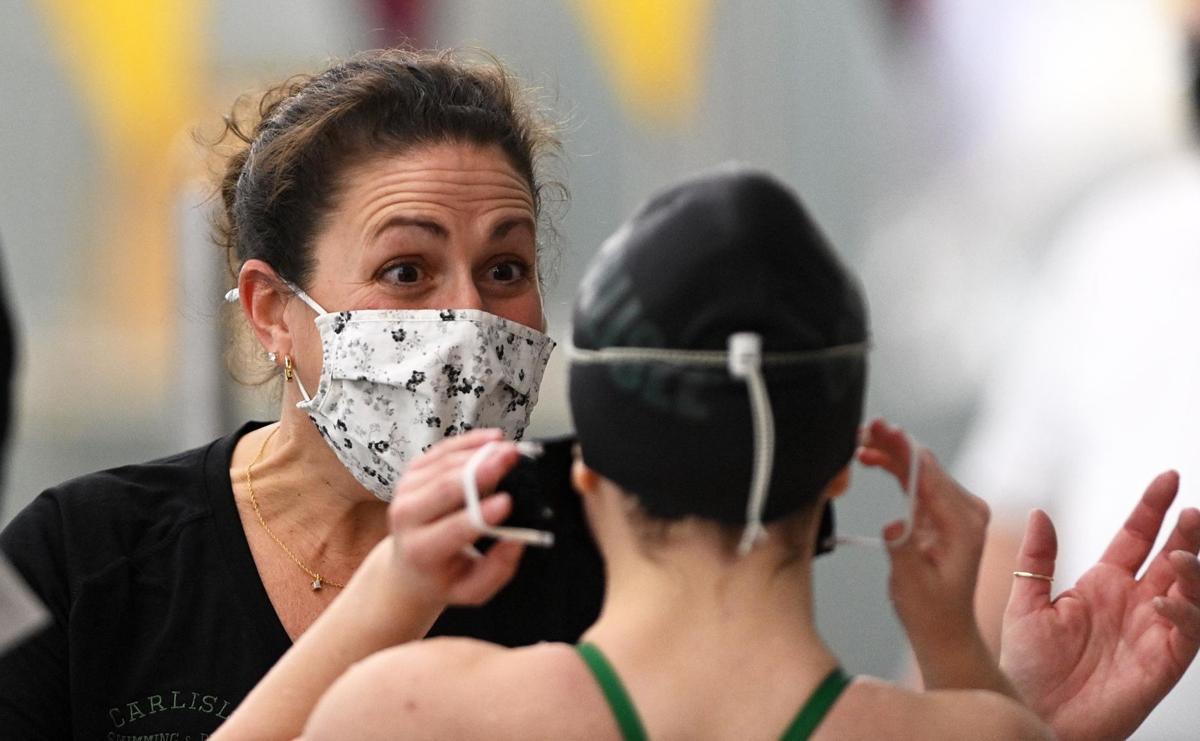 Carlisle's swimming and diving team face an unusual situation in an already unusual 2020-21 season: a transition to a new pool, specifically the Carlisle YMCA.
"It has a different feel to it," Thundering Herd head coach Tara Young said Tuesday.
In a pandemic-free world, the Thundering Herd typically host practices and meets at Dickinson College's Clarke Aquatic Center. But with the college closed because of coronavirus concerns, that isn't an option.
In the past, the squad held practices at the Carlisle Family YMCA about two times a week. The YMCA gives the opportunity for the team to meet as soon as school lets out. With Dickinson, the pool was only available in the evenings, which took away the chance to attend high school basketball games and other social events.
The move to the YMCA is only temporary. Young said once Dickinson gives the team the green light to return to the aquatic center, it will do just that.
Despite the swimmers being used to the YMCA pool, the transition comes at a cost. With the facility open to the public, Carlisle's competitive schedule will provide little in the way of a home pool advantage. They only have one home meet scheduled for this year, compared to normally having half their schedule filled with home contests.
"The YMCA offers so many programs such as swim lessons, water exercise, and has its youth swim team during the week, so pool time is limited," Young said. "Therefore, we were offered swim meets on Saturdays."
With meets only available on Saturdays, that put the team in a tough spot. Most schools prefer meets during the week to give athletes rest on the weekends. Because of that, Carlisle will be hitting the road for nearly every competition.
"They know the pool. That part isn't a problem," Young said. "But it is a little different atmosphere when you're having a swim meet. You know, the YMCA versus Dickinson, Dickinson has more spectator seating and more of a meet feel to it."
Prior to changing facilities, Carlisle faced another hang-up: no practice time.
Carlisle Area School District shut down schools and extracurricular activities Nov. 30, citing concerns about COVID-19 cases within the district as well as rising case counts in Cumberland County. That shutdown continued through the holidays when Gov. Tom Wolf ordered all youth sports to pause for three weeks before resuming Jan. 4.
In December, Carlisle extended its shutdown to Jan. 18. But shortly after Wolf's mandate, the district opted to allow sports to begin Jan. 4 once the state mandate expired.
Minus pool time, that forced Herd swimmers to get creative with workouts from home.
Young said in order to stay in shape, most of her swimmers relied heavily on cardio workouts to imitate the exercise they experience in the pool. Some ran in their neighborhoods, some used equipment at home and others even had the luxury of using a pool.
"My core group has been swimming, and they all have their own club teams," she said. "Some of them swam here at the Y for me for club swimming, so they have that kind of a base."
Additionally, Young said during the shutdown, she sent her swimmers YouTube videos to watch and CrossFit workouts to complete from home via the team's GroupMe chat.
"Sometimes some of them would send videos back to me showing them doing the workout I had given them, whatever that may have been," Young said. "So, that was pretty cool and fun to see them staying active."
Despite the two-month layoff, the Herd opened its season Wednesday evening against Big Spring, with the girls winning 117-53 and the boys losing 107-47.
Before the meet, the Herd only had five practices together as a group.
With the PIAA's modified rules this season, teams are required to register 10 preseason practices before beginning competition. However, if a team practices off-campus, only five are required. That five-practice rule applied to the Herd.
Carlisle's next meet is Jan. 21 at Boiling Springs.