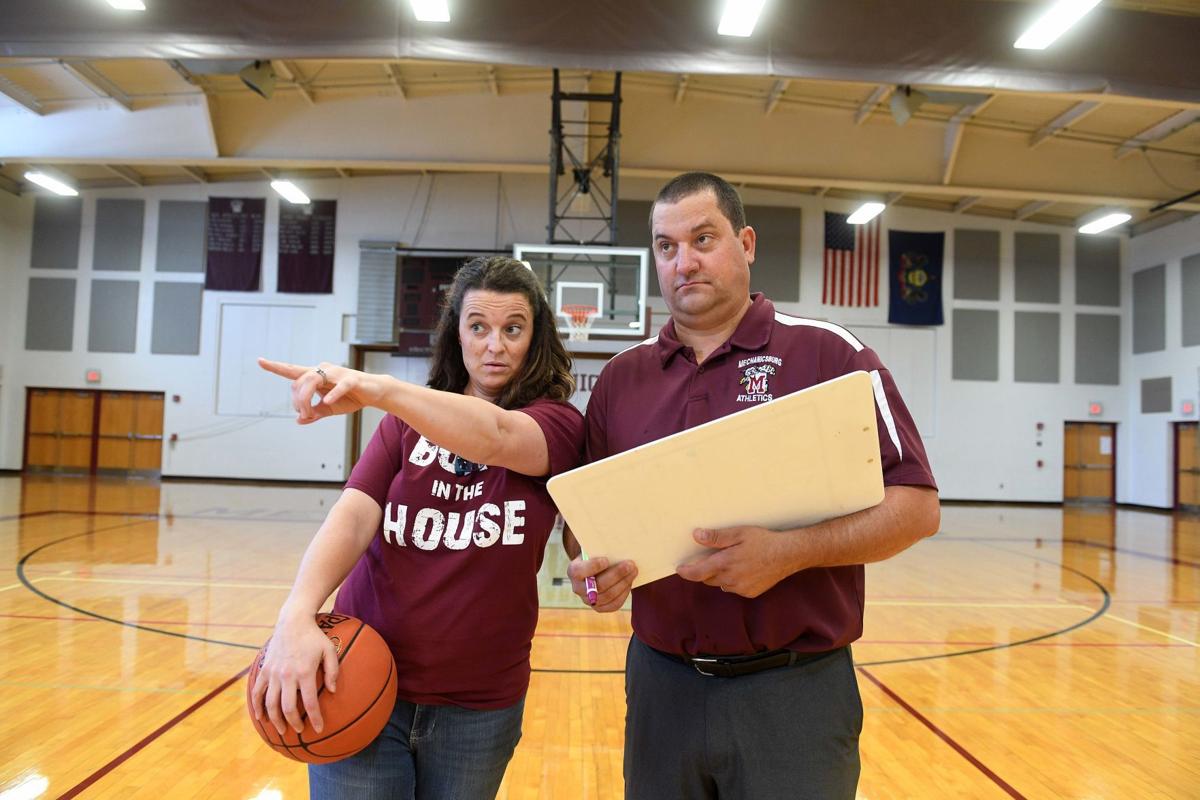 Being the spouse of a coach during just one high school season is tough.
The long nights apart while having to keep the fridge stocked, making sure the kids get on the bus and have their homework done, running errands — it's a lonely job. And that's on top of one's own job.
Now multiply that by three.
Such is the life of Alexis McAllister, wife of Mechanicsburg girls basketball head coach, baseball head coach and football assistant coach Clay McAllister.
"It takes someone special to sacrifice enough to make this happen," Clay said.
Her own type of busy
Alexis is not a laid-back woman — far from it.
She works as a physical therapist for elderly patients. She helps around the house one on one with patients "trying to solve their problems," she said, whether that be making sure they do their exercises or checking that the doorways will accommodate their new walker.
"We have to do whatever we can to keep them in the house," she said. "Yes, we're doing exercises, and yes we're trying to improve their balance. … But we're also making sure: can their walker get through the door? … Do they have a night light to get through the house? … It's more just doing whatever it takes to keep them out of the hospital."
Alexis called it "maybe divine intervention" that got her into her career. She never went through physical therapy like some former athletes who get drawn to the profession. Her uncle was ill while she was in high school and died a few years later, and her initial spark to enter a medical profession likely came from that.
She worked in outpatient orthopedics for a while, but the hours eventually got to her. She switched to working with older patients and was surprised by how much she enjoyed it. The hours are a bit easier, which is a plus.
But then she comes home and has to have something around her own house to work on.
"He'll tell you right now, I always have to have a project," Alexis said. "I'm kind of stubborn to think if I watch a YouTube video, I can do it."
New wood trim in the bathroom, a renovation in her son's room, basement shelving — there's always something for her to do.
Oh, yeah, and then there's being at Clay's games and getting their three kids to and from school, practices and games.
There is hardly a wasted moment.
"When you're in it, you don't really realize what you did to get through it," she said. "You just survived it."
Alexis said she accepts being "the coaches wife" when she's out in public, and she doesn't view it as "a negative thing." But that is hardly what defines her.
"I have enough things that I kind of do on my own," she said.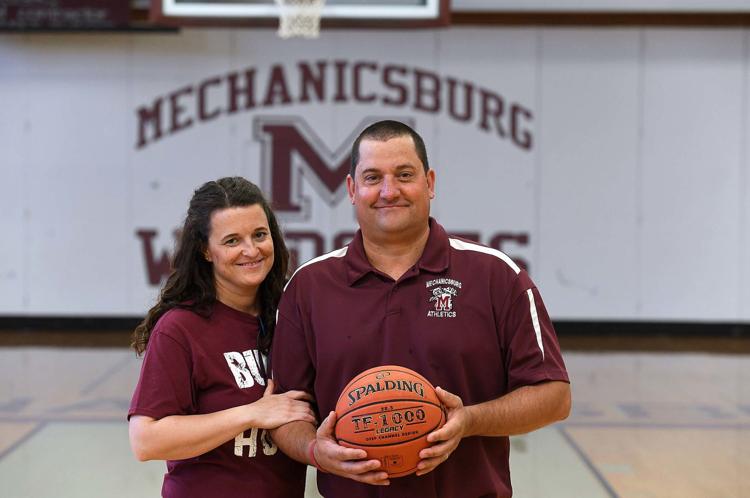 Sports from the beginning
The McAllisters met when Clay was a sophomore at Western Maryland (now McDaniel College), and she was a senior in high school.
Clay — in a nifty bit of foreshadowing for the rest of their relationship — played basketball, football and baseball growing up. Alexis traveled to visit him during games more than once, even when she went to Penn State for college.
"She's really, really intelligent," he said. "She's fun, she's got a great smile. She's pretty easy going. And I think that's why this coaching thing works."
Alexis was accustomed to an athlete's lifestyle early. Her brother played basketball with Clay, and Alexis lost numerous games of "P-I-G" in her house and dabbled in field hockey and competitive spirit.
She didn't take sports nearly as seriously as Clay, but it wasn't jarring following the ultra-busy Clay.
The two got married in 1999 and had three children. And as the family grew, so did Clay's coaching responsibilities. He took over the girls basketball team first, then the baseball team shortly after when longtime coach Don Shirley died. And he coached ninth grade football for several years; he only recently came back to the sidelines to help current varsity head coach Anthony Rose.
But from Day 1, the couple said, there has never once been talk of Clay coaching less.
"He just lives and breathes it," Alexis said. "If I took it away from him, he would be miserable."
Setting an example
While balancing their careers and hobbies with raising three growing children is taxing, it's also full of lessons.
"We both work really hard at our jobs," Clay said. "We do think there's benefit in our kids learning what hard work looks like, too."
Clay hopes his and Alexis's busy schedules rub off on his kids and they learn to appreciate hard work.
They have also grown used to the lifestyle. His oldest son wasn't intimidated in the slightest on his first day of high school — he had strolled the same halls hundreds of times before.
Alexis said coaching and having children has changed Clay for the better.
"He definitely calmed down, it helped to have the kids at the games," Alexis said of her notoriously intense husband. "They're running across the court yelling, 'Daddy!' How could he be mad?"
There's an added bonus, one that's paid off time and again: Clay's players are an unlimited supply of baby sitters and role models.
Alexis said current and former members of the girls basketball team will text them asking if their daughter would like to go to the mall. And the three of them have had hundreds of older siblings to learn from, something Clay and Alexis don't take for granted.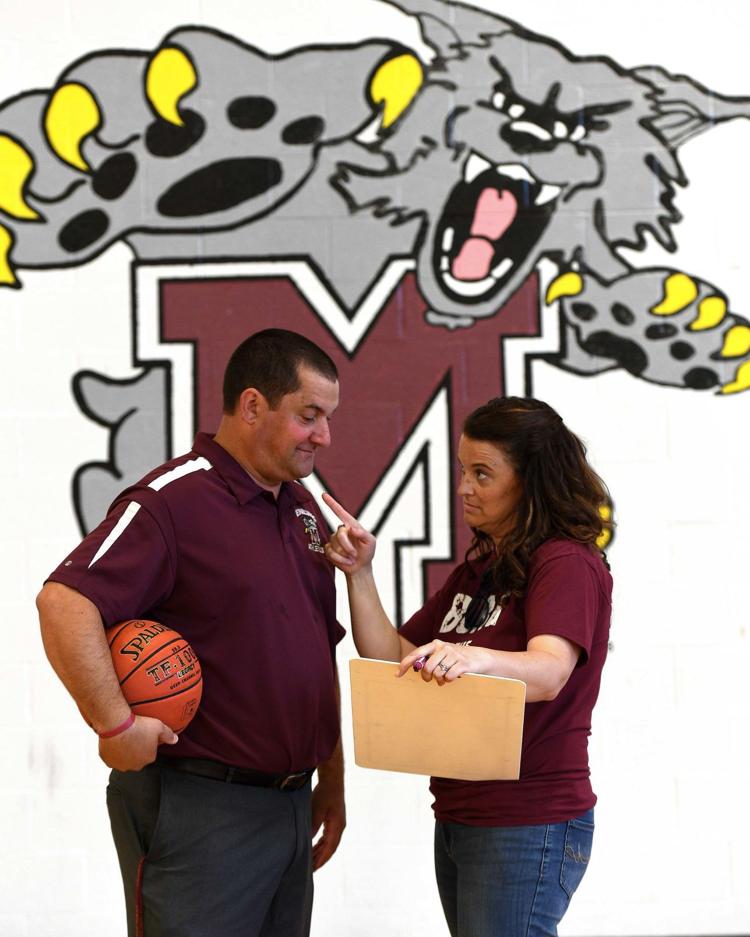 Giving back
Perhaps surprisingly, the McAllisters call themselves "homebodies." It's hard to imagine, though, since neither is home much it seems.
From August to May, sometimes June, Clay is coaching one sport or another. He teaches at Mechanicsburg during the day, then spends four, five even six hours after school coaching practices or leading his team during games. And that doesn't even take into account far away road games or time scouting, watching film and making visits to Mechanicsburg's youth teams.
On the rare evenings he's home, Clay said he tries to take some of the weight off his wife's shoulders by helping with household chores. And in the summer, it's his time to keep the house together.
"In the summer for example, I'm home in the summer, it's time to make sure the dishes are empty and the laundry is done," Clay said. "I hate to say she has a maid for the summer, but I try to make up for the times I've been away."
It's give and take. But the couple — who will celebrate 20 years of marriage Aug. 7 — make it work. Alexis likes having time to herself at home, and the two are such opposites, she said, that they balance each other out.
"Patience is definitely part of it. I think it's more about respecting the other person and knowing what's important to them," Alexis said. "If you're not willing to do the things to make the person happy, and you'd expect the same from them, too."
Get in the game with our Prep Sports Newsletter
Sent weekly directly to your inbox!