Newville
Remembering Big Bake: A 'Bulldog, through and through' in Newville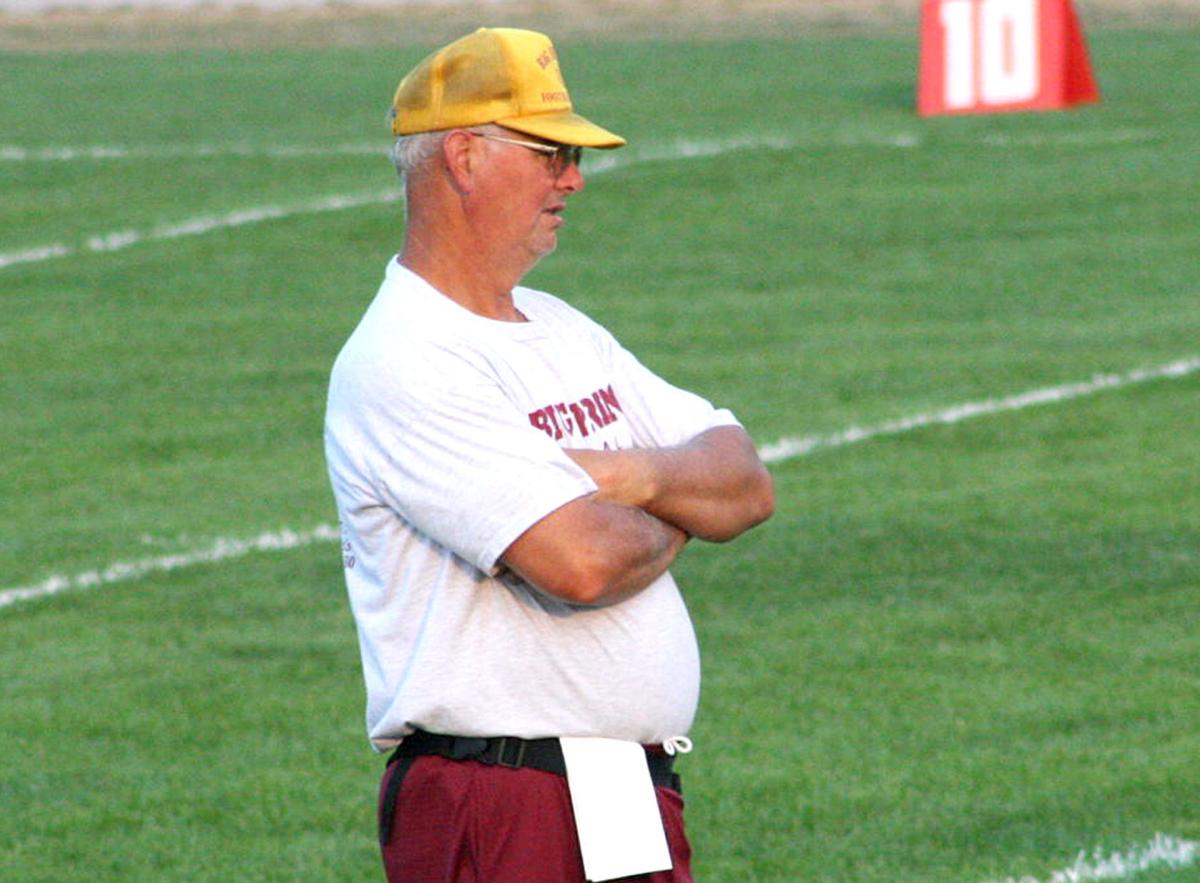 On Dec. 15, Big Spring lost one of its own.
A 1964 graduate who went to West Liberty State College, he taught math for 32 years at Big Spring before retiring in 1999. He also spent 37 years coaching Big Spring baseball, retiring with the most wins in program history. He served as assistant coach for the football and basketball teams, and coached the Newville American Legion baseball team.
A family man and a man of faith, Baker made it a point to help players, friends and family. Sometimes it was farm work, sometimes electrical. Regardless, the larger-than-life figure with an iron grip was always on the move and always willing to lend a hand.
Even in the end — his family asked that any contributions in his memory are to be made to Mount Hope United Methodist Church or the Big Spring Athletic Boosters.
Big Spring superintendent Richard Fry said there are plans to honor Baker during the baseball season, but details were not yet available.
Baker leaves behind his wife, two kids and several grandchildren and great-grandchildren.
A players' coach with a big heart, big laugh and a good sense of humor, Baker's impact was felt all throughout the Newville and Big Spring community.
There are stories aplenty to share. And while he likely wouldn't have talked much about himself, plenty of people were willing to do it for him.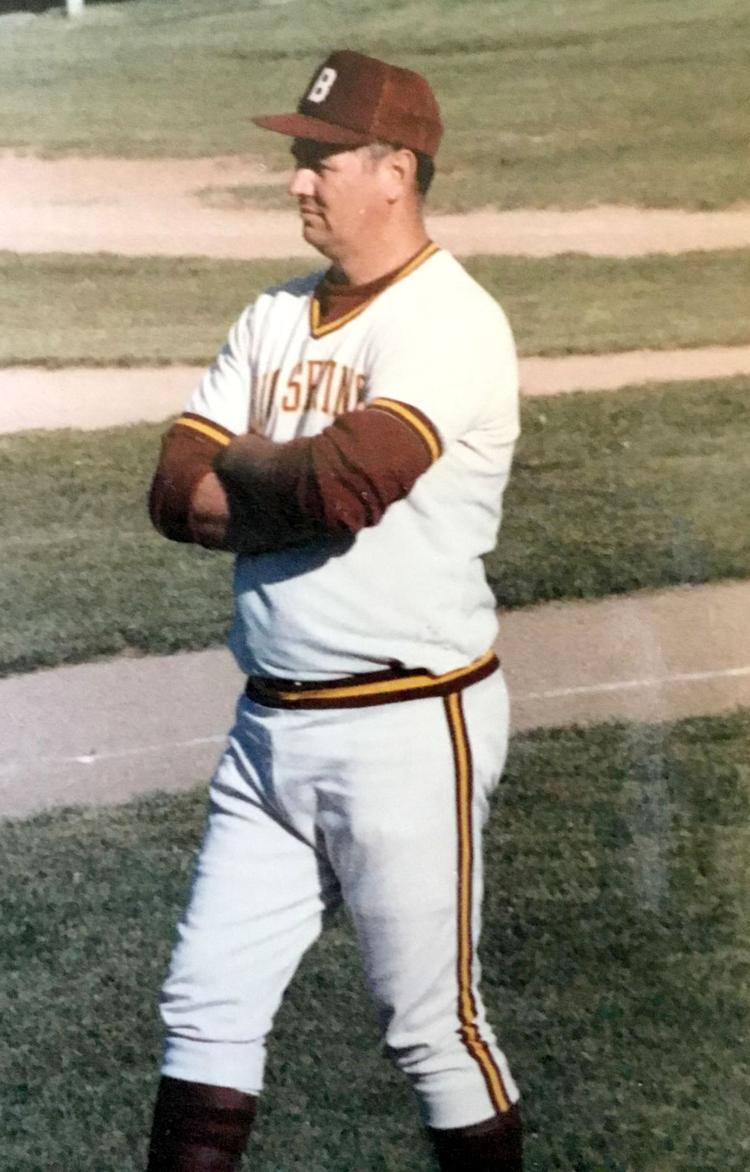 The handshake: Powerful, legendary and a fun challenge to players
Big Bake was known for many things. Family and friends tried to put that into words over several days after his death. But before sharing those stories, there was something else Bob Baker was known for.
Baker's grip was legendary. A powerful man at 6-foot-3, 275 pounds in his prime, his son said, Baker had an intimidating presence. But he was known as a "gentle giant" or "teddy bear" by those that described him. He was not a man who used his physical prowess for anything more than farm work and lifting objects.
But his handshake was something to behold, or simply hold.
Players would challenge him to contests to see who could squeeze his hand until he flinched. He never did. Friends remember it being powerful and a sign of his strength, but never menacing.
"He prided himself on his handshake," current Big Spring baseball coach Josh Petty said. "He'd let you squeeze that thing [as hard as you could]."
"His hands would just wrap around yours whenever you shook him," former Big Spring athletic director Jay Hockenbroch said.
Big Bake's son, Bobby Baker Jr., said he was approached recently by a former baseball umpire that remembered him and his dad.
"He said, 'The big thing I remember about Coach Baker, when you'd shake his hand, your hand would just disappear,'" Baker Jr. said.
Petty: Trying to follow in Baker's footsteps
There have been a few coaches in the Bulldog dugout since Baker retired as baseball coach more than a decade ago, but Petty hopes to be the last one for a while.
The Big Spring grad and coach, who will enter his third season with the Bulldogs this spring, said he owes his dedication to his alma mater to the influence of Baker, Petty's varsity coach in 1996 as a senior.
"I'm not really ever interested in coaching anywhere else," said Petty, who was a transfer from Carlisle in his high school days.
"Big Spring pretty much lost what every coach in our area strives to be."
Petty, who is raising perhaps another Big Spring-centric family while coaching his son, Braden, right now — elder son, Jaret, is in college — remembered Baker as a giant of a man who "ran a good practice" but never yelled and was respected by all.
"He had a soft voice, but a stern way about him," Petty said. "You knew when he meant business."
"I think his size and strength never matched up with his quiet voice. I never heard the man yell in all his coaching."
There was a story Petty heard from Baker's days as an assistant football coach. During a game, an opposing running back came sprinting across the field directly in Baker's direction. Bake didn't step aside, look concerned, nothing. Just stood there.
When the back got right on him, Baker took a step, grabbed the runner's shoulder pads with one hand, spun him around, patted him on the back and sent him back in the game. It looked effortless.
Petty sees a lot of Big Bake in his son, Bobby "Little Bake" Baker Jr. and grandson Bryce Baker — deeply caring individuals connected to Big Spring.
Petty texted a few former baseball teammates after the news of Baker's passing.
"We were all just like, 'We lost a great one,'" Petty said.
Hockenbroch: Baker was a consistent presence
Baker and Hockenbroch lived a few houses apart for a while.
Hockenbroch, who was the school's athletic director for nine years before retiring at the end of the 2016-17 school year and who taught and coached in the district before that, said he hunted on Baker's property. One of the first deer he killed he then butchered on Baker's property.
While the two never hunted together, Hochenbrach said Baker was a constant presence in his life. Really, Bake was a constant presence in everyone's life.
"He was kind of a quiet guy. Hearty laugh," said Hockenbroch, who added that Baker liked to imitate cows mooing.
"Probably just always seeing him on the sideline forever coaching football," said Hockenbroch of what he'll remember most about Baker at Big Spring.
Jim Ellingsworth: Baker was a loyal friend and devoted Bulldog
Baker served under Jim Ellingsworth more than any other AD at Big Spring.
From the mid-1980s until 2006, Ellingsworth was the Big Spring athletic director, 28 years in a full-time role and 33 years at the district in total, he said. He met Baker in 1973 when the two were young coaches and teachers.
Ellingsworth was an assistant football coach for 10 years, he said, before serving as head coach for seven. Baker was an assistant under him for a time, where he stayed in varying roles for years until he retired near the end of his teaching career. Baker also coached on the basketball staff for a stretch, operating the clock or the score book at times as well.
"You couldn't have found a better human being," Ellingsworth said. "Bob was a very kind and loving man."
In talking with multiple people about Big Bake, there are a few strands of connective tissue in just about every story. He coached or coached with nearly everyone in some capacity, and it's quite possible that almost all of Newville and the surrounding community has had some sort of electrical work done at their house by Baker.
It's not as much of an exaggeration as it sounds.
Baker didn't seem to sleep. He coached and taught at Big Spring, but was also active at Mount Hope United Methodist Church and the Mifflin Athletic Association, tended his farm regularly and was a part-time electrician. He would butcher farm animals and deer, tend to fields and help a family move into a new home, perhaps all in the same day.
When Ellingsworth moved into his new house in 1976, Baker helped without question.
Ellingsworth's wife loves this short story in particular. During the move, there were two bookshelves that needed to be brought in. Bake lifted them in each arm and brought them in on one trip. It should've been a two-person job.
"It's a big loss for me, personally," said Ellingsworth, whose house was largely wired by Baker. "He was a great friend."
Years later there was a packed house at a basketball game at Big Spring. It was so loud, Ellingsworth said, that nobody could hear the final buzzer sound at the end of a tight contest. So he and Baker decided to install red lights on both backboards in the future.
Ellingsworth doesn't remember just how much wiring Baker "donated" to the job, but it was a lot. And in one afternoon the pair strung electrical wires from wall to backboard and connected the red lights on both sides of the gymnasium. They remained until the gym was remodeled years later.
"He didn't ask for any money for that," Ellingsworth said.
Baker did a lot of thankless tasks, his longtime AD remembered. He'd ready the field for practice, line the game field, set up the press box ... ust about anything that needed done, he'd volunteer for.
"Rare breed as far as coaching," Ellingsworth said.
"I think [Big Spring] lost one of their biggest fans. … He was a Big Spring Bulldog, through and through."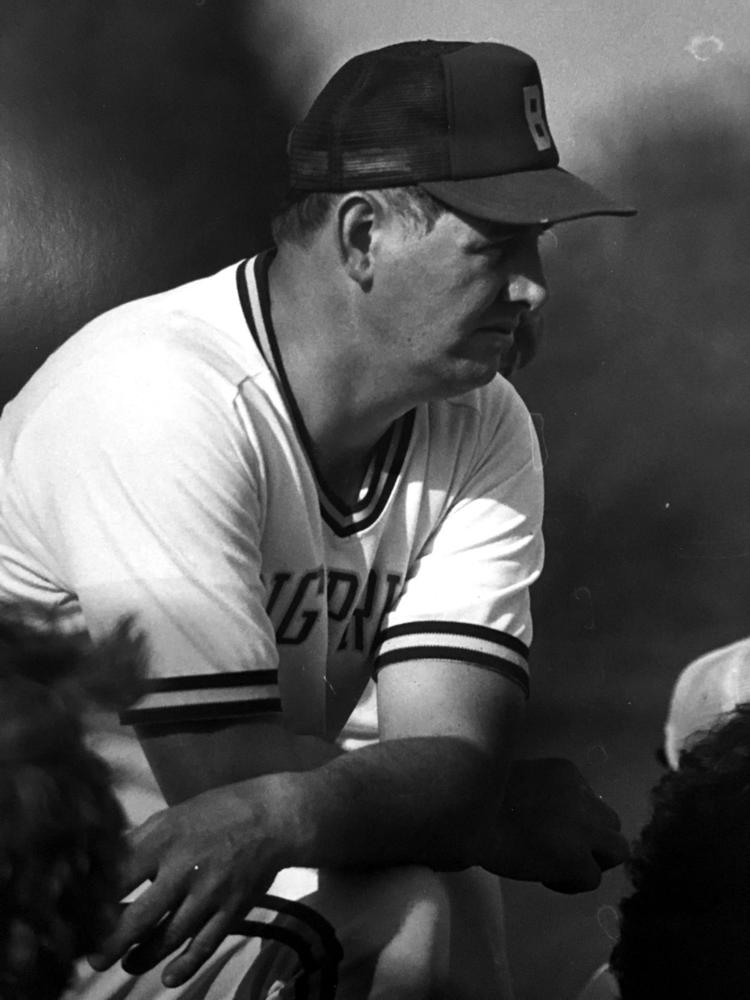 Brent Stroh: Baker was there for anything, on or off the field
Brent Stroh now coaches on the staff of his son, Zack Stroh, at Boiling Springs. But there was a time he shared sidelines with Baker.
Hired as a teacher in 1984, Brent Stroh coached junior high baseball and then became head football coach at Big Springyears later, with Baker in charge of the linemen. The two became close, trading babysitting duties with growing families.
"I saw Bobby a lot [the last few years]," Stroh said. "You kind of feel helpless as far as what you can do, what you can say. … It's a big loss."
During a game against Gettysburg many years ago, the Bulldogs were getting "hammered." It was early in Stroh's coaching tenure and he came into the locker room ready to light a fire under his players' butts. But when he kicked open the door, it slammed Baker's hand between the door and the wall.
"He just gave me this look like, 'Oh my God, my life might be over,'" Stroh said, laughing at the memory now.
"In general he's just a great guy," Stroh said of his friend. "He would do all the little jobs that nobody wanted to do, Bake would do those things without being asked to."
Brett Ickes: Baker was a man to look up to
The Baker family house was always bustling with kids, even those of friends.
Current Carlisle football coach Brett Ickes was one such regular visitor. He grew up with Bobby and played for Big Bake for a few years, graduating from Big Spring in 1989. A multi-sport athlete with a big body who could occasionally bully a defender in basketball, Ickes was the typical kid.
"We did stupid stuff [around the house]," Ickes said. "Anything from staying up all night … to going out and riding motorcycles."
He joined the Bakers on trips to Knoeble's and slaughtered his first hog at their house.
"They used to have Jeep Cherokee's, that was always they're staple vehicle," he said.
Ickes earned the nickname "Moose" from Baker when he knocked over some teammates in practice driving to the basket. Far from a good baller, though, Ickes found better success on the diamond and the football field. He pitched three years for Baker in the late 80s.
"He taught you the right way," Ickes said.
Baker was never one to talk much, and everyone who spoke about him said he never made himself the center of attention. Ickes said that rubbed off on him as a coach for the Thundering Herd and the Bulldogs for a time.
"I don't like the limelight either, I don't," he said.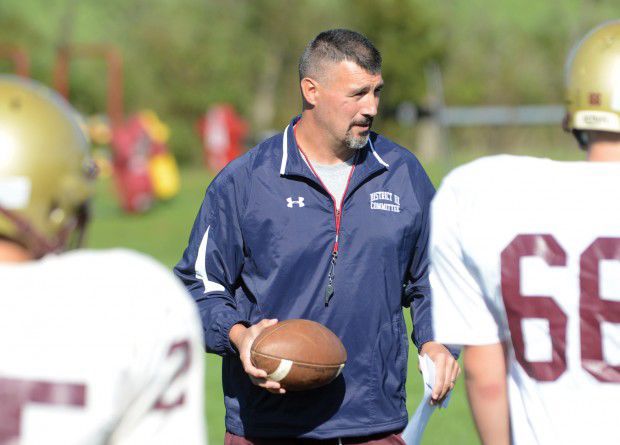 Bobby Baker Jr.: Proud to have been his son
"He was the rock," Bobby Baker Jr. said of his dad Sunday evening. "He'd do anything for [my sister, Rebecca Hoke, and I] and he'd do anything for my mom."
Big Bake was diagnosed with dementia five years ago. The disease is ruthless and unfair, sapping away memories built over a lifetime. It doesn't just impact the victim, it inflicts pain on loved ones as well.
The Bakers made the best of the situation, and Bob Baker fought just like everyone knew he would. Even as he started forgetting faces, names or where he was, there were glimpses, even in the final months, to Baker Jr. that is father was still there.
"We were blessed," said the son, who goes by Bobby or Little Bake. "Up until this past year he would go with my mom, he would go to my sister's house to visit his grandkids. … We made sure we were doing things he enjoyed.
"Growing up I can't remember my dad sitting down too often. … Even during his last year of dementia, he wasn't one that was gonna sit out."
Credit belonged to Beverly Baker, Bob's wife of 49 years and cancer survivor of almost 20 years. The family kept going on yearly vacations like they had until two years ago. And Bob stayed at home until his final two months. He died at UPMC Pinnacle Harrisburg Hospital.
Big Bake remained so busy until the end that, even as the disease ravaged his memories, he surprised his son by getting on the family tractor and helping with the hay this summer. Bryce Baker, Bobby's son, stepped out of the tractor for a moment to help his grandmother when Big Bake snuck on. He made a couple passes through the field, then parked the tractor just as he always had, giving the family one more moment of normalcy.
"Once he got up there he was happy," Bobby said.
Bake's son doesn't know why his dad was so devoted to Big Spring, but he knows it rubbed off him and the rest of the family. Little Bake would tag along to as many practices and games as he could growing up, and knew how to keep a baseball scorebook by third grade.
A 1987 Big Spring grad, Bobby volunteered on the baseball coaching staff in 1988, then became an assistant coach from 1990-95. He assisted with basketball in the 90s. He also served as the head football coach from 1996-2006, an assistant from 2007-08, then as a head coach and later co-head coach briefly in the 2010s. He has worked in the district's tech department for 22 years.
Little Bake has three kids, and his sister has two of her own.
"When I built a house, he was right there involved with it," Bobby said. "He spoiled us rotten."
The family is, and always has been, tight. The Bakers lived on property they bought from Beverly's parents and went everywhere together.
"I think he was extremely proud of everything [his family did]," Ellingsworth said. "There was a tightness there that, I'll be honest, I wish I would've had with my father."
Multiple people said they see plenty of Big Bake in his son and grandson, Bryce, who was particularly close to his grandfather and has taken an affinity to farming.
"He's going to follow a lot in his grandfather's footsteps," Petty said.
"I know Bobby's son really looked up to Bob," Ickes said.
Bobby admitted in the immediate days after his father's death he had kept "pretty recluse." But the outpouring of text messages and phone calls offering condolences has helped. It will nonetheless take time to heal.
Knowing Big Bake was so well-loved in the Big Spring community will help ease the pain, at least in time.
"Absolutely," Little Bake said. "I'm extremely proud of my dad, and always have been. It was an honor to have him as a father, and to coach with him, and to spend time with him."