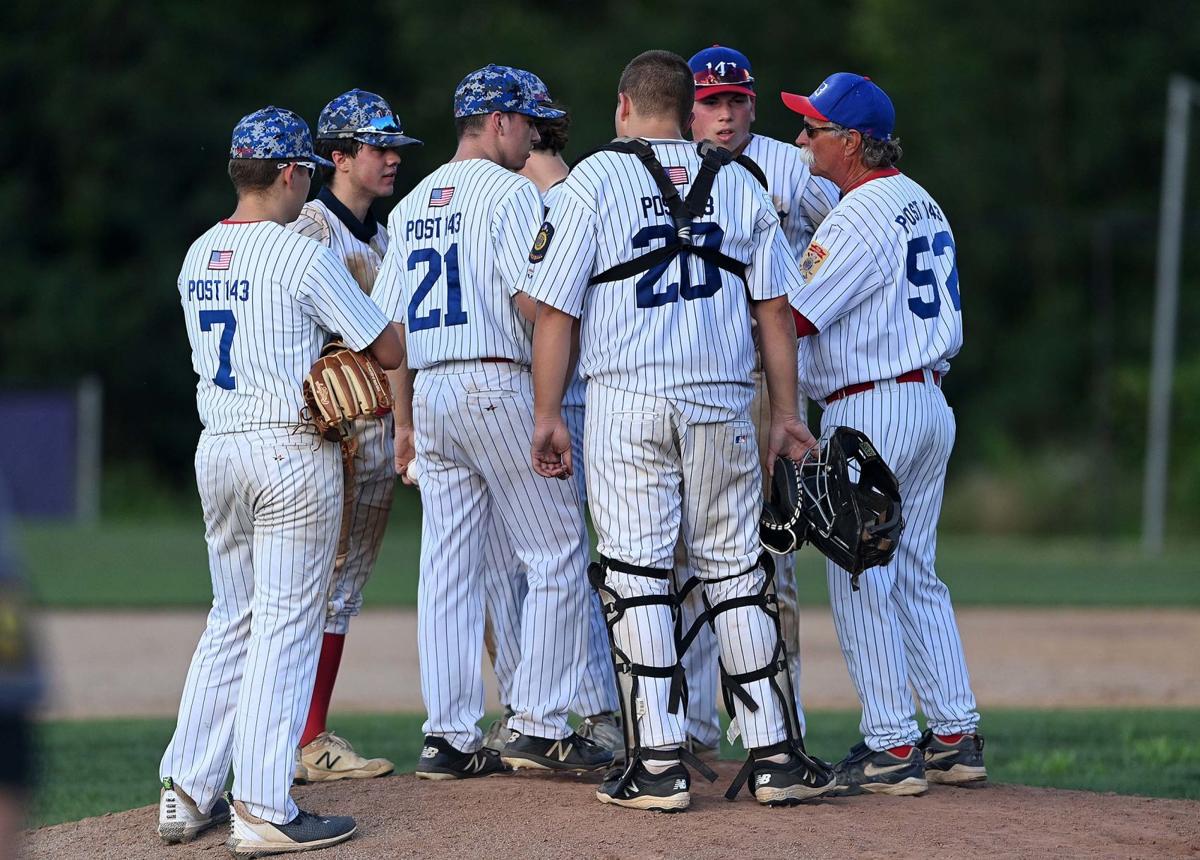 New Cumberland Post 143 trailed Waynesboro Post 15, 3-2, in the fifth inning of their Pennsylvania American Legion baseball Region 4 tournament elimination game Saturday under a persistent sun at Mechanicsburg's Rickenbach-Shirley Field.
But when Cam Goodling grounded a ball toward third base, everything changed.
Two runs scored on Goodling's grounder, part of a five-run fifth inning. Post 143 added authored another five-run outburst in the sixth, pulling away from Waynesboro for an 11-4 win and earning the right to play another day.
Mechanicsburg Post 109, the tournament's host, later bowed out with a 2-0 elimination-game loss to Red Lion Post 543.
The elimination-game winners continue their playoff Sunday, facing the winner's bracket teams that suffered their first losses in the double-elimination tournament. Red Lion (15-3) meets New Oxford (14-3) in a game scheduled for noon, followed by New Cumberland (12-5) vs. the loser of the game between Harrisburg Post 730/Paxton and Myerstown, which was suspended Saturday due to weather and set to pick up Sunday at 10 a.m.
Regardless of opponent, New Cumberland looks to build on the momentum it established in Saturday's win.
"We get a little momentum," said Brady Ward, Post 143's captain, "and we just keep going. It always seems like once we get down, we don't want to be counted out. Never count these boys out."
Ward helped New Cumberland cut the Waynesboro (13-7) lead to one in the fifth inning when Post 15's Josh Clapsaddle's pitch clipped him in the batter's box with the bases loaded, scoring Jordan Negley.
Five pitches later, Goodling sent a ground ball to third base. Nate Uzelac raced home, beating a throw that rolled away from catcher Tyler Caron toward the backstop. Caron recovered, flipping to Clapsaddle, who tagged out Ethan Pfeffer at the plate. When Goodling tried to take second base, and Clapsaddle tried to throw him out, Ward – who had gone from first to third – broke for home and scored, capping momentum-swinging two-run surge on a ball that never left the infield.
"Every once in a while," Post 143 coach George "Turtle" Estep said, "something like happens, and it clicks."
New Cumberland added two more runs in the inning and added five in the sixth to take a commanding lead.
"It was disappointing," said Waynesboro coach Dan McCleaf. "The game got away from us there in the middle. Our pitchers lost the strike zone, and our fielders made a couple mistakes in the field that cost us. Otherwise, it would have been a much closer game."
New Cumberland's Michael Mose went 2-for-3 at the plate, driving in four runs and scoring two others. Ward (2) and Goodling (2) also authored multiple-RBI games.
Meanwhile, Post 143 pitcher Tanner Crawford pitched his second complete game of the postseason, allowing four runs on 10 hits and four walks while striking out four and finishing with 103 pitches.
"Tanner's been huge," Estep. "He's so busy getting ready for college, but every time he comes out for us, he helps us so much."
While the momentum shifted in New Cumberland's favor with a ground ball to third base, Red Lion wrestled momentum away from Mechanicsburg with a pair of throws from center field.
Twice, Mechanicsburg (9-8) tested the arm of center-fielder Reid Anderson with runners tagging from third base and attempting to score after fly-ball outs in both the fifth inning and the sixth.
Both times, Anderson answered, firing strikes to catcher Sam Koons, who completed each double play with a tag and kept a 2-0 Red Lion lead intact.
"That saved the game," said Red Lion coach Scott Guise. "I told the team after the game that it was as good as hitting two solo home runs. And actually, it might be more impactful."
Red Lion's offense broke through for the game's only runs in the bottom of the fourth. Starting pitcher Shane Guise delivered an RBI single that scored Connor Lawrence, who had drawn a walk to lead off the inning. Ryan Stabley later scored from third on a sacrifice fly from Benton Koons.
Mechanicsburg's offense had threatened throughout the afternoon, as the sun climbed and the small of a chicken barbecue in the park drifted across the field. The leadoff hitter reached base in the second, third, fourth, fifth and sixth innings, but Guise and Chase Morris, who pitched the final two innings, kept the threat contained, along with the pair of Anderson assists that retired Tyler Schawarzman, who singled and advanced to third on a fielder's choice with one out, and Max Cavada, who led off the sixth with a triple.
"We just couldn't push runners across (the plate)," said Mechanicsburg coach Scott Cavada. "We had so many runners on, and we could not get them over. I got a little too aggressive, especially after the triple with nobody out. I never should have sent him home."
Rising sophomore Reese Young kept Mechanicsburg within reach, pitching all six innings and collecting eight strikeouts and picking off one runner while allowing four hits and surrendering two walks.
"His mechanics are so repeatable," Scott Cavada said, "and he's just so calm and comfortable on the mound for a barely 15-year-old kid."
In Saturday's other completed game
Upper Duaphin 3, New Oxford 2: A pair of errors and two wild pitches helped Upper Dauphin (15-5) turn a 2-1 deficit into a 3-2 lead in the top of the seventh. Isaac Hepler scored the go-ahead run, and Tate Etzwiler pitched a perfect bottom half of the inning to close out a four-hit complete game. New Oxford's Jesse Bitzer also pitched all seven innings, allowing three runs, none of them earned.