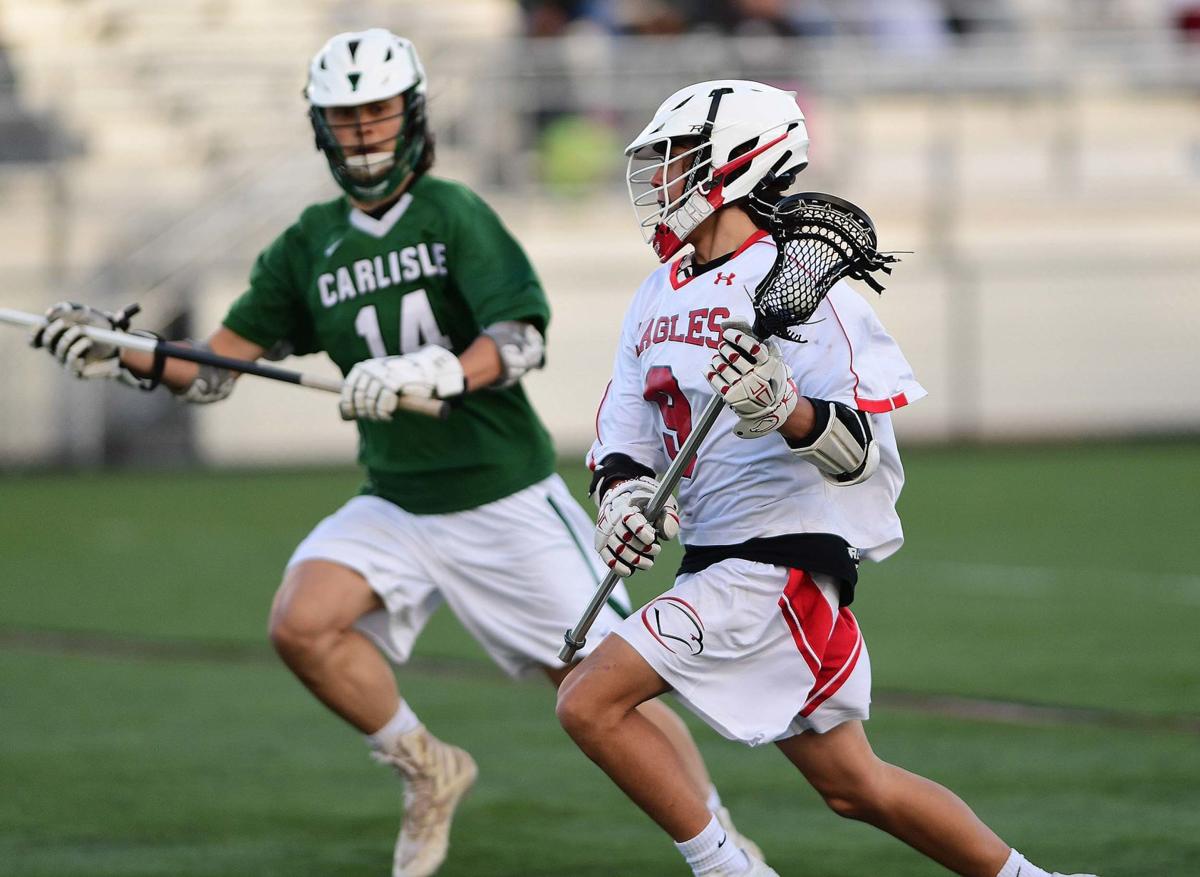 EPHRATA — After one quarter of play Tuesday, Cumberland Valley realized it was affording Ephrata perhaps a little too much of a homefield advantage.
Once two quarters were complete, the Eagles had regained their legs and dialed in their game plan. And that's when Ephrata's advantage turned quickly into a deficit.
No. 9 Cumberland Valley climbed out of an early three-goal hole with a strong second half, using a run of four straight third-quarter goals to claim a 13-9 victory over No. 8 Ephrata in a District 3 Class 3A first-round boys lacrosse game at Ephrata's Mountaineer Field.
The win advances CV to Thursday's quarterfinal round, where the Eagles will face top-seeded Manheim Township. The Blue Streaks, who had a first-round bye, knocked off CV in last year's district title game.
"We struggled getting off the bus," CV head coach Matt Healey said. "Ephrata is fast and well coached, and they were capitalizing. I felt my energy level needed to rise, and I hoped my players could follow that. By the second quarter we were climbing back in, getting opportunities, and in the third quarter we were clicking."
Attack Bryson Rhee and his Ephrata teammates had indeed gotten the drop on the Eagles, scoring twice within the game's first 3:09. The Mountaineers padded the lead late in the quarter, when Blake Billingsley scored with 12 seconds remaining to push the Ephrata lead to 4-1.
Despite the deficit, CV had showed signs of getting right. The Eagles proved it in the second, when they outscored Ephrata 4-2. They closed the gap to one goal and trailed just 6-5 entering halftime.
"Once we went into the second quarter and realized this was a do-or-die situation, the whole team came together and decided we really wanted this," CV attack Easton Lanclos said. "We came out flying after that."
The CV push reached its peak in the third quarter, a dominant stretch that swung things in favor of the Eagles for good.
CV controlled possession almost the entire frame thanks to Ryan McDonnell's faceoff work and some good execution, and the result was a quick run of goals. Lanclos's first goal of the quarter tied it at 6-6; his second, at the 6:12 mark, gave CV its first lead of the night.
Another goal from Lanclos, and one from Max Krevsky, would make it 9-6 with 3:50 to go in the third.
"We just understood that we weren't playing our game and that's why we were down," Lanclos said. "Once we locked in on everything we worked on the past week in practice, we came out and played like we needed to."
Ephrata hung around thanks in large part to Rhee, but CV never allowed the lead to dip below two goals. The Eagles ensured that the Mountaineers would not have the ball long enough to generate opportunities.
"It started with Ryan McDonnell, our faceoff guy," Healey said. "He was winning the faceoffs, getting the ground balls. Our wing play from Gabe [Gray] was great, and our offense was patient and fast."
Rhee scored a game-high six goals. Lanclos had five, while Krevsky and Jared Plessinger each had three. Nathan Herbster had three assists for the Eagles.
Jared Plessinger's days in lacrosse started early.