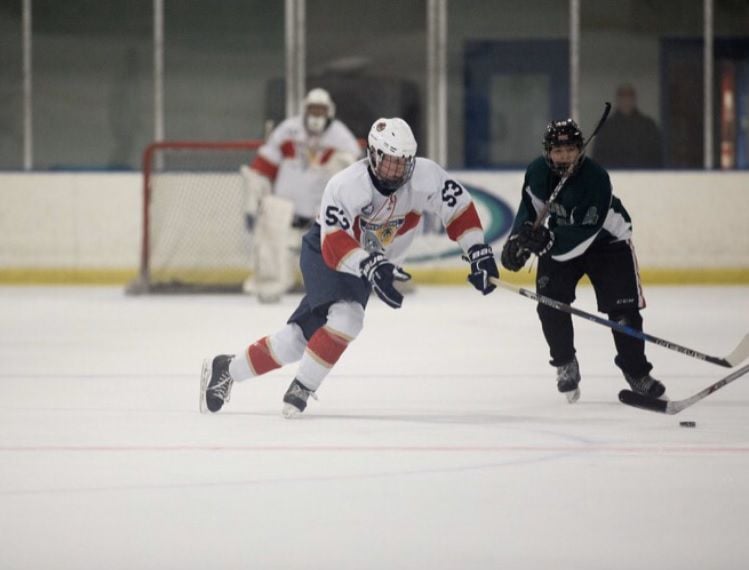 West Shore hockey is off to a hot start and currently sitting on top of the Viola Division at 7-0.
After our heartbreaking loss last year in the Viola Cup Championship to Warwick, we were as motivated as ever this season. This motivation showed in the first game of the season when we faced Warwick. The returning players wanted the first game badly and it showed as West Shore walked away with a 6-2 victory.
For our next game, we traveled to York to take on Susquehannock where we soundly beat them 5-0 with a big shutout performance out of tender Alex Rigling.
Next up was a team in their inaugural year, the Keystone Kraken. We didn't know what to expect, so we gave them our best effort and the boys came away with a big 10-2 win with a big hat trick out of Zack Sooy. After this we traveled to York once again to take on Central York. We started off this game not playing our brand of hockey and going down 3-1. Coach Chris Moore did a great job of rallying the troops late in the second, which sparked a comeback leading to a big 5-3 win with a clutch third period performance from Tanner Pressly, which included two goals.
Next up was Dallastown, which resulted in 4-2 win for Shore with a big two-goal performance out of leading point-scorer, Conner Winski. Next up was the biggest game of the season so far against unbeaten Cedar Crest.
Shore came out flying with six unanswered goals in the first two periods, all of which were started by an early goal scored by the team grinder, Huy Nguyen. This was a statement win for the boys, showing everyone that we really meant business.
Our most recent game was also a huge game for us against the third place team, at the time, Twin Valley. The boys went up early 2-0, but found themselves down 5-4 in the third until a big goal from Conner Winski sent the game to OT. With the momentum on our side, Christian Holtzapple took the puck down the ice and and put the puck top shelf where grandma keeps the cookies to win the game and to keep the team unbeaten.
Heading into the break the Shore Boys are thankful for their hot start and plan to stay on track with their ultimate goal of winning the Viola.
Get in the game with our Prep Sports Newsletter
Sent weekly directly to your inbox!