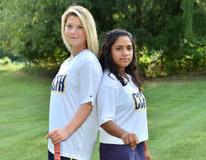 We ended our season on a high note, winning our last conference game 4-0. This was a great way to end the season, but now it's time to focus on the postseason.
This is the second year in a row that we have made it to districts, but we are stronger than we were last year and we intend to show that with our play on the field. We are focused on our second season as everyone is 0-0 right now. We know that we need to work hard because each game in front of us could be our last high school game. We are fine-tuning our skills and mentally preparing for what lies ahead. All of our work and preparation has prepared us to start this next season. We are ready to take on those that stand in the way of our goals.
We ended our week by opening a box that our coaches made at the beginning of the season. This box had a new set of game balls and notes that we had all written to ourselves in the beginning of the season. We were only allowed to open the box if we made it to districts. We also had goals we had to reach to open it. It was a great feeling getting to open this as it was something we worked towards all season. We haven't read our notes yet, though. This is something we are going to do on our way to the game on Wednesday.
Most of us have forgotten what we wrote so it will be nice to see what our past selves have written to our future selves. We aren't sure what the future holds for us, but for us seniors it is a little sad that our high school careers could be ending soon depending on how we play. We are prepared to play hard and fight to keep moving forward. One game at a time. Each touch counts.
Get in the game with our Prep Sports Newsletter
Sent weekly directly to your inbox!