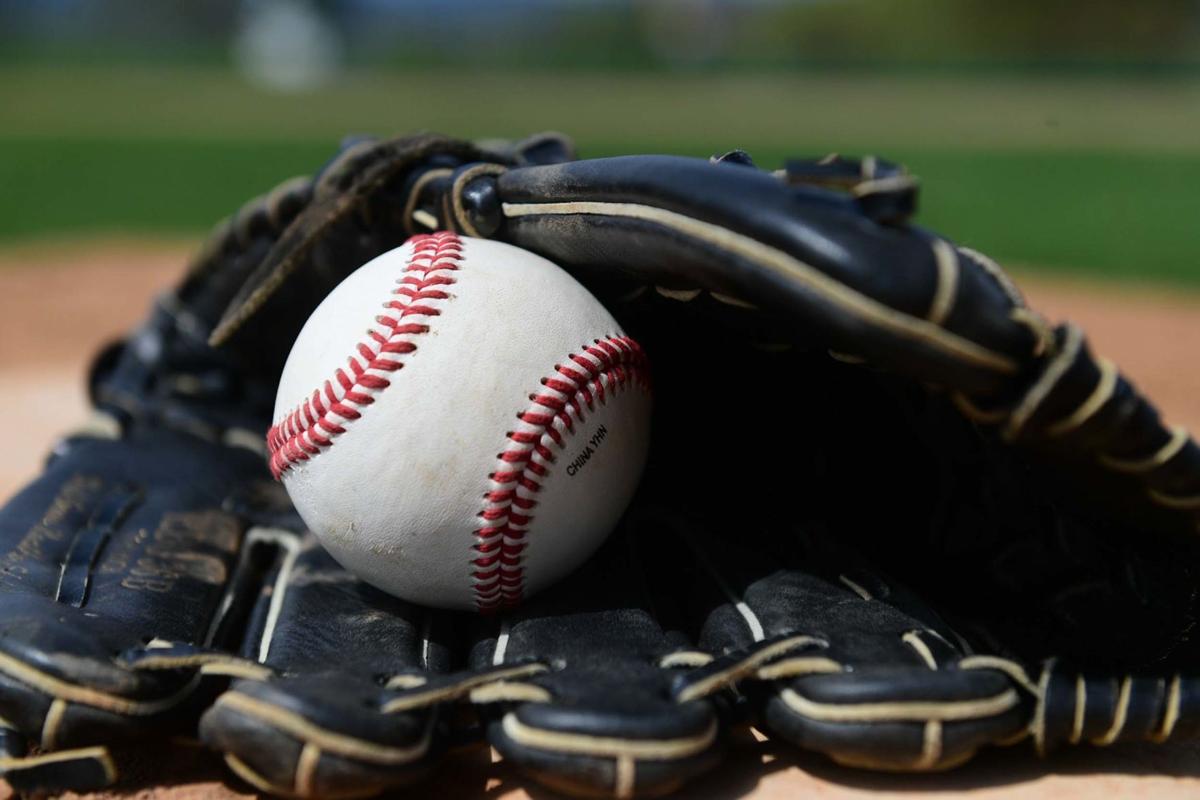 Camp Hill's Josh Pantaloni emerged victorious in the Singles 1 bracket during the final round of the Class 2A Mid-Penn Boys Tennis Championships Monday.
Pantaloni won a 6-4, 6-4 set against Trinity's Adam Warren for the title. East Pennsboro's Scott Bornman was the Singles 3 title winner, 6-2, 6-3 over Trinity's Jose Centenera. Trinity's Tommy Hallahan won silver in Singles 2.
Hallahan will compete next week in the District 3 Class 2A doubles championships with teammate Adam Warren after the pair won the district qualifying doubles bracket 6-1, 6-1 over Bishop McDevitt's Jett Hallock and Jonathan Tang.
The Doubles 1 duo of Trinity's Nick Schiffler and Silas Gross won the title over East Pennsboro's Grant Anderson and Josh Steinhart, 7-6, 6-1. Doubles 2 was won by the East Pennsboro duo of Trevor Smith and Anthony Huynh over Trinity's Declan Cudahy and Matt Jones, 6-1, 4-6, 10-5.
HS Baseball
Luke Morgan, Reese Young and Tim Sucic combined to no-hit Susquehanna Township in Mechanicsburg's 10-0 six-inning win. Morgan earned the win, striking out five against one walk, while Young fanned five. Sucic punched out two and walked two. At the dish, Jeff Lougee was 2-for-3 with a homer, two runs, four RBIs and a stolen base.
Jason Madrak was dealing, firing six innings of six-strikeout, three-hit ball in Cumberland Valley's 3-1 win at Central Dauphin. Tyler Dunn and Logan Sauve combined to go 5-for-7 from the top of the Eagles' order, each driving in a run. Joshua Minnich was 2-for-4 with a run scored.
Michael Morales, Jacob Shermeyer and Brady Swenson all tripled in East Pennsboro's 14-5 win over Middletown. That trio went 7-for-11 with five runs and five RBIs, with Swenson adding a pair of stolen bases. Swenson also pitched three innings, allowing five runs (three earned) before giving way to Ryan Stover, who tossed four scoreless frames while fanning six. 
Ryan Balaban went 1-for-2 with a double, two RBIs and a run scored in Trinity's 6-2 win at Harrisburg. That alone helped Landon Kuntzelman earn the win after firing five innings of seven-strikeout ball. University of New Orleans commit Maika Niu was 2-for-2 with an RBI from the top of the Shamrocks order.
Luke Parise homered twice and doubled, driving in a career-high eight runs in Camp Hill's 20-0 win over Steel-High in three innings. He finished 3-for-4 with three runs scored. Eric Dick, who was one of seven Lions to double, was 1-for-2 with three RBIs and three runs. Christian Doi struck out seven batters in three innings, allowing one hit.
HS Softball
Abby Beidel allowed a single hit, striking out two, and Madalyn Black doubled twice and scored thrice in Big Spring's 15-0 win over Red Land in four innings. Fallon Feaser (1-for-3), Emilee Sullivan (3-for-3) and Sadie Groff (2-for-2, triple) each had at least two runs and two RBIs for the Bulldogs, with Sullivan driving in four. Grace Spangler had the lone Patriots hit. 
Emily Bittner tripled, doubled, scored three times and drove in three more runs in Mechanicsburg's 15-0 win at Susquehanna Township in five innings. Bittner was 3-for-4, as was Kendra Grove, who added three runs, three RBIs  and two doubles. Kait Hower, along with her two hits and an RBI at the plate, struck out three and allowed just two hits in the complete-game effort.
Sidney Schoffstall tossed a five-hit shutout, fanning four, in Boiling Springs' 7-0 win over James Buchanan. Maya Fields (1-for-1) hit a solo blast and drove in another run, and Taylor Rice (1-for-3) doubled and drove in two. Cora Fries and Summer Leeds each scored two Bubblers runs. 
Cumberland Valley had three homers by three different players, but it wasn't enough in a 19-10 shootout against Central Dauphin. Olivia Hamme (2-for-3, three runs, double), Maddy Buzalka (3-for-4) and Maddie Martin (1-for-4, three RBIs) all went yard for the Eagles, but the Rams countered with Kasi Loser, who was 5-for-5 with four runs and six RBIs. 
Carlisle scored four runs in the final two innings, but it was too little, too late in an 8-4 loss at Palmyra. Kiley Barnhart (1-for-3) tripled and scored, and Nina Anzalone (2-for-3) doubled, scored and drove in a Thundering Herd run. 
East Pennsboro scored six runs in the final frame but couldn't put across three more in a 10-7 loss to Middletown. Zoe Holbert was 3-for-4 with a double, run and three RBIs to pace the Panthers. Jackie Capers fanned nine despite allowing 10 runs (six unearned) in seven innings of work.
Madison Smith struck out nine in five innings of work, scattering just two hits and three walks in Trinity's 4-1 win over Harrisburg. Molly Whitmyer led the Shamrocks at the plate, going 2-for-2 with two stolen bases, a run and two RBIs. 
HS Boys Lacrosse
Nate Herbster tallied four goals as Cumberland Valley held on to beat Susquehannock 7-6 in OT. Patrick Martin had to goals and an assist in the win, while Jonah Burd had 16 saves between the pipes.
Mechanicsburg fell 14-5 to New Oxford. Tanner Noll had four goals in the loss.
HS Girls Lacrosse
Izzy Szejk tallied nine goals to help propel Mechanicsburg past Harrisburg Christian 23-7. Sophie Blair had four goals in the win, while Addison Shover tallied a hat trick.
HS Boys Volleyball
Northern fell to Palmyra 3-1 (14-15, 20-25, 25-23, 13-25). Cole Lamb had 27 assists in the loss, Jacob Hamm had 24 digs and 15 kills, and Jese Brubaker added 20 digs.