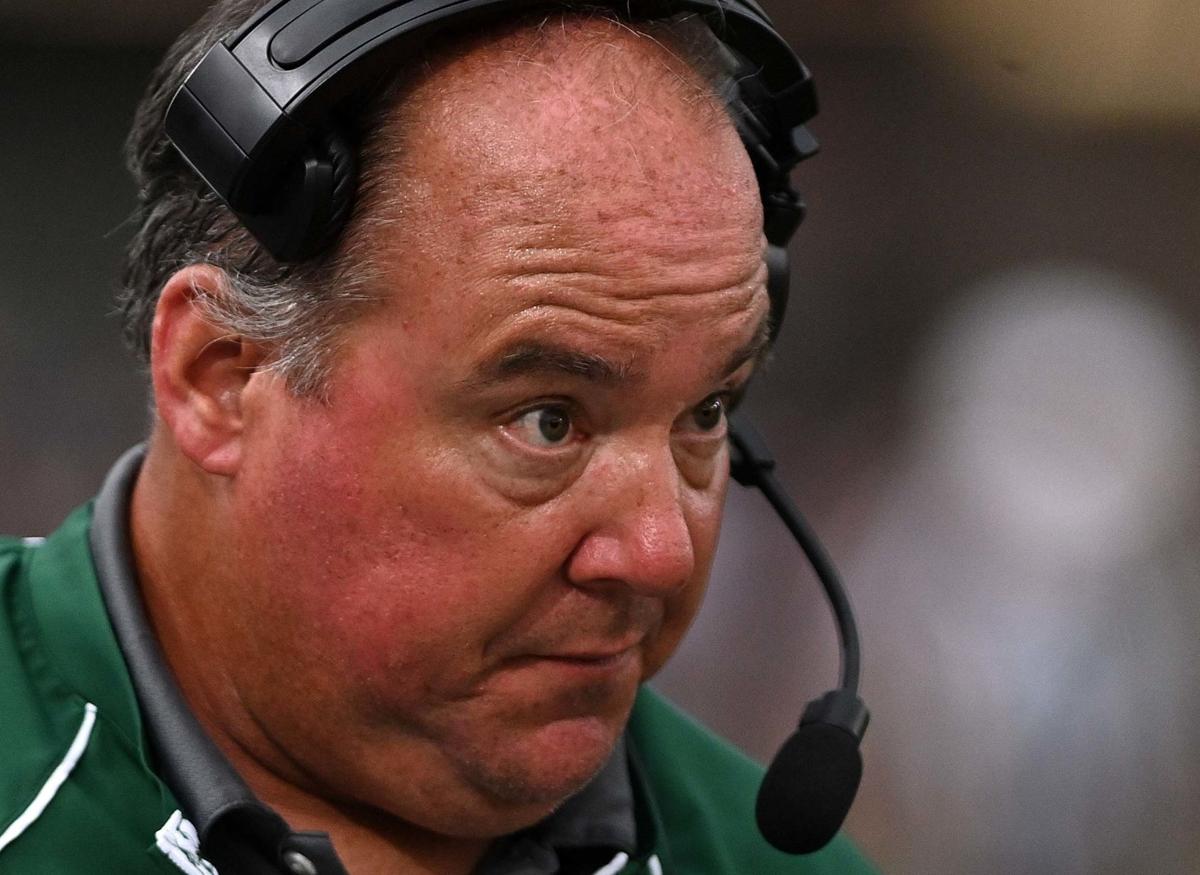 The Carlisle football team has come out of the gate firing on all cylinders this fall.
Featuring weapons on both sides of the ball, including surprise phenom quarterback Louis Shank, flex option Ezeekai Thomas, two-way player Jeremiah Hargrove and bodyguard in the trenches Eli Carothers, the Thundering Herd find themselves sitting comfortably with a 2-0 record. A 27-14 win over Route 641 foe Mechanicsburg Week 1 and a 49-0 romping of Hershey Week 2, solidified Carlisle as a threat in the Mid-Penn Commonwealth through the early season slate.
The Herd show no sign of easing off the pedal.
"We have a lot of kids that can make plays," Carlisle head coach Brett Ickes said. And we basically want to continue to play as a team, and good things will happen for us."
Week 3 presents the Herd with their most formidable test to date. Lancaster-Lebanon League powerhouse Cedar Crest — owner of an undefeated record itself — ventures across the Susquehanna to Ken Millen Stadium for the crossover matchup. The Falcons, guided by head coach Rob Wildasin, trounced their competition thus far. Lebanon fell victim Week 1 in a 38-0 shutout while Gettysburg couldn't muster much fight, either, in Week 2, taking the losing end of a 52-14 drubbing.
Friday serves as Cedar Crest's first game on the road.
"I think, defensively, we need to obviously be able to get stops to get that talented offensive corps off the field," Wildasin said of Carlisle. "And then on the offensive side of things, they present problems with what they do defensively, and so it'll come down to us being efficient and making plays when we have an opportunity."
"We got a very talented group of kids, and we're gonna make some teams sweat," Carlisle coach Brett Ickes said.
The programs combined for an overwhelming 166 points offensively and stifled opponents to 14 points apiece on defense.
"We've played two good football teams but we know Carlisle's our biggest test yet by far, and we're looking forward to it," Wildasin said.
Jeremiah Hargrove, so., CB-WR
Key players for Cedar Crest
Aadyn Richards, sr., LB-RB
8.1: While Shank settled in under center during an impressive first two weeks, it allowed Thomas to dilate his already heralded resume at other positions, specifically on the ground attack. Whether it's been on designed quarterback keepers, read options or by simply holding duties in the backfield, Thomas sped his way to 179 yards on 22 carries, amounting to 8.1 yards per touch to round out his two-week stat sheet. Expect the Herd multi-threat talent to apply the pressure on the Falcons defense Friday.
420: Cedar Crest found its early season trademark in the passing game. Junior and first-year starting field general Jay Huber, along with his five-package receiving corps (three wide receivers and two running backs), continues to be the nagging headache for opposing secondaries. The Falcon gun-slinger fired for 420 stripes and six touchdowns in Cedar Crest's first two games. He's connected on 22 of his 35 pass attempts.
"That's one thing, we're gonna have to get after (Huber) and prevent him from hitting his marks and throwing the ball effectively," Ickes said. "And they have discipline kids on defense. It's one of those things where our kids just have to make plays."
3: Cedar Crest will be dealt the challenge of interception-savvy Hargrove from his cornerback position. The sophomore defensive back boasts a trio of forced turnovers so far this fall, including an interception of Seth Brubaker against Mechanicsburg and a pair off Hershey quarterback Daniel Painter. He also poses a looming presence at wideout — he's one of six targets for Shank to turn to — as well.
Quick hits
Big Spring (1-1) at Halifax (0-2): The two teams faced off last year in a 35-7 win for the Bulldogs at Newville. Big Spring's Ethan Eisenberg completed four of his nine pass attempts for 105 yards, two touchdowns and an interception, and Dillon Wakefield rushed for 155 yards on eight carries. The Bobcats surrendered 48 points and 50 points in their first two games.
Boiling Springs (2-0) at James Buchanan (1-1): The Bubblers' first-team defense has not allowed a point in the team's first two games. In order to continue that streak, Boiling Springs will have to shut down a Rockets team that posted 50 points at Halifax last week after suffering a 60-8 loss in its season opener against Upper Dauphin.
Camp Hill (2-0) at Susquenita (1-0): For the second straight week, the Lions take on an opponent that cancelled its season opener due to COVID issues. Camp Hill blanked Biglerville 38-0 last week. Its defense scored two touchdowns on fumble recoveries and registered a safety. After the Week 1 cancellation, Susquenita held Line Mountain to three points, five first downs and 23 total yards of offense last week.
Cedar Cliff (2-0) at CD East (1-1): Both teams have the advantage of an extra day of rest after winning Thursday games in Week 2. Both games went down to the wire. The Colts, with their first 2-0 record since 2017, scored a final-minute touchdown to defeat Cocalico 33-27. The Panthers held Warwick scoreless in the second half for a 28-21 win.
Spring-Ford (2-0) at Cumberland Valley (0-2): After allowing 304 passing yards in a season-opening loss to Manheim Central and a 99-yard touchdown pass in a 21-3 loss to Central York, the Eagles host a Spring-Ford team that has outscored opponents 92-0 through two games.
East Pennsboro (1-1) at Milton Hershey (1-1): Two teams searching for consistency, the Panthers won their season opener over York Suburban 42-21 before a 21-0 shutout loss to New Oxford, and the Spartans dropped their season opener to South Western 47-12 before earning a 52-14 Week 2 win over Susquehanna Township. East Pennsboro won the last meeting between the teams, 46-23, at Enola in 2019.
Mechanicsburg (1-1) at Red Land (0-2): Both the Wildcats and the Patriots were involved in dramatic finishes last week. Mechanicsburg scored a fourth-quarter touchdown and found the end zone in overtime to defeat Elizabethtown 14-7. Red Land suffered a loss to Northeastern, which kicked the game-winning field goal with 4.7 seconds remaining.
Spring Grove (2-0) at Northern (2-0): Neither team has trailed through two games this season. Last week, the Polar Bears blanked Dover while the Rockets surged ahead of West York for a 38-6 decision.
Dover (1-1) at Shippensburg (2-0): The Eagles found themselves on both sides of a shutout through two weeks, blanking West York in Week 1 before going scoreless against Northern in Week 2. The Greyhounds also authored a shutout this season in a 7-0 Week 1 win over Hershey.
Trinity (1-0) at Upper Dauphin (1-1): After winning their season opener under new head coach Jordan Hill in Week 1, the Shamrocks sat out last week due to COVID issues with their scheduled opponent. The Trojans, meanwhile, followed a 60-8 season opening win over James Buchanan with a 20-0 shutout loss to Juniata.