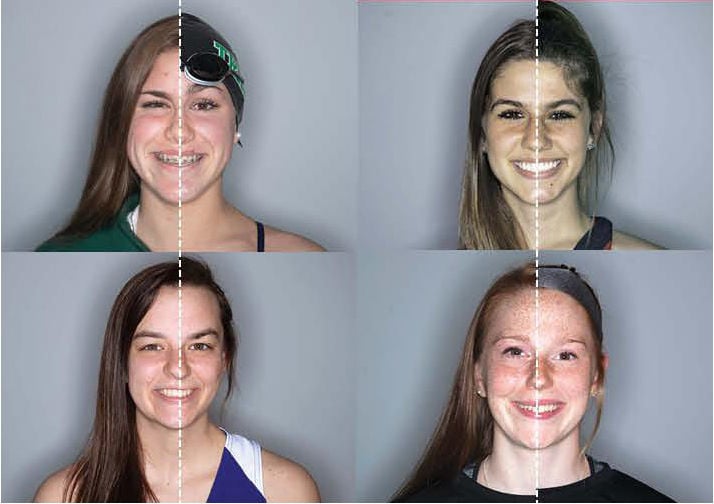 During the most recent summer and winter Olympic games, it appeared more female athletes wore makeup during competition and — for better or worse — more people took notice.
Even the U.S. and Canadian ice hockey teams in Sochi were spotted with makeup under their masks.
These athletes, at the pinnacle of their respective sports, made some of the same decisions local high school female athletes make now.
The Sentinel spoke with eight local female high school athletes across various sports and schools — Big Spring's Jaime Yaukey, Boiling Springs' Ashlyn Yocum and Maddy Forney, Cedar Cliff's Alexis Rodery, Cumberland Valley's Halie Thornton and Abbie Miller, and Trinity's Apple Burton and Izzy Roes — about their preferences in makeup and hairstyle both in school and during competition.
Over the past three months, The Sentinel conducted a survey of 137 female athletes from loca…
The makeup products they use and the hairstyles they prefer differ at times, but that's the point. Each girl said they have their own routine, their own preferences and their own styles.
Some use little to no makeup in school and in games. Some like to mix it up, including using different braid designs for nearly every game. Some routinely, and perhaps superstitiously, apply the same amount and style of makeup or put their hair into the same ponytail or braid as part of their pre-game prep.
"When I do my hair, I give myself little pep talks before I have games because I feel like if I don't pep myself up — or I have songs that I listen to, I have to listen to four certain songs before every game — and I feel like that eases me down a little bit because I can get really nervous, so I feel like having my hair [done], that's going to go good," Thornton said. "I get really nervous and really racked up when I discover I don't have time to do my hair."
While there is no common thread between their styles, all of the athletes had one thing in common — it's their choice.
"They say, 'You don't wear makeup for boys, and you don't wear makeup to impress people. Wear makeup to make yourself feel comfortable and proud of yourself,'" said Forney, who does not wear makeup and almost always has a braid during games. "I feel that way without [makeup]."
"I put a lot of time and effort into thinking up new hairstyles every once in a while," said Thornton — her typical style includes mascara, occasionally eyeliner, and her hair is down in school and in different braids for games. "I feel like it kind of shows — especially because my position is unique — I have an extra uniqueness [with the hairstyles]."
"I don't ever really think about hairstyle. I just honestly wake up and if it looks good then I'll just keep it down," said Yaukey, who wears the same makeup during games as she does in school. "But, if it has bumps then I'll just put it up and it's not that big of a deal to me."
For some, a hairstyle is even part of their "brand."
"The fishtail is definitely something that people notice because I have such thick hair and it's always so long, and everyone notices it," Yocum said.
"I feel like [my hairstyle is] something that people know me by," Forney said. "Like, a lot of my friends know me by having the braid in."
Those who wear makeup in games and those who don't falls at a nearly 50-50 split, according to results from a Sentinel survey of local female athletes. Of the 137 respondents to the anonymous survey, 52.6% said they wear at least some makeup during games, and the remaining athletes said they wear none.
In school, the numbers shift quite a bit — 75.2% of the athletes said they wear at least some makeup in school or during the average day.
Comfort is also important for high school female athletes.
That's particularly true with hairstyles. Ponytails and braids are the most popular hairstyles for local athletes during games — 104 said they keep their hair down during the day, yet that is the least popular choice during games.
It is more for functionality, as keeping hair tied back or up — or tucked under a swim cap, in Burton's case — keeps it out of their faces while diving for a save or sprinting down the court for a layup. But it's also true for makeup to some degree.
"I think comfort, sometimes," said Rodery, a softball player. "If I have something going on that day, something that I usually don't have going on and I want to wear makeup and look good, then I usually do it. But if not, then I just don't wear makeup."
"I guess it's just a matter of comfort because I want to be comfortable," Burton said. "I guess if my hair is in my face then it's not really fun and just all the makeup makes it feel weird, so I don't really like to wear that."
All eight athletes said it was usually during middle school when they started wearing makeup. Some took interest because of their moms, others because they started seeing friends wear makeup.
That is not uncommon for many generations, but this generation is also growing up with YouTube and Instagram influencers. Some of the local athletes use "beauty gurus" for inspiration with makeup or hairstyle.
Thornton's YouTuber of choice is MyLifeAsEva because she "helped me discover my style because she was one of those people that had such cute fashion and those DIY's." Yocum and Forney like James Charles, one of the industry's most popular figures right now. And Miller, Burton and Yaukey don't have favorites, but Miller and Yaukey like to look up videos for makeup palettes they own to get new ideas.
In the end, it's about what each girl chooses to do. And it's about winning, even if that means a particular "game face."
"I like routine, and I feel like routines are lucky because I'm superstitious," Miller said. "Like this year we had a really good season, so I was like, 'Maybe it's the ponytails.' So that's why I wear the ponytail all the time, and also it's really comfortable for me."
A theme developed during the course of this project: "Look good, feel good, play good."
If you look good, everything will go great.
In middle school and high school, my dad always told me, "When you look good, you play good."
The Sentinel spent a few days with high school female athletes asking them about their hair …
Get in the game with our Prep Sports Newsletter
Sent weekly directly to your inbox!