Week 8 Football Previews: West Perry visits Big Spring in GOTW, plus 5 Things to Watch
Editor Jake Adams breaks down our Week 8 Game of the Week (West Perry at Big Spring), gives you 5 Things to Watch elsewhere Friday night, predicts the winners and provides the updated statistical leaderboards and schedule/standings.
GOTW Week 8: West Perry at Big Spring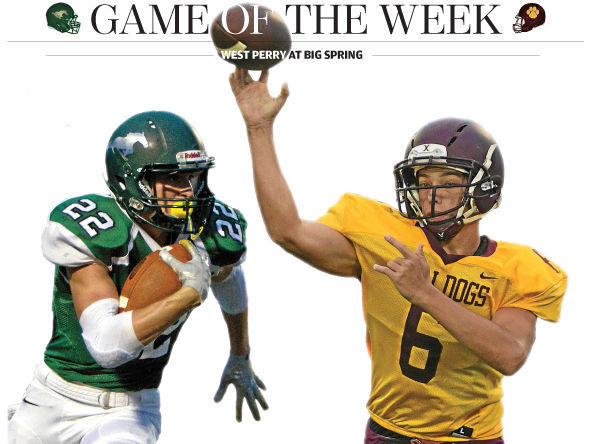 Game of the Week: West Perry at Big Spring
West Perry (6-1, 2-1 Colonial) treks south to face Big Spring (3-4, 1-2) in a Week 8 Mid-Penn Colonial game. Kickoff is set for 7 p.m. Follow editor Jake Adams for coverage on Twitter @jakeadams520.
West Perry key players
Kenyon Johnson (QB/DB/KR)
Terrance Quaker (RB/DB/KR)
Jake Fadness (FB/LB)
Big Spring key players
Tim Siwy (QB/DB)
Anthony Gaudioso (WR/RB/DB)
Braden Petty (TE/DL)
Mustangs win if...
They shake off last week's second-half collapse and get back to attacking. Big Spring (3-4, 1-2 Colonial) doesn't present the same challenge defensively as Shippensburg did in the Mustangs' (6-1, 2-1) first loss. But this is still a team that can't be overlooked. WP was forced to throw more than normal and couldn't utilize the Johnson-Quaker duo to its full force against the 'Hounds. And Ship said it, they exposed that the Mustangs weren't accustomed to playing 48 minutes. Time to change that with the playoffs weeks away.
Bulldogs win if...
They keep the Mustangs dangerous two-headed running game in front of them and, offensively, milk the clock with long scoring drives. Coach Cory Hoffman's crew is young but showed fight last week beating back Greencastle-Antrim for the first division win of the season. Gaudioso, Siwy and Nathan Fetchkan are a good trio of ball carriers that have a combined 1,000 yards on nearly 200 touches. But none are bell cows. Perhaps mixing up the touches — while Siwy throws at 52-percent completion rate — is just the right curveball to throw at the Mustangs.
Coach speak
West Perry's Bob Boden: "They're upbeat, they're positive. We talked about sometimes when you take a step back you can take two steps forward. Sometimes when things are going so well you can miss some things. ... When you lose, it hurts." On the cultural shift of fretting a loss two years after striving for just one win: "Sometimes that helps — we've been there before, we've had a loss before."
West Perry Shippensburg Football (copy)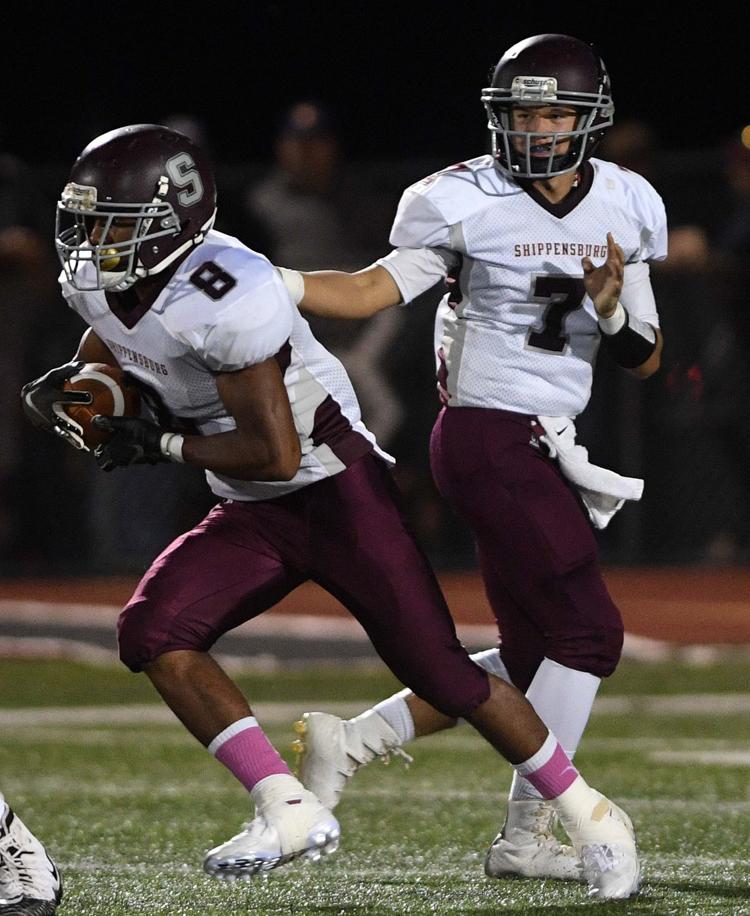 5 Things to Watch
1. Another Colonial showdown
The game with the most division/playoff implications this week involves Shippensburg and Northern. The Greyhounds (6-1, 3-1 Colonial) return to Veterans Stadium to face the Polar Bears (5-2, 2-1), setting up a second straight meeting between two of the division's top teams. The 'Hounds are fresh off handing West Perry its first loss and now get a Northern unit that feasted on Susquehannock while Kyle Swartz ripped off nearly 250 rushing yards. Don't come for the passing, though. Ship has barely cracked 50 pass attempts and the P-Bears are still south of 100. Instead, it's Adam Houser (136-1,136, 14 TDs) and Swartz (127-843, 14 TDs) that will duke it out much of the night. The pair are the Sentinel area's first and third leading rushers, respectively, so far.
2. Siebert showdown
For Boiling Springs, Friday's trip to Camp Hill's Siebert Park is a chance for a third win in 2018. That's a quality improvement from the constantly-talked-about two winless seasons immediately preceding this year. But the Bubblers (2-5, 1-3 Capital) cannot overlook the Lions, who are seeking that first win. Camp Hill has juggled quarterbacks and is very young, but there have been some flashes that can catch an opponent off guard. Considering the Bubblers are playing with confidence of late, my money is on Brad Zell making sure this crew stays focused as it chases a .500 record.
3. CV, 'Cats get the dub
Cumberland Valley and Mechanicsburg picked up their first wins of the season last week, narrowing the local field to just one remaining winless team: Camp Hill. It will be tough sledding for the Eagles and Wildcats searching for that second win. Mechanicsburg may have to wait until Week 10 for another shot, with Cedar Cliff waiting this week and Bishop McDevitt the next. CV has Altoona, CD East and State College coming up. Give the Eagles better odds to finish 2-1 than the 'Cats, but it's still not a gimme.
4. 1k Club open for business
Houser became the first Sentinel-area RB last week to reach 1,000 rushing yards. He will not be the only one. Swartz, as mentioned above, is less than 160 away and could reach that as soon as this week. Cedar Cliff's Jaheim Morris is at 879 yards so far. After that would be Carlisle's Trystin Sulich at 831 yards. There's a hefty fall-off after that. Keep an eye out on Colt Bobby Whalen, who is nearly 350 receiving yards away from that mark. He might get it in the postseason.
5. Making a prediction
My gut tells me Boiling Springs' Tayven Kelley accounts for 200 yards and at least two scores in a comfy win over Camp Hill. He's been held in check the past two weeks. I expect a breakout.
This week's picks
CD East 34, Carlisle 24
Altoona 28, Cumberland Valley 20
Cedar Cliff 34, Mechanicsburg 13
Susquehanna Township 34, Red Land 7
Boiling Springs 26, Camp Hill 20
Steel-High 38, East Pennsboro 14
West Perry 41, Big Spring 13
Shippensburg 27, Northern 24
Middletown 55, Trinity 0
Jake's record to date: 56-22
Carlisle at Cumberland Valley Football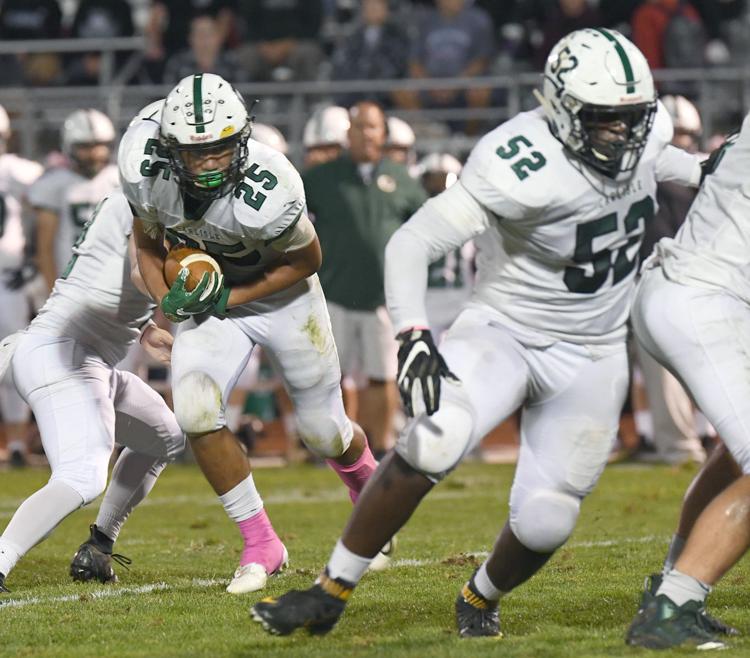 Sentinel-area leaderboards after Week 7
(Stats reflect only those reported to The Sentinel)
RUSHING
Player (team);Rush;Yards;Avg;TDs
1. Adam Houser (Shippensburg);134;1,136;8.5;14
2. Jaheim Morris (Cedar Cliff);122;879;7.2;12
3. Kyle Swartz (Northern);127;843;6.6;14
4. Trystin Sulich (Carlisle);143;831;5.8;10
5. Kenyon Johnson (West Perry);73;689;9.4;9
6. Terrance Quaker (West Perry);61;643;10.5;11
7. Chris Barrett (Northern);76;512;6.7;2
8. Quentin Jones (Boiling Springs);87;432;5.0;2
9. Anthony Gaudioso (Big Spring);49;400;8.2;3
10. Ben Nix (Carlisle);71;397;5.6;6
RECEIVING
Player (team);Rec;Yards;Avg;TDs
1. Bobby Whalen (Cedar Cliff);36;643;17.9;10
2. Jaheim Reynolds (Cedar Cliff);28;438;15.6;5
3. Tayven Kelley (Boiling Springs);20;395;19.8;3
4. Michael Chismar (East Pennsboro);34;394;11.6;4
5. Michael Wagner (Boiling Springs);24;322;13.4;3
6. Braden Petty (Big Spring);22;319;1.5;3
7. Jaxson Irwin (East Pennsboro);28;313;11.2;5
8. Adam DeGregorio (Big Spring);14;297;21.2;1
9. Gavin Pritchard (Big Spring);29;291;10.0;5
10. Cade Sutch (West Perry);11;284;25.8;2
PASSING
Player (team);Comp-Att;Yards;TDs;Int
1. Chris Dare (Cedar Cliff);96-145;1,395;18;4
2. Nikolas Karoly (East Pennsboro);84-149;1,079;10;5
3. Tim Siwy (Big Spring);86-165;1,044;10;3
4. Jared Plessinger (Cumberland Valley);57-106;886;4;7
5. Zack VonStein (Boiling Springs);50-103;786;8;9
6. Kenyon Johnson (West Perry);38-60;634;7;5
7. Danny Scott (Trinity);47-107;603;2;11
8. Daniel Shuster (Camp Hill);50-110;567;4;9
9. Chris Barrett (Northern);38-58;529;4;4
10. Cole Wolaver (Carlisle);56-109;523;2;7
SCORING
(Includes two-point conversions, extra points and field goals where applicable)
Player (team);TDs;2-pt;PATs;Pts
1. Terrance Quaker (West Perry);19;1;0;110
2. Adam Houser (Shippensburg);13;3;0;96
3. Kyle Swartz (Northern);15;0;0;90
4. Jaheim Morris (Cedar Cliff);13;0;0;78
5. Bobby Whalen (Cedar Cliff);11;0;0;66
6. Kenyon Johnson (West Perry);10;1;0;62
7. Trystin Sulich (Carlisle);10;0;0;60
8. Damon James (Boiling Springs);6;2;0;40
9. Tayven Kelley (Boiling Springs);6;0;0;36
9. Ben Nix (Carlisle);6;0;0;36
9. Jake Fadness (West Perry);6;0;0;36
KICKING
Player (team);FGs;PATs;Pts
1. Caleb Richwine (Carlisle);4;23;35
2. Jack Quesenberry (Cedar Cliff);1;30;33
3. Zack Quaker (West Perry);0;30;30
4. Bailey Blaschak (Northern);2;12;18
5. Jacob Henry (East Pennsboro);0;15;15
6. Rob West (Shippensburg);1;11;14
7. Ryan Alt (Red Land);2;4;10
8. Abi Sweger (Big Spring);0;10;10
8. Tim Kissinger (Cumberland Valley);0;10;10
10. Alex D'Amico (Trinity);1;6;9
10. Jeremy Filburn (Boiling Springs);0;9;9
Mid-Penn Week 8 schedule and standings
Commonwealth Division
Team;Div.;Ovr.
Harrisburg;4-0;6-1
Chambersburg;3-1;6-1
State College;3-1;6-1
Central Dauphin;3-1;5-2
Altoona;1-3;3-4
CD East;1-3;2-5
Cumberland Valley;1-3;1-6
Carlisle;0-4;3-4
Keystone Division
Team;Div.;Ovr.
Cedar Cliff;3-0;5-2
Susquehanna Twp.;3-0;5-2
Bishop McDevitt;2-1;6-1
Hershey;2-2;2-5
Mechanicsburg;1-2;1-6
Lower Dauphin;1-3;1-6
Red Land;0-4;1-6
Capital Division
Team;Div.;Ovr.
Palmyra;4-0;7-0
Middletown;4-0;6-1
Milton Hershey;3-1;6-1
Steel-High;2-2;4-3
East Pennsboro;2-2;2-5
Boiling Springs;1-3;2-5
Camp Hill;0-4;0-7
Trinity;0-4;0-7
Colonial Division
Team;Div.;Ovr.
Shippensburg;3-1;6-1
Mifflin County;3-1;3-4
West Perry;2-1;6-1
Northern;2-1;5-2
Big Spring;1-2;3-4
Waynesboro;1-2;3-4
Greencastle-Antrim;0-4;2-5
Friday, Oct. 12
West Perry at Big Spring, 7
Hershey at Bishop McDevitt, 7
Boiling Springs at Camp Hill, 7
CD East at Carlisle, 7
Mechanicsburg at Cedar Cliff, 7
State College at Central Dauphin, 7
Harrisburg at Chambersburg, 7
Altoona at Cumberland Valley, 7
Mifflin County at Dover, 7
Governor Mifflin at Lower Dauphin, 7
Milton Hershey at Palmyra, 7
Northern at Shippensburg, 7
East Pennsboro at Steel-High, 7
Red Land at Susquehanna Twp., 7
Greencastle-Antrim at Waynesboro, 7
Saturday, Oct. 13
Trinity at Middletown, 2