Week 10 Football Previews: Trinity visits Camp Hill in GOTW, plus 5 Things to Watch
Editor Jake Adams breaks down our Week 10 Game of the Week (Trinity at Camp Hill), gives you 5 Things to Watch elsewhere Friday night, predicts the winners and provides the updated statistical leaderboards and schedule/standings.
GOTW Week 10: Trinity at Camp Hill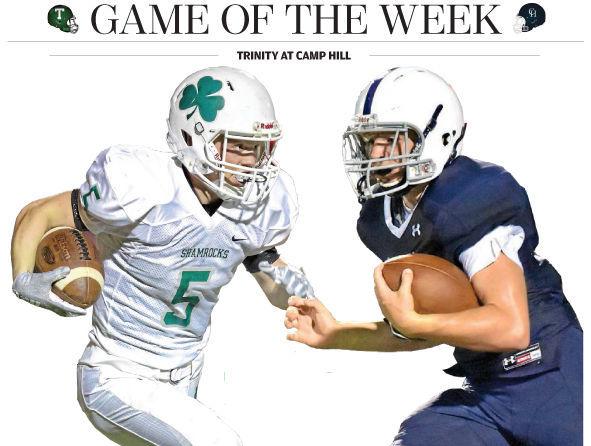 Game of the Week: Trinity at Camp Hill
Trinity (0-9, 0-6) takes a short jaunt to neighboring Siebert Park to face Camp Hill (1-8, 1-5) in a Week 10 Mid-Penn Capital game. Kickoff is set for 7 p.m.
Trinity key players
Danny Scott (QB/DB)
Daniel Kosinski (RB/LB)
Connor Knittle (OL/LB)
Camp Hill key players
Frank Shartle II (RB/LB)
Connor Trumpy (WR/DL)
Cole Bayesa (OL/LB)
Shamrocks win if...
They find some success on offense. That has not been easy for a group averaging a little more than seven points per game. But that's precisely the point, they have to score. Trinity (0-9, 0-6 Capital) is loaded with underclassmen this season and last week played perhaps its best game, nearly beating Palmyra in a 14-13 nailbiter. One reason to expect this group to get on the scoreboard a bit more? It's against their bitter rival. It's always easier to play better when inspired.
Lions win if...
They cut down on the interceptions. Although, that's probably something coach Tim Bigelow has been harping on all season. The Lions (1-8, 1-5) have thrown at least one pick in every game. That's not a recipe for success. The Shamrocks are a team that can be beat through the air (9.6 yards per attempt allowed, 3 INTs). The defense needs to key in on Daniel Kosinski and Connor McCarthy, the two-RB attack Trinity deploys with nearly 700 rushing yards between them. 
Coach speak
Trinity's Todd Ryan on his first taste as head coach of this rivalry: "I have [keep calm] as the head coach. We're calling the game plan. I gotta make sure we're doing the right thing game wise. But I'm letting the kids enjoy rivalry week. ... I want them to embrace it, enjoy it.
"Our secondary is gonna be tested, it's young, without a doubt. Camp Hill likes to throw the football. ... The nice thing is our outside linebackers are veteran guys."
On what he's seen in practice since last week's close loss: "We changed some things up in practice a couple of weeks ago offensively to just start getting more diverse. And the kids have bought into that new diversity. ... Now they're excited about different things that we're doing. And we really simplified our defense. ... That's what we did the last few weeks, is really make it simple."
On injuries piling up on the line: "It's been a revolving door of offensive lineman between concussions, shoulders and ankles. ... You can't get consistency when you are constantly changing the lineup."
Big Spring vs. Boiling Springs Football
5 Things to Watch
1. Little Brown Jug
The last time Big Spring claimed the coveted jug was in 2010. Ever since, Shippensburg has had a vice-like grip on the gallon-sized piece of ceramic, winning each of the past seven matchups by at least six points (last year's 27-21 win was the closest in that streak). It does not appear the Bulldogs (3-6, 1-4 Colonial) will be prying it away from their bitter rivals this year either. The Greyhounds (8-1, 4-1) have the type of well-oiled offensive line and game-breaking back (Adam Houser: 183-1,516, 18 TDs) that has given Big Spring's young defense fits all year. Yes, I fully expect the 'Dogs to play inspired at home in their biggest game of the year, but it will take a few big breaks to swing this one.
2. Panthers vs. Bubblers
It's not often a game between teams playing out the string has this much intrigue, but East Pennsboro at Boiling Springs appears to be just that. The Panthers (3-6, 3-3 Capital) have won three of four and looked good defensively in a 28-0 loss to Middletown last week. Clearly this is a team building back up. And the Bubblers (3-6, 2-4) just stunned Steel-High 56-55 in OT last week, yet another sign that coach Brad Zell has things turning around in Bubbletown. 
3. A treat for Carlisle?
It's a tall task, but can Carlisle upset (yes, upset) Chambersburg this week to end the season with a positive? The Thundering Herd (3-6, 0-6 Commonwealth) need to figure out a way to stop dynamic RB Keyshawn Jones (168 carries, 1,338 yards). Carlisle is allowing 5.2 yards per carry. The Trojans (6-3, 3-3) look poised to snap a four-game skid in this series before readying for the playoffs.
4. Eagles seek 4th win
Cumberland Valley's three-game win streak has come largely from the strength of its run game — particularly Maximos Dell'Anno. The junior has a pair of 100-yard games, pushing him over 600 for the season. That's one more 100-yard performance than the Eagles (3-6, 3-3 Commonwealth) had during their 0-6 start. Now they face District 6 power State College to close the season. An upset doesn't seem as far-fetched as it did in September, but it still won't come easy.
5. Final notes
Cedar Cliff should stomp rival Red Land at West Shore Stadium to lock up the Mid-Penn Keystone title. ... Assuming Shippensburg wins, Mifflin County would need to beat West Perry to tie the Greyhounds atop the Colonial. The Huskies were the only team to beat Ship this season. ... The four local playoff teams appear to be set. Ship and Cedar Cliff will likely host Class 5A first-round games next week. The 'Hounds appear embedded at No. 3, whereas the Colts (No. 5) could slide up or down a spot depending on a few outcomes. Northern (No. 11), .05 ahead of the final spot, are just battling for position. Same with the Mustangs in 4A, where they currently sit seventh.
This week's picks
Chambersburg 35, Carlisle 17
State College 38, Cumberland Valley 21
Mechanicsburg 28, Lower Dauphin 21
Cedar Cliff 45, Red Land 12
East Pennsboro 28, Boiling Springs 27 (OT)
Camp Hill 28, Trinity 13
Shippensburg 40, Big Spring 14
Waynesboro 27, Northern 20
Mifflin County 30, West Perry 27
Jake's record to date: 69-28
Cedar Cliff at Susquehanna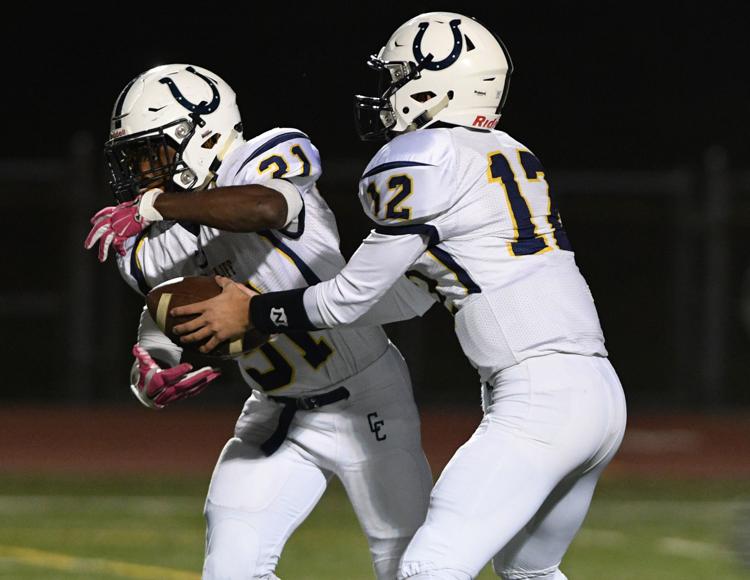 Sentinel-area leaderboards after Week 9
(Stats reflect only those reported to The Sentinel)
RUSHING
Player (team);Rush;Yards;Avg;TDs
1. Adam Houser (Shippensburg);183;1,516;8.3;18
2. Jaheim Morris (Cedar Cliff);166;1,300;7.8;15
3. Trystin Sulich (Carlisle);179;1,039;5.8;11
4. Kyle Swartz (Northern);150;984;6.6;17
5. Kenyon Johnson (West Perry);106;949;9.0;13
6. Terrance Quaker (West Perry);98;850;8.7;13
7. Maximos Dell'Anno (Cumberland Valley);100;616;6.2;8
8. Chris Barrett (Northern);97;608;6.3;2
9. Quentin Jones (Boiling Springs);114;598;5.3;3
10. Anthony Gaudioso (Big Spring);76;539;7.1;3
RECEIVING
Player (team);Rec;Yards;Avg;TDs
1. Bobby Whalen (Cedar Cliff);42;723;17.2;11
2. Jaheim Reynolds (Cedar Cliff);34;519;15.3;6
3. Michael Wagner (Boiling Springs);34;513;15.1;4
4. Tayven Kelley (Boiling Springs);25;486;19.4;4
5. Braden Petty (Big Spring);30;458;15.3;4
6. Connor Trumpy (Camp Hill);20;421;21.1;5
7. Michael Chismar (East Pennsboro);37;413;11.2;4
8. Jaxson Irwin (East Pennsboro);36;397;11.0;5
9. Kurtis Ravenel (Carlisle);38;363;9.6;2
10. Cade Sutch (West Perry);16;355;22.2;2
PASSING
Player (team);Comp-Att;Yards;TDs;Int
1. Chris Dare (Cedar Cliff);115-176;1,620;23;2
2. Tim Siwy (Big Spring);108-199;1,256;12;4
3. Nikolas Karoly (East Pennsboro);106-193;1,238;11;11
4. Zack VonStein (Boiling Springs);66-142;1,065;9;10
5. Jared Plessinger (Cumberland Valley);65-124;1,052;6;8
6. Danny Scott (Trinity);75-150;899;3;15
7. Kenyon Johnson (West Perry);47-78;807;7;8
8. Greg LaBine (Camp Hill);62-104;697;8;7
9. Cole Wolaver (Carlisle);73-142;652;2;8
10. Chris Barrett (Northern);45-73;644;5;5
SCORING
(Includes two-point conversions, extra points and field goals where applicable)
Player (team);TDs;2-pt;PATs;Pts
1. Terrance Quaker (West Perry);20;1;0;122
2. Adam Houser (Shippensburg);19;3;0;120
3. Kyle Swartz (Northern);19;0;0;114
4. Jaheim Morris (Cedar Cliff);17;0;0;102
5. Kenyon Johnson (West Perry);15;1;0;92
6. Bobby Whalen (Cedar Cliff);13;0;0;78
7. Tayven Kelley (Boiling Springs);12;0;0;72
8. Trystin Sulich (Carlisle);11;0;0;66
9. Damon James (Boiling Springs);8;3;0;54
9. Maximos Dell'Anno (Cumberland Valley);9;0;0;54
9. Jake Fadness (West Perry);9;0;0;54
KICKING
Player (team);FGs;PATs;Pts
1. Jack Quesenberry (Cedar Cliff);2;39;45
2. Caleb Richwine (Carlisle);5;25;40
3. Zack Quaker (West Perry);0;36;36
4. Tim Kissinger (Cumberland Valley);1;19;22
5. Bailey Blaschak (Northern);2;12;18
5. Jacob Henry (East Pennsboro);0;18;18
7. Rob West (Shippensburg);1;11;14
8. Abi Sweger (Big Spring);0;12;12
9. Ryan Alt (Red Land);2;5;11
10. Nicolas Morrison (Mechanicsburg);1;6;9
10. Alex D'Amico (Trinity);1;6;9
10. Jeremy Filburn (Boiling Springs);0;9;9
Mid-Penn Week 10 schedule and standings
Commonwealth Division
Team;Div.;Ovr.
x-Harrisburg;6-0;8-1
State College;5-1;8-1
Central Dauphin;4-2;6-3
Chambersburg;3-3;6-3
Cumberland Valley;3-3;3-6
CD East;2-4;3-6
Altoona;1-5;3-6
Carlisle;0-6;3-6
Keystone Division
Team;Div.;Ovr.
x-Cedar Cliff;5-0;7-2
Bishop McDevitt;4-1;8-1
Susquehanna Twp.;4-1;6-3
Lower Dauphin;2-3;2-7
Hershey;2-4;2-7
Mechanicsburg;1-4;1-8
Red Land;0-5;1-8
Capital Division
Team;Div.;Ovr.
x-Middletown;6-0;8-1
Palmyra;5-1;8-1
Milton Hershey;5-1;8-1
East Pennsboro;3-3;3-6
Steel-High;2-4;4-5
Boiling Springs;2-4;3-6
Camp Hill;1-5;1-8
Trinity;0-6;0-9
Colonial Division
Team;Div.;Ovr.
Shippensburg;4-1;8-1
Mifflin County;4-1;5-4
West Perry;3-2;7-2
Waynesboro;3-2;5-4
Northern;3-2;6-3
Big Spring;1-4;3-6
Greencastle-Antrim;0-6;2-7
x-denotes share of the division title;y-denotes outright division title
Friday, Oct. 26
Harrisburg at Altoona, 7
Shippensburg at Big Spring, 7
Susquehanna Twp. at Bishop McDevitt, 7
East Pennsboro at Boiling Springs, 7
Trinity at Camp Hill, 7
Chambersburg at Carlisle, 7
Central Dauphin at CD East, 7
State College at Cumberland Valley, 7
Greencastle-Antrim at Gettysburg, 7
Mechanicsburg at Lower Dauphin, 7
Palmyra at Middletown, 7
West Perry at Mifflin County, 7
Cedar Cliff at Red Land, 7
Milton Hershey at Steel-High, 7
Hershey at Twin Valley, 7
Northern at Waynesboro, 7