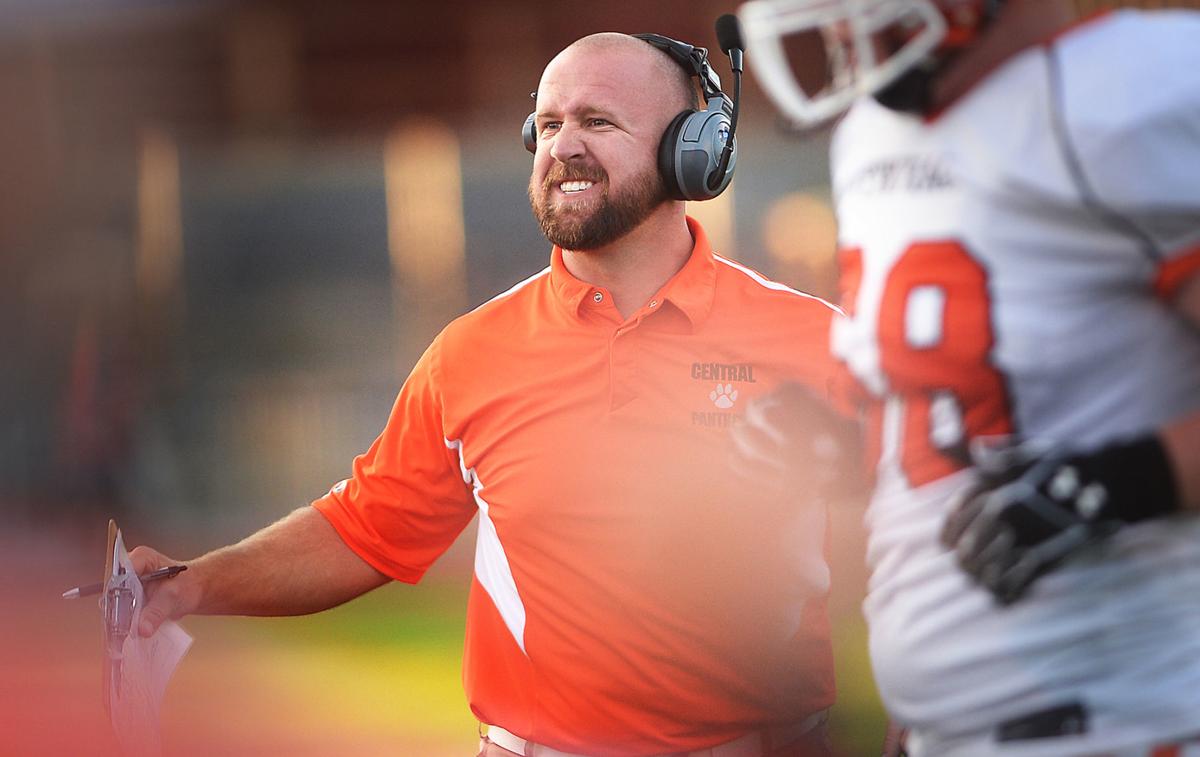 When Josh Oswalt steps onto the grass at Harry Chapman Field in August next year, it will be the culmination of more than 15 years of work.
For eight years, he has stepped onto that field as the enemy, a "man without a country," as he said. And now the 2004 Cumberland Valley High School grad can return home.
Oswalt was officially approved Monday night by the Cumberland Valley School board to be the new head football coach, ending a circuitous journey back to the halls he knew so well at the turn of the century.
"It's so many different levels [of excitement]," he said. "The whole nostalgic, 'Hey, you get to go back to your alma mater that you've adored and just looked up to.'
"I'm just excited to be back. I'm excited to be back in the Mid-Penn, I'm excited to compete against the talent who are up here in the Mid-Penn."
Oswalt graduated in 2004, part of a program that won District 3 Class 4A titles in 2001 and 2003 (when he was team captain), then played and later coached at Shippensburg University. He spent the past eight years leading Carlisle and Central York, steadily building a résumé good enough to land him one of the most coveted jobs in all of District 3 football.
"Tim Rimpfel, I hold him in high regard. Him and Rocky Rees, I hold them up there almost as high as I hold my father [and mother]," Oswalt said of the two coaches he played for at CV and Ship, respectively. "Those guys, they did it right. I always wished my legacy is even half as what [theirs were]."
He never worked as an assistant with the Eagles. But now he gets to lead them.
One of the first things athletic director Mike Craig told Oswalt when he called to offer him the job was, "Welcome home," Oswalt said.
The Eagles have more resources than Oswalt had at Carlisle and Central York. It certainly attracted him to the job.
"The level of support in athletics in Cumberland Valley is so much more than I've ever experienced," Oswalt said, speaking from personal experience that included 11 years in the midget and high school programs. "I'm not talking poorly on either school district [I've worked in]."
Oswalt said he plans to honor CV's storied history as one of District 3's most successful programs while bringing his own "flavor" to the team.
That, in part, means a new offense.
Oswalt will not adhere to the strict Wing-T offense the Eagles have run with success for decades. He's known for a spread scheme he ran at Carlisle and Central York — turning Billy Burger and Eric Harris into two of the Mid-Penn's top QBs while with the Herd and later grooming Cade and Beau Pribula with the Panthers — and many of those same concepts will come with him to the Eagles.
But, Oswalt said, he will tailor the offense to his players once he meets with each of them individually in the coming days and weeks and assesses their skills. The Wing-T won't entirely disappear, as Oswalt grew up in the system and runs some of his spread offense with Wing-T concepts, he said.
"It's gotta fit the kids," Oswalt said. "And I think that's why we're so successful as a staff, we're so good at identifying what worked for the kids."
He will also bring an emphasis on social media he crafted while at Central York. It'll be active, he said, to maintain relationships with college coaches and promote his players constantly.
Oswalt said his coaching staff is filled out, a mix of assistants he worked with at Central York and some holdovers from Cumberland Valley.
He said it was particularly tough telling his current team the news last week. He said he was honest when kids asked after CV opened the head coaching position in November, telling them he applied and got an interview.
As bittersweet as it was, he's happy to be back. Oswalt will teach at Cumberland Valley High School next year, he said, but is not sure what subject yet. He, his wife, their 1-year-old son and dog have lived in Dillsburg since 2016.
"I feel at the end of the day my family and I made the right decision to come back to Cumberland Valley," he said.
Oswalt is 48-57 across eight years at Carlisle and Central York, including 30 wins with the Panthers the past four years. He led the Thundering Herd to consecutive playoff appearances in 2014 and 2015, ending a playoff drought that extended to 2005. He led the Panthers to three more playoff appearances in four years.
Oswalt made a name for himself with a high-octane spread offense that consistently produced some of the most points and passing yards in the Mid-Penn Conference in his final years at Carlisle. He also developed multiple college prospects, including Delaware quarterback Cade Pribula while at CY.
He replaces Michael Whitehead, who led the Eagles for seven years, going 59-29 with a District 3 Class 4A (old big-school class) title in 2015. Whitehead was let go in November, the school district saying in a short statement it wanted to go in a different direction.
Oswalt played at CV in the early 2000s, graduating in 2004. He then played at Shippensburg University and later served as an assistant coach there. Oswalt was one of several applicants for the CV job that Whitehead eventually landed in 2011. He instead took over at Carlisle, immediately becoming one of the youngest high school football head coaches in the Mid-Penn and District 3.
"I feel like I've matured so much as a professional [since 2011], and I'm that much more organized. I feel like I pride myself on my organization," Oswalt said. "The game has changed, high school has changed, college recruiting has changed. And with that, if I wanted to be successful, I have to change."
He'll be tasked with continuing a storied tradition at CV, one of the winningest programs in the district. The Eagles — who have known just three previous coaches since 1971: Harry Chapman, Tim Rimpfel and Whitehead — have 13 District 3 titles, trailing only Manheim Central.
Get in the game with our Prep Sports Newsletter
Sent weekly directly to your inbox!