Mechanicsburg is set to square off with Northern in our Game of the Week, plus Jake Adams offers his predictions for the local slate of football games. Get yourself ready for Week 3 here: 
Week 3 Sentinel Game of the Week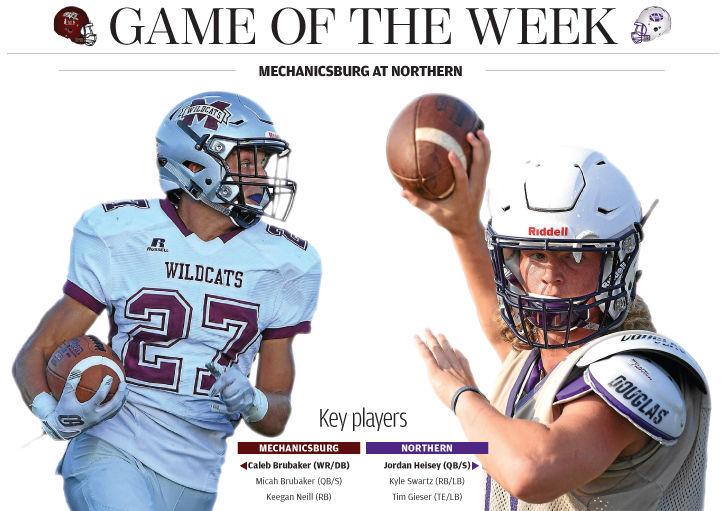 Game of the Week Preview: Mechanicsburg at Northern
Mechanicsburg key players
Northern key players
Wildcats win if...
The Brubaker twins carry over that Week 2 breakout with a similar performance against what's likelier to be a tougher defense to crack. QB Micah is 14-of-20 so far this season without a pick while throwing for 290 yards and three TDs (plus two rushing scores), and Caleb has been on the receiving end of one of those TD strikes. Both are quality defenders and bring oodles of speed to both sides of the ball. Oh ... and if Northern's big-name running back doesn't play, that can only help.
Polar Bears win if...
They get back Kyle Swartz, who would be a big boon but isn't entirely necessary for this week. Give credit to CJ Wagner, who has toted the rock 34 times for 155 yards and a score. But there's no replacing the Army wrestling commit in the backfield. Swartz's absence is clearly impacting an offense that has scored just 20 points (a pick-6 counts makes up one-third of the total TDs Northern has). And yes, Middletown was the Week 2 opponent, but the P-Bears are allowing 6.9 yards per carry. Swartz, last year's leading tackler, would be helping in that regard.
Statistical
9.8: The yards per carry of Mechanicsburg lead back Keegan Neill, who has 12 carries for 118 stripes and a score. He's been used sparingly so far, but he's capable of big games.
41.7: The completion percentage of Northern QB Jordan Heisey, who is likely impacted by Swartz's absence. Heisey is 15-of-36 for 162 yards and two picks so far, plus one TD.
2020: The year Mechancisburg-Northern becomes a division rivalry, not just a local rivalry. The 'Cats leave the Keystone next year in a major Mid-Penn restructuring that includes six Tri-Valley League teams coming in, and they'll face these P-Bears with division status at stake.
The Mid-Penn will welcome seven new football teams in 2020, six from the Tri-Valley League, marking arguably the most dramatic face lift for the conference in more than 15 years. How the new-look MPC will be aligned, how it all came to be, and what may be coming down the road: 
Week 3 picks and predictions
Each week, sports editor Jake Adams picks who will win each Sentinel-area football game as part of 4th Down Magazine's weekly predictions. Last week, he went 8-3 and is 14-7 for the season. 
Friday
Carlisle 21, South Western 14: From here on out, things get increasingly difficult for the Herd. This was a romp last year, but I don't expect a struggling offense to really run away with this one. Could be an interesting battle between two power backs.
Coatesville 21, Cumberland Valley 17: I'm officially declaring the Eagles defense quite good. Last week's display against a good, young QB in Beau Pribula was impressive. But Villanova pledge Ricky Ortega likely won't be flummoxed as easily. This will be a really good battle, though.
Red Land 27, Dover 7: The Patriots last started 2-1 in 2016 when Chad Weaver was in charge. Now, after splitting the first two, the Pats get an Eagles side that's struggling offensively. Red Land isn't dominant offensively, but this is an improving unit.
Northern 28, Mechanicsburg 21: Hmmmm. That shutout of Palmyra gave me pause. The Wildcats definitely have some more offensive pop. But I just can't stop thinking Kyle Swartz will finally take off this week against a defense he can likely exploit if he plays.
Trinity 43, Marian Catholic 6: MaxPreps says MC has rushed for negative-13 yards this season. What? How? The Shamrocks are what we call in the biz "rolling." Three wins in a row and this offense is finally putting up points. Easy win.
York Suburban 49, East Pennsboro 20: Send some well-wishes the Panthers' way. The Trojans are stacked, a YAIAA Division II favorite and boast a road-grading offensive lineman in Syracuse commit Garth Barclay.
West Perry 38, Camp Hill 27: How will Kenyon Johnson score this week? Will he grab his own punt before the returner and take it in? Can he throw a pass to himself? How about serving as the RB on a flea-flicker, but instead catching the ensuing pass and skirting the defense? I'm struggling to find more obscure ways for him to find pay dirt.
Big Spring 17, Boiling Springs 14: The Bubblers have just six points this season, but I have to give the defense credit for allowing just 23.5 points per while facing an uphill battle. The Bulldogs present another challenge with multiple weapons and a first-year QB (Jack Shulenberger) who has played well so far.
Shippensburg 35, Bermudian Springs 13: So the Greyhounds have three RBs with at least 160 yards, and two of them are averaging double digits per carry. The passing game hasn't had to do much (yet). It's tough to find a weakness with this offense right now, especially in non-league competition.
Saturday
Harrisburg 42, Cedar Cliff 22: Both teams suffered losses last week, but only one of these teams is nationally ranked and has played a pair of nationally ranked programs. I like the Colts this season, but this is a relatively easy pick.
Sentinel/4th Down Magazine live coverage plans
The Sentinel and 4th Down Magazine will be at three games this week. Follow these reporters on Twitter for live updates: 
Jake Adams (@jakeadams520): Boiling Springs at Big Spring
Jeffrey Kauffman (@jcaakauff): Mechanicsburg at Northern
Andy Shay (@APShay): Middletown at Bishop McDevitt
Mid-Penn Football Week 3 schedule
Commonwealth Division
Cumberland Valley;0-0;2-0
Keystone Division
Capital Division
Colonial Division
Greencastle-Antrim;0-0;0-2
Friday, Sept. 6
Taylor Allderdice at Altoona, 7
Shippensburg at Bermudian Springs, 7
Boiling Springs at Big Spring, 7
Middletown at Bishop McDevitt, 7
Archbishop Stepinac (NY) at CD East, 7
Coatesville at Cumberland Valley, 7
Steel-High at Delone Catholic, 7
Lower Dauphin at Exeter Twp., 7
Waynesboro at Gettysburg, 7
Hanover at Greencastle-Antrim, 7
Milton Hershey at Hershey, 7
Central Dauphin at Manheim Twp., 7
Mifflin County at Northeastern, 7
Mechanicsburg at Northern, 7
Garden Spot at Palmyra, 7
Chambersburg at Red Lion, 7
Carlisle at South Western, 7
Hollidaysburg at State College, 7
Huntingdon at Susquehanna Twp., 7
Marian Catholic at Trinity, 7
Camp Hill at West Perry, 7
East Pennsboro at York Suburban, 7
Saturday, Sept. 7
Harrisburg at Cedar Cliff, 10:30 a.m.
Sentinel-area leaderboards after Week 2
(Stats reflect only those reported to The Sentinel)
RUSHING
Player (team);Rush;Yards;Avg;TDs
1. Jaheim Morris (Cedar Cliff);41;363;8.9;2
2. Daniel Kosinski (Trinity);26;262;10.1;2
3. Alex Sharrow (Shippensburg);12;197;16.4;1
4. Tristyn Sulich (Carlisle);33;194;5.9;2
5. Jacob Loy (Shippensburg);28;188;6.7;4
6. Maximos Dell'Anno (Cumberland Valley);23;167;7.3;2
7. Max Kalb (Shippensburg);15;163;10.9;2
8. CJ Wagner (Northern);34;155;4.6;1
9. Frank Shartle II (Camp Hill);16;150;9.4;0
10. Braydon Keller (Carlisle);31;146;4.7;0
RECEIVING
Player (team);Rec;Yards;Avg;TDs
1. Greg Labine (Camp Hill);13;199;15.3;2
2. Caleb Brubaker (Mechanicsburg);3;146;48.7;1
3. Isaiah Houser (Shippensburg);4;134;33.5;3
4. Frank Shartle II (Camp Hill);9;132;14.7;2
5. Trey McAuliffe (Trinity);4;132;33.0;2
6. Adam DeGregorio (Big Spring);7;126;18.0;1
7. Connor Trumpy (Camp Hill);9;123;13.;1
8. Jaden Henline (Red Land);6;122;20.3;1
9. D'Amonte Porter (Trinity);4;84;21.0;0
10. Hunter Campbell (East Pennsboro);9;83;9.2;0
PASSING
Player (team);Comp-Att;Yards;TDs;Int
1. Daniel Shuster (Camp Hill);43-73;564;4;1
2. Danny Scott (Trinity);21-46;345;4;3
3. Gannon McMeans (Cedar Cliff);24-45;329;3;0
4. Jack Shulenberger (Big Spring);16-26;297;4;0
5. Micah Brubaker (Mechanicsburg);14-20;290;3;0
6. Adam Cramer (Red Land);16-31;229;1;2
7. Alex Kovac (Cumberland Valley);8-19;168;1;3
8. Jordan Heisey (Northern);15-36;162;1;2
9. Jared Gorman (East Pennsboro);19-48;160;0;4
10. Zack Manning (Shippensburg);7-11;157;4;1
SCORING
(Includes two-point conversions, extra points and field goals where applicable)
Player (team);TDs;2-pt;PATs;Pts
1. Jacob Loy (Shippensburg);4;0;0;24
2. Owen Hacker (Carlisle);3;1;0;20
3. Greg Labine (Camp Hill);2;0;4;19
4. Mike Stank (Red Land);3;0;0;18
4. Isaiah Houser (Shippensburg);3;0;0;18
6. Micah Brubaker (Mechanicsburg);2;1;0;14
6. Nicholas Morrison (Mechanicsburg);1;0;5;14
8. Frank Shartle II (Camp Hill);2;0;0;12
8. Peter Chelap (Camp Hill);2;0;0;12
8. Max Dell'Anno (Cumberland Valley);2;0;0;12
8. Nathan Fetchkan (Big Spring);2;0;0;12
8. Anthony Gaudioso (Big Spring);2;0;0;12
8. Tristyn Sulich (Carlisle);2;0;0;12
8. Jaheim Morris (Cedar Cliff);2;0;0;12
8. Ashton Gombola (Cedar Cliff);2;0;0;12
8. Jacob Shermeyer (East Pennsboro);2;0;0;12
8. Tyler Weary (Northern);2;0;0;12
8. Daniel Kosinski (Trinity);2;0;0;12
8. Trey McAuliffe (Trinity);2;0;0;12
8. Ryan Berrigan (Trinity);2;0;0;12
KICKING
Player (team);FGs;PATs;Pts
1. Timothy Kissinger (Cumberland Valley);2;4;10
2. Nicholas Morrison (Mechanicsburg);1;5;8
3. Greg Labine (Camp Hill);1;4;7
3. Gavin Feliciano (Red Land);1;4;7
3. Rob West (Shippensburg);0;7;7
3. Will Thropp (Trinity);1;4;7
7. Eric Hoover (Carlisle);1;0;3
7. Mason Yohn (Northern);0;3;3
9. Eli Hasco (Big Spring);0;2;2
9. Dakota Campbell (East Pennsboro);0;2;2
9. Braydon Keller (Carlisle);0;2;2
9. Alex Widmer (Cedar Cliff);0;2;2
4th Down Magazine: Mid-Penn Six Pack
Eagles bouncing back
For a program with a rich championship history at the highest level, this 2-0 start by Cumberland Valley should not be a big surprise, right? Wrong. The Eagles were 3-7 for a myriad of reasons last season. So while the expectation might have been for CV to be "better" this season, notching a pair of high-quality wins on the heels of a three-win season, at this level, is a lot harder than it looks. It takes talent, but more importantly it takes weeks and months of grinding hard work and a full-scale attitude adjustment. Coatesville is a very tall ask for the red-hot Eagles. But they are confident and have already proven they will not be an easy out in 2019.