HS Football Week 9 Preview: Breaking down our GOTW, CD East at Cumberland Valley, plus picks and predictions
Cumberland Valley is set to square off with CD East in our Game of the Week, plus Jake Adams offers his predictions for the local slate of football games. Get yourself ready for Week 9 here: 
Week 9 Sentinel Game of the Week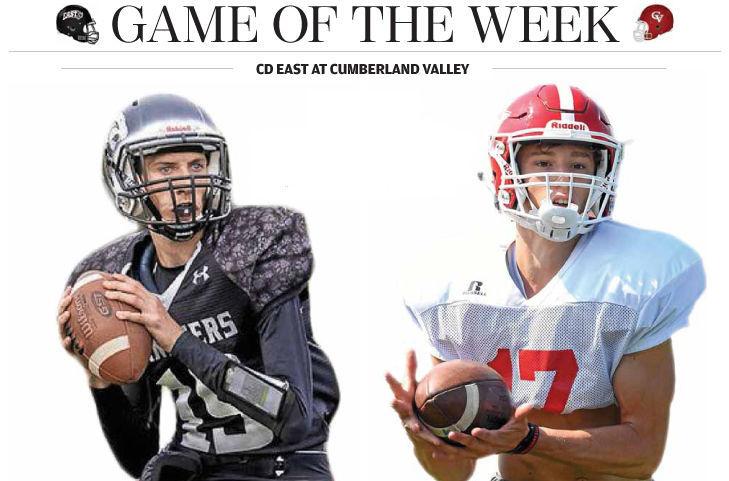 Game of the Week Preview: CD East at Cumberland Valley
CD East key players
Trey Wallace-Koons (TE/DE)
Cumberland Valley key players
Maximos Dell'Anno (RB/DB)
Panthers win if...
Baker can get some early success and break off a few big scores. East has speed to burn, but they have to use it against a deep secondary that's getting healthier every week with Dell'Anno likely to return. This is not a game CD East can win if it's 14-7. It will have to get into a bit of a shootout. It also helps teams sometimes when they know they can play spoiler, a role the Panthers must embrace this week against an Eagles outfit fighting for their playoff lives.
Eagles win if...
They contain Baker and force the Panthers to pass. Flickinger is not an accurate QB, but Baker chews up yards with ease. The Eagles' defense isn't dominant in run defense but isn't a pushover either; they're probably around average in the Commonwealth. CV has to know what's at stake in this one. A win here would do wonders for the District 3 Class 6A playoff odds, especially with State College looming next week. Taking care of business this week is a must.
Statistical
.058: The separation between Cumberland Valley and Red Lion, the Nos. 7 and 9 teams, respectively, in the District 3 Class 6A power rankings. Just eight teams qualify, with Chambersburg currently occupying the final spot a minuscule .001 behind CV. This is must-win territory for the Eagles.
28: When CV allows 28 or more points, it is 1-4 this season. The lone win came against Carlisle. Flip it around, and the Eagles are 1-4 when they score 14 points or fewer. 
4.9: CV's yards per carry allowed, but that's skewed a bit by the Altoona outlier of negative-0.3 yards. Baker averages around 8 a pop. 
Week 9 picks and predictions
Each week, sports editor Jake Adams picks who will win each Sentinel-area football game as part of 4th Down Magazine's weekly predictions. Last week he went 7-2 and is 67-16 for the season. 
Friday
Northern 42, Big Spring 7: I respect the Bulldogs' defense, but they need about 13 or 14 defenders on the field at once to stand a chance of stopping Kyle Swartz. The rule book doesn't allow that.
Bishop McDevitt 31, Mechanicsburg 14: It sounds like Micah Brubaker should be back this week, but it won't matter if he or James Anderson is at QB. The Crusaders have discovered an offense to pair with this impressive defense.
Milton Hershey 49, Camp Hill 13: The Spartans continue their march to an expected Mid-Penn Capital title with a comfortable road win this week against the Lions.
Harrisburg 42, Carlisle 7: The Cougars ended a rough losing streak against far better competition than the Thundering Herd. This will be out of reach early. In local interest, can Tristyn Sulich crack 100 yards against a very good defense?
Cedar Cliff 31, Susquehanna Township 28: For the second year in a row, the Indians and Colts will battle it out in Week 9 for the Keystone crown. Cedar Cliff won on the road last year, can Township return the favor? Definitely possible, but I'll side with Colt Country.
Cumberland Valley 28, CD East 14: The Eagles, winners of two straight, are hanging in the District 3 Class 6A playoff picture. And now they can push that to three as they continue to get healthier. They could be a tough out come postseason play.
Trinity 35, Palmyra 14: The roller coaster portion of the season continues for Trinity. A sixth win here will be huge as the Shamrocks seek to hold off Newport for the final spot in the District 3 Class 2A tournament.
Shippensburg 28, Red Land 20: Could this be a let down game for the Greyhounds? Possibly. But this team doesn't seem to be losing sight of its goal: 10-0 and the top seed in the District 3 Class 5A field. Patriots enter at their own risk.
Saturday
Middletown 42, East Pennsboro 13: A pair of Saturday MPC Capital matinees that don't appear to be particularly close. The Blue Raiders should handle business here at home as they begin to round into playoff shape.
Steel-High 42, Boiling Springs 6: It looks like the Bubblers will be one of potentially two Mid-Penn teams this season to go 0-10. That's an unfortunate reality for a team that thought it was going to turn a corner this year.
Sentinel/4th Down Magazine live coverage plans
The Sentinel and 4th Down Magazine will be at two games this week. Follow these reporters on Twitter for live updates: 
Jake Adams (@jakeadams520): Susquehanna Township at Cedar Cliff
Jeffrey Kauffman (@jcaakauff): Northern at Big Spring
Andy Shay (@APShay): Susquehanna Township at Cedar Cliff
Mid-Penn Football Week 9 schedule
Commonwealth Division
Cumberland Valley;2-3;4-4
Keystone Division
Capital Division
Colonial Division
Greencastle-Antrim;0-5;1-7
x-claimed a share of division title;y-claimed outright division title
Friday, Oct. 18
State College at Altoona, 7
Northern at Big Spring, 7
Mechanicsburg at Bishop McDevitt, 7
Milton Hershey at Camp Hill, 7
Harrisburg at Carlisle, 7
Susquehanna Twp. at Cedar Cliff, 7
Chambersburg at Central Dauphin, 7
CD East at Cumberland Valley, 7
Hershey at Lower Dauphin, 7
Greencastle-Antrim at Mifflin County, 7
Red Land at Shippensburg, 7
West Perry at Waynesboro, 7
Saturday, Oct. 19
East Pennsboro at Middletown, 2
Boiling Springs at Steel-High, 2
Sentinel-area leaderboards after Week 8
(Stats reflect only those reported to The Sentinel)
RUSHING
Player (team);Rush;Yards;Avg;TDs
1. Kyle Swartz (Northern);176;1,527;8.7;18
2. Jaheim Morris (Cedar Cliff);202;1,476;7.3;16
3. Tristyn Sulich (Carlisle);141;1,016;7.2;10
4. Jacob Loy (Shippensburg);148;879;5.9;15
5. Alex Sharrow (Shippensburg);77;823;10.7;10
6. Daniel Kosinski (Trinity);87;643;7.4;4
7. Dontey Rogan (Cumberland Valley);112;494;4.4;7
8. Jacob Shermeyer (East Pennsboro);126;444;3.5;5
9. Keegan Neill (Mechanicsburg);94;421;4.5;3
10. Quentin Jones (Boiling Springs);77;409;5.3;2
RECEIVING
Player (team);Rec;Yards;Avg;TDs
1. Ryan Berrigan (Trinity);28;496;17.7;8
2. Hunter Campbell (East Pennsboro);36;417;11.6;1
3. Greg Labine (Camp Hill);31;402;12.97;3
4. Isaiah Houser (Shippensburg);19;401;21.1;6
5. Frank Shartle II (Camp Hill);28;399;14.3;3
6. Trey McAuliffe (Trinity);18;388;21.6;5
7. D'Amonte Porter (Trinity);20;372;18.6;2
8. Jaden Henline (Red Land);19;352;18.5;3
9. Connor Trumpy (Camp Hill);28;349;12.5;4
10. Jaxson Irwin (East Pennsboro);26;330;12.7;4
PASSING
Player (team);Comp-Att;Yards;TDs;Int
1. Danny Scott (Trinity);122-229;1,856;16;10
2. Daniel Shuster (Camp Hill);128-239;1,505;9;12
3. Jared Gorman (East Pennsboro);91-187;1,118;9;7
4. Adam Cramer (Red Land);81-149;1,075;9;4
5. Gannon McMeans (Cedar Cliff);74-149;942;10;6
6. Jack Shulenberger (Big Spring);49-119;837;10;7
7. Micah Brubaker (Mechanicsburg);44-72;836;10;4
8. Owen Hacker (Carlisle);54-134;718;3;6
9. Jordan Heisey (Northern);57-122;715;9;4
10. Zack Manning (Shippensburg);34-74;561;7;2
SCORING
(Includes two-point conversions, extra points and field goals where applicable)
Player (team);TDs;2-pt;PATs;Pts
1. Kyle Swartz (Northern);18;0;0;108
2. Jaheim Morris (Cedar Cliff);17;0;0;102
3. Jacob Loy (Shippensburg);15;1;0;92
4. Tristyn Sulich (Carlisle);10;0;0;60
4. Alex Sharrow (Shippensburg);10;0;0;60
6. Ryan Berrigan (Trinity);9;0;0;54
7. Nicholas Morrison (Mechanicsburg);3;0;18;45
8. Micah Brubaker (Mechanicsburg);7;1;0;44
9. Dontey Rogan (Cumberland Valley);7;0;0;42
9. Jordan Heisey (Northern);7;0;0;42
9. Isaiah Houser (Shippensburg);7;0;0;42
KICKING
Player (team);FGs;PATs;Pts
1. Gavin Feliciano (Red Land);5;17;32
1. Mason Yohn (Northern);0;32;32
3. Timothy Kissinger (Cumberland Valley);5;16;31
4. Nicholas Morrison (Mechanicsburg);3;18;27
5. Rob West (Shippensburg);2;18;24
6. Scott Leland (Cedar Cliff);1;16;19
7. Will Thropp (Trinity);2;10;16
8. Dakota Campbell (East Pennsboro);0;14;14
9. Eric Hoover (Carlisle);1;7;10
9. Alex Widmer (Cedar Cliff);1;7;10
*Due to technical problems with Hudl, Red Land's stats from Week 5 are partially incomplete. The team will update the stats as soon as possible, at which point, The Sentinel's season stats for the Patriots will update accordingly.
4th Down Magazine: Mid-Penn Six-Pack
Running backs rule
This has been a very unusual season in the MPC at the quarterback position. But there are some seriously good running backs. Jaheim Morris at Cedar Cliff, Kyle Swartz at Northern at the top two without any argument required. Jose Lopez from Middletown is rock solid, and Keyshawn Jones at Chambersburg, Dresyn Green at State College and Jahmir Plant from Harrisburg are all upper-echelon backs. We have quarterbacks who are solid high school signal callers, but there's not any quarterbacks having the impact of these running backs.