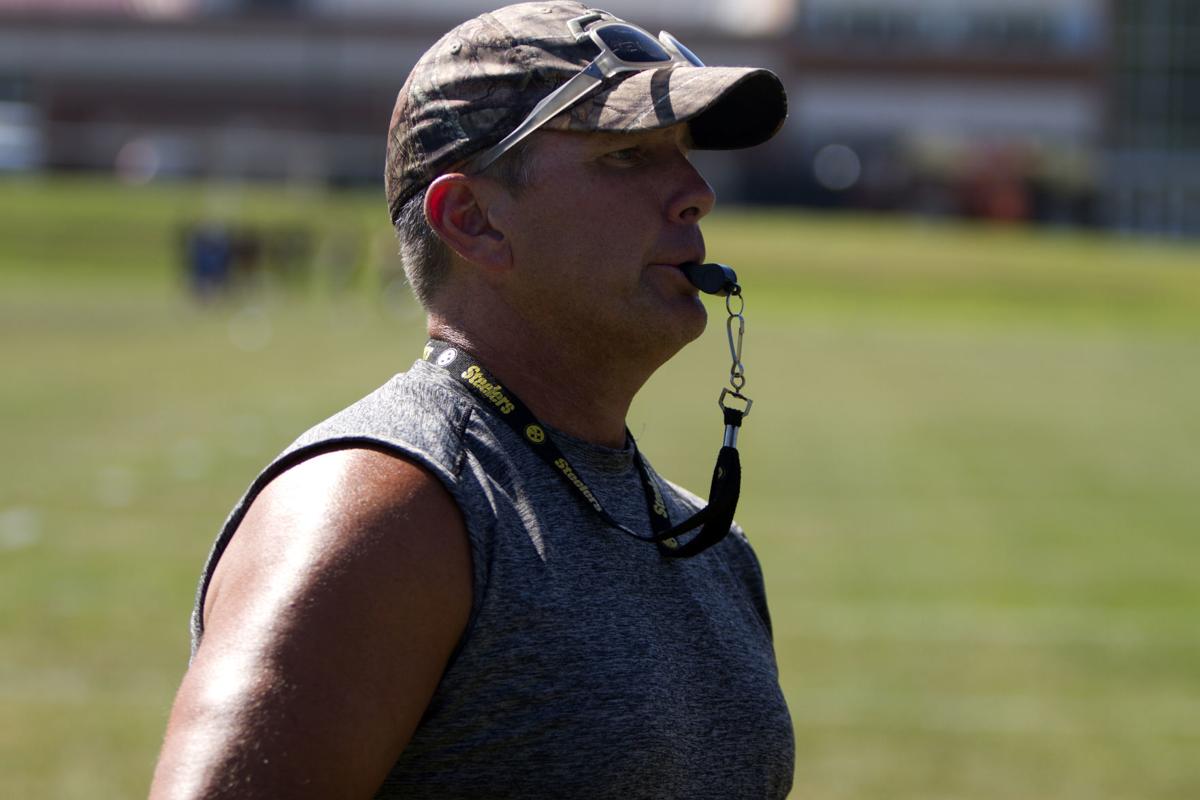 Nearly all of Todd Stuter's 53 years have involved a football field.
His 54th year won't be centered quite as much around a 100-yard patch of grass.
Stuter said he stepped down as East Pennsboro's long-time head coach last week, ending a 22-year reign in charge of the Panthers.
Health, age and family are what came calling, Stuter said. He will have knee replacement surgery in January, bringing relief after a season of "hobbling" around the school and field in pain. He also said his wife, kids and mother pushed him to finally step away.
"Coaching, especially in football, is a year-round thing," Stuter said Wednesday afternoon. "We're to the point where it's a rebuilding time, and I really felt like I couldn't give the proper energy.
"I just said [to my family] that last year, 'I want to do one more year. I still feel like I'm reaching kids.' … Now this year, again, they were like, 'Alright, it's time.'"
Stuter, who is a cooperative education teacher at the high school, said he is also nearing retirement. A job opening was posted by East Pennsboro for the head coaching vacancy sometime this week.
"Words cannot express our appreciation of his commitment to our student-athletes within the extra-curricular roles he has held," athletic director Chris Skaugen said in an email late Tuesday night. "Our efforts are focused on finding a qualified, experienced head football coach leading into the spring as we are actively accepting applications."
Stuter compiled a 134-96 record over 22 seasons. The Panthers made the District 3 playoffs seven times during his tenure, including four times from 2014-17. They made just two playoff appearances in the years prior. They went 3-7 since 2002 in those trips, advancing as far as the Class 3A championship in 2002, a 31-7 loss to Lower Dauphin.
The most recent run of success featured a talented 2017 class headlined by the program's all-time leading rusher, Onasis Neely. East Penn made the playoffs in 2015, '16 and '17, losing to powerhouse Berks Catholic 48-7 in the 4A semifinals during Neely's senior year.
Stuter said he didn't want to "cop-out" and resign after 2017. He still had the urge to coach and still felt he was connecting to players on and off the field. But he recognized in the past few weeks it's time for a new coach with new energy.
He said he told Skaugen during their end-of-year meeting Nov. 12 and told the team during their annual post-season banquet.
"When I said it at the banquet, which was very emotional for me, I saw a lot of heads drop," he said.
The Panthers have been forced to rebuild since that 2017 class graduated. They went 3-7 (3-4 Mid-Penn Capital) this season and finished fifth in the division, beginning with a season-opening loss to Northern in which Stuter and 10 players were suspended prior to the game for undisclosed reasons. Stuter said the incident in no way had an impact on his decision to step down.
He said he would like to keep coaching as an assistant at East Pennsboro, if the new regime would like to have him, or wherever he is wanted.
Stuter was the longest active coach in Cumberland County and tied with Bishop McDevitt's Jeff Weachter for the longest current tenure, according to PennLive. The next closest in the Sentinel area are Shippensburg's Eric Foust (18 years) and Red Land's Frank Gay (16 years across three separate stints at Red Land and Camp Hill).
Stuter said he kept coaching even when a player died during the year and when one of his children battled leukemia as a baby. He enjoyed having an impact on teens in a classroom and on the field, and that's what drew him back every year despite the long hours, long seasons and troubles with the occasional parent or player.
"I think my gift has been patience and understanding. I don't hold vendettas against things," he said. "There were more players that I know I was affecting in a positive way than a negative way."
Stuter played football at the former Kishacoquillas High School, graduating in 1985, and then Lock Haven University. His first assistant coaching job was in 1990 at Millersburg, shortly after graduating from college. He joined East Penn's staff shortly after and remained ever since.
This is the second head coaching position to open in the past two weeks. Cumberland Valley opened its coaching position last week, ending Michael Whitehead's seven-year tenure.
Get in the game with our Prep Sports Newsletter
Sent weekly directly to your inbox!