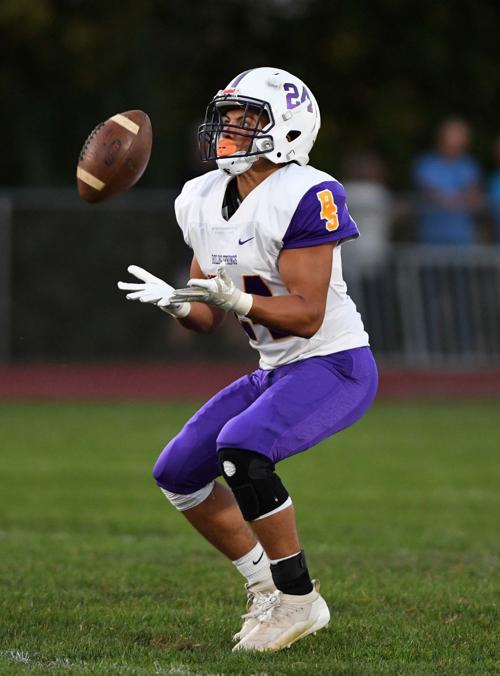 BOILING SPRINGS — Camp Hill beat Boiling Springs 28-19 in the battle for the basement in the Capital Division Friday night at Bud Ecker Field in Boiling Springs.
Boiling Springs (0-8, 0-5 Capital) hopes to avoid another winless season like it experienced in 2017. They dropped 24 games in a row before beating Big Spring 34-19 in 2018, finishing 3-7.
Camp Hill took the opening kickoff and drove down the field. A halfback option pass from Frank Shartle was caught by Elijah DeArment for a 20-yard touchdown. Noah Fields added the point afterwards and the Lions led 7-0.
The Lions next possession ended with Daniel Shuster finding Connor Trumpy for a 22-yard score.
Camp Hill (2-6, 1-4), loser of five straight games, went into halftime leading 14-0.
"We had a great first half offensively, but holding penalties and turnovers hurt us in the second half," Lions coach Tim Bigelow said. "Frank Shartle is a fullback and there aren't many offensive plays for fullbacks, so we had to change a few plays to get him the ball. He runs hard and he was the key tonight. We made big defensive plays all night, but particularly when we needed them."
The Bubblers picked Shuster off twice in the second half and had two short fields, taking over at the 17 and the 15-yard lines of the Lions. They went backward on the first drive and converted as Quentin Jones scampered in from the two, and the Bubblers trailed 14-7.
Christian Doi had a kickoff return of 55 yards to the Bubbler 25. Three plays later, Shartle blasted over from the four and the Lions led 21-7.
You have free articles remaining.
Jones and Doug Bear combined to drive the field for the Bubblers with Bear scoring from the 11. The Bubblers recovered an onside kick and Bear scored again. Jones had a 34-yard run to aid the second drive. The Lions made a defensive play and stopped the two-point conversion a yard short.
Camp Hill started the drive at their own 21, trying to run out the final eight minutes.
Twelve plays later, aided by a fourth down offsides call against the Bubblers, Shuster found Shartle for 12 yards and a score. Shartle alone accounted for 70 yards on the drive and 138 yards of total offense (111 on the ground).
"I have to give credit to our line, they had my back the whole game," Shartle said. "That first drive set the tone for the game. We made several big defensive plays when we needed them."
Connor Trumpy had three tackles for losses in the game for the Lions.
For the Bubblers, Jones finished with 106 yards on 14 carries. The Bubblers had negative five yards passing all night.