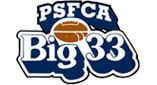 The Pennsylvania Scholastic Football Coaches Association on Wednesday released the 2020 Big 33 Pa. football roster.
Multiple Mid-Penn Conference players made the cut this year. See the full list below:
Name (School) College Position Height Weight
Tavion Banks (Bethlehem Catholic) The University of Maine RB 5-11 195
Ali Barkley (Whitehall) Undecided RB 6-1 215
Kobe Brish (Schuylkill Haven) Undecided LS 5-9 205
Tui Brown (Gateway) University of Connecticut LB 6-3 210
Dapree Bryant (Coatesville) Villanova University WR 5-9 190
Josh Casilli (Peters Township) University of Pennsylvania WR 6-1 175
Nick Chimienti (Central Dauphin) Stony Brook University DB 6-1 180
Logan Danielson (Thomas Jefferson) Indiana University of Pennsylvania DT 6-1 265
Addison Darcy (State College Area) US Naval Academy OL 6-3 300
Kamere Day (Harrisburg) Undecided WR 5-11 175
Mac Duda (Thomas Jefferson) Princeton University OL 6-4 280
Brock Gingrich (Cocalico) University of Delaware OL 6-2 290
Cole Graham (Hempfield Area) Saint Francis University DE 6-6 270
Jake Green (North Schuylkill) Villanova University DT 6-1 280
Anthony Harris (Nazareth Area) University of Maine QB 6-3 185
Liam Johnson (St. Joseph's Prep) University of Pennsylvania LB 6-1 220
Donte Kent (Harrisburg) Central Michigan University DB 5-11 175
Kevin Kurzinger (State College Area) Duquesne University DE 6-2 235
William Leyland (Souderton Area) Temple University K 6-1 200
Nathan Lusk (State College Area) Army- West Point Academy TE 6-3 235
Matt McGeary (St. Joseph's Prep) Colgate University OL 6-2 310
Tyrell Mims (Martin Luther King) Villanova University DB 5-10 170
Jaxson Montross (Tunkhannock Area) Shippensburg University K 6-1 155
Kaden Moore (Freedom) Virginia Tech OL 6-3 310
Ricky Ortega (Coatesville) Villanova University QB 5-11 195
Noah Palm (Cocalico) University of New Hampshire DB 6-1 210
Naseer Penn (Baldwin) University of Maine DB 6-1 180
Michael Petrof (Ligonier Valley) U.S. Naval Academy DT 6-2 275
Ryan Savage (LaSalle College) Princeton University DE 6-2 230
Ian Sheehan (Neshaminy) Undecided WR 6-1 186
Patrick Shupp (Easton Area) University of Delaware OL 6-3 320
Aakeem Snell (Penn Hills) Lackawanna College DB 6-2 195
Jalen Stewart (Freedom) Undecided RB 6-1 225
Gus Sunseri (Central Catholic) University of Pittsburgh LB 5-11 190
Bryce Thoman (Central Dauphin) Temple University OL 6-5 270
Dylan Walker (Pope John Paul II) Colorado State TE 6-4 225
Marques Watson-Tent (Blackhawk) Georgia-Southern University LB 5-11 195
Levi Wentz (Pine-Richland) Old Dominion University DB 6-3 185
Get in the game with our Prep Sports Newsletter
Sent weekly directly to your inbox!