2019 Football Preview: Breaking down the Trinity Shamrocks
Trinity is going RPO on offense, and the defense returns a bunch of pieces hoping to make up for the loss of Mark Centurione. Plus, last season's late improvement has hopes high in Shamrock Country for 2019. 
Trinity High School Football 6.JPG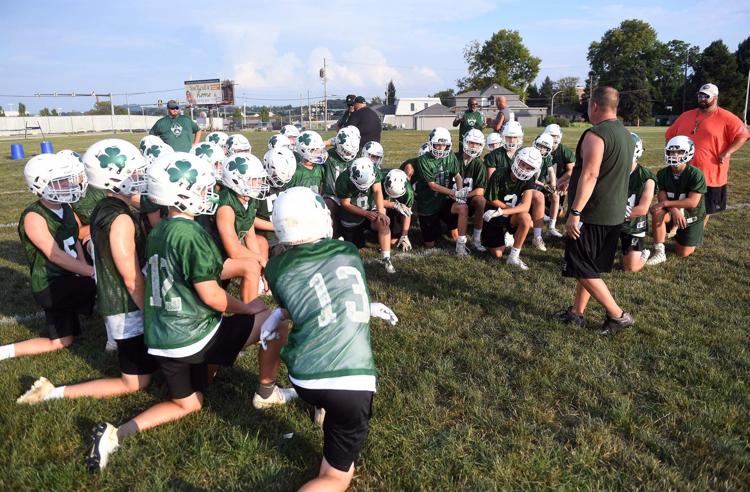 Inside the huddle
Head coach: Todd Ryan, 2nd season (1-9)
Division: Mid-Penn Capital
Postseason: did not qualify
Passing: Comp-Att, Yards, TD
Danny Scott: 84-165, 1,056, 5
Rushing: Att-Yards, Avg, TD
Daniel Kosinski: 86-527, 6.1, 4
Receiving: Rec-Yards, Avg, TD
D'Amonte Porter: 27-326, 12.1, 1
Connor McCarthy: 17-120, 7.1, 0
Key returners: D'Amonte Porter, sr., WR-DB; Jason Skreppen, sr., OL-DL; Danny Scott, sr., QB; Andrew Mott, sr., OL-DL; Konnor Knittle, sr., OL-LB; Daniel Kosinski, sr., RB-DB; Trey McAuliffe, jr., WR-DB.
Outlook: The Shamrocks looked poised to improve on their one win a year ago. Health will always be a factor at a school this size, but all of the returning experience will pay dividends with the new-look RPO/Air Raid offense they're converting to full time this season.
Schedule
Aug. 23;at Delone Catholic;7 p.m.
Aug. 30;at York Catholic;7 p.m.
Sept. 6;vs. Marian Catholic;7 p.m.
Sept. 13;at Steel-High;7 p.m.
Sept. 20;vs. Boiling Springs;7 p.m.
Sept. 28;at Milton Hershey;1:30 p.m.
Oct. 4;vs. East Pennsboro;7 p.m.
Oct. 11;vs. Middletown;7 p.m.
Oct. 18;at Palmyra;7 p.m.
Oct. 25;vs. Camp Hill;7 p.m.
5 Things To Know: Five talking points about the Shamrocks this season
1. Who fills in on D?: The Shamrocks' biggest loss is that of prolific tackler Mark Centurione. There is nobody on the roster who can single-handedly replace the linebacker's production, but Trinity hopes it will be a group effort. The good news is there's a lot of returning talent, including five of the seven regularly rotated in on the defensive line last year. The bad news is the 'Rocks D was slashed in 2018 to the tune of 6.2 yards per carry and 217 rushing yards a game. Head coach Todd Ryan thinks this year's front will do a better job clogging run lanes, allowing a LB and DB corps filled with speedy athletes to fly to the ball. The back half isn't the soundest unit, but he's eager to let them make fast mistakes if it means more positive plays on the whole.
2. RPO in full swing: Perhaps the biggest change this year will be Trinity going all in on the run-pass/Air Raid offense. Ryan worked it in late last season, and the Shamrocks nearly upset Palmyra before knocking off a limping Camp Hill to end the season with an all-important first win. The run game should see a boost with the o-line having less schematically to process, and with Daniel Kosinski (86 carries, 527 yards, 4 TDs) back at running back hoping to improve on last season. But it should certainly help the aerial assault. "[Defenses] can't really key in on anything," senior WR D'Amonte Porter said. "I think it's pretty good for us as a whole." Three of the team's receivers are two-year starting seniors; the senior class is 14 large on a roster of around 37.
3. Scott slingin' the rock: And the perfect segue. Senior lacrosse ace Scott — the reigning boys lacrosse All-Sentinel Player of the Year — returns for his second season under center. Ryan said the signal caller has improved arm strength this year, which hopefully keeps defenses more honest. Scott finished 84-of-165 for 1,056 yards and a 5-15 TD-INT ratio. With extra seasoning, a livelier arm and a better system around him, this offense should start grooving early. Scott in particular is excited about the new offense, which is challenging him mentally to stay sharp every play. "Yes, [I like it] a lot more." Scott will work with 2-3 reads per play, typically, and the objective is to get it into the hands of his playmakers as quickly as possible. With several guys running quick 40 times, it will only benefit this offense.
4. Building on late surge: The final two weeks of 2018 — a close loss to Palmyra and a win over arch rival Camp Hill — gave Trinity hope for a turnaround this season. Ryan is hesitant to predict the win column, but it's evident the team has bigger expectations in '19. Ryan said in his five years at THS (three as an assistant, two as the head man), he's never seen more players at the offseason team camp at Lebanon Valley College. Offseason lifting was up in the months leading up as well. "I was excited when we left team camp for the season to really get here," he said.
5. Finding help in the trenches: Ryan likes to rotate his defensive line to keep them fresh. That's important with many of them having to double dip on the opposite side. But the Class 2A school has an abnormally large crop of 15 offensive linemen. Not all are game ready, but it's more depth than Ryan typically hopes for. He has all but his right tackle back, which should further help provide stability in his second year at the helm.