2019 Football Preview: Breaking down the Red Land Patriots
There are some new (and familiar) faces on this iteration of the Red Land Patriots. Can the studs on the diamond have a similar impact on the gridiron? Next up on our football preseason coverage: five things you should know about the 2019 Red Land season.
Red Land football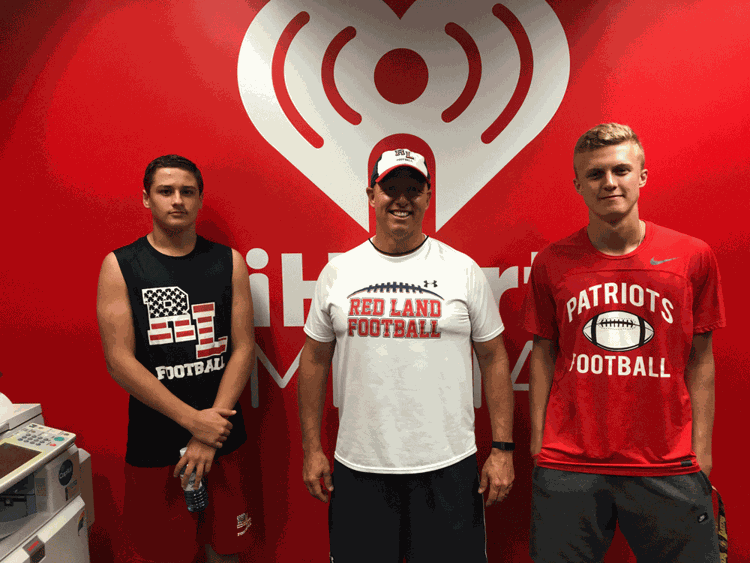 Inside the huddle
Head coach: Frank Gay, 10th season (46-52), 16th season overall (88-77)
Division: Mid-Penn Keystone
Postseason: did not qualify
Passing: Comp-Att, Yards, TD
Adam Cramer: 85-212, 776, 4
Rushing: Att-Yards, Avg, TD
Receiving: Rec-Yards, Avg, TD
Chase Lawler: 11-96, 8.7, 0
Adrien Ortiz: 5-46, 9.2, 0
Key returners: Adam Cramer, sr., QB; Justin Hertzog, sr., OL-DL; Mike Stank, sr., RB-LB; Dylan Rodenhaber, jr., FB-LB; Adrien Ortiz, jr., WR-DB; Cam Metzel, OL-DL; Sean Stewart, TE-DL; Robert Rodgers, FB-LB; Chase Lawler, WR-DB; Hayden Zechman, RB-DB; Sam Sklar, WR-DB.
Outlook: Year 2 of the Frank Gay remix at Red Land is gaining steam. This isn't a team that will contend for a District 3 title — not yet — but Friday night victories will happen, maybe more often than some outside the friendly confines of the West Shore anticipate.
Schedule
Aug. 23;vs. Waynesboro;7 p.m.
Aug. 30;at East Pennsboro;7 p.m.
Sept. 13;at Bishop McDevitt;7 p.m.
Sept. 20;at Lower Dauphin;7 p.m.
Sept. 27;vs. Hershey;7 p.m.
Oct. 4;vs. Mechanicsburg;7 p.m.
Oct. 11;vs. Susquehanna Twp.;7 p.m.
Oct. 18;at Shippensburg;7 p.m.
Oct. 25;at Cedar Cliff;7 p.m.
5 Things To Know: Five talking points about the Patriots this season
1. A winning attitude: There's a little more swagger these days from the Patriots. Quarterback Adam Cramer — not one to show a ton of emotion — even did a little touchdown dance during the team's first day of practice. That's the kind of fun teams have when they know there's a little more firepower on the field. You might know a few names we're about to drop that now appear on the Patriots' roster — maybe you caught their first captivating moment in the spotlight as the Red Land Little League stars, or the remix as many of them became PIAA Class 5A state baseball champions this year. Either way, the likes of newcomers Kaden Peifer, Cole Wagner and Jaden Henline join Cramer and Dylan Rodenhaber — another Red Land LL player, Cam Walter, also plays football now. All of them know how to win, and that attitude — that confidence — has seeped into the locker room.
2. Where the pieces fit: Henline will have plenty of opportunities to hook up with returning quarterback Adam Cramer as a wideout and defensive back in head coach Frank Gay's scheme. "He's so smooth and fluid," Gay said of Henline. "If he had a couple more years, he could play quarterback or a number of positions well." Wagner slots in a tailback, restocking a position that does not have a significant contributor returning from the 2018 squad. "He runs angry," Gay said. "At [6-foot-1], 210, he's a special kid. When he takes that handoff, someone is going to pay because he's a good athlete and he runs angry." Kauffman and Peifer each will help out at linebacker.
3. Strength at linebacker: The heart of Red Land's defense figures to be strong with three returning starters — Mike Stank, Robert Rodgers and Dylan Rodenhaber — all returning. Coupled with several promising new additions like Kauffman and Peifer, Gay believes the unit will run seven deep. "Dylan has the potential to be the best linebacker in our conference," Gay said. "He could be one of the best in the mid-state. He's a second-year leader for us, and we're working with him to control his emotions. If he can do that and harness that to play even harder, he's going to be great. When you have a state qualifier as a wrestler [at 220 pounds] and he's a good football player, that's just a recipe for greatness. I love our kids that wrestle because we know that they are going to be great tacklers, and they are going to be physical. They're not afraid of contact, and that's what makes him special."
4. Dedicated time: For the first time at Red Land, members of the football team were able to participate in a first-period weight training class. That in-school time to prepare physically for the season is already showing dividends, according to Gay: "They didn't have to come in early, or stay after school. That's going to be a huge component for us."
5. 41: That's the number of athletes who Frank Gay expects to suit up for the Patriots when the team kicks off its season against Waynesboro on Aug. 23. Seem small? Perhaps, but Gay doesn't care. In fact, he's thrilled with the number because he knows 41 is also the number of kids that have bought into the program. Plus, he knows that help is coming. The freshmen team is stocked with talent — their offensive line, for example, might possess more size than the varsity squad. This is a team that is rising.