Kyle Swartz, while a big piece, isn't the only key cog back in Dillsburg. Northern returns nearly all of last year's playoff team. And that makes the Polar Bears mighty dangerous in a three-horse race for the Mid-Penn Colonial.
Northern York Football 5.JPG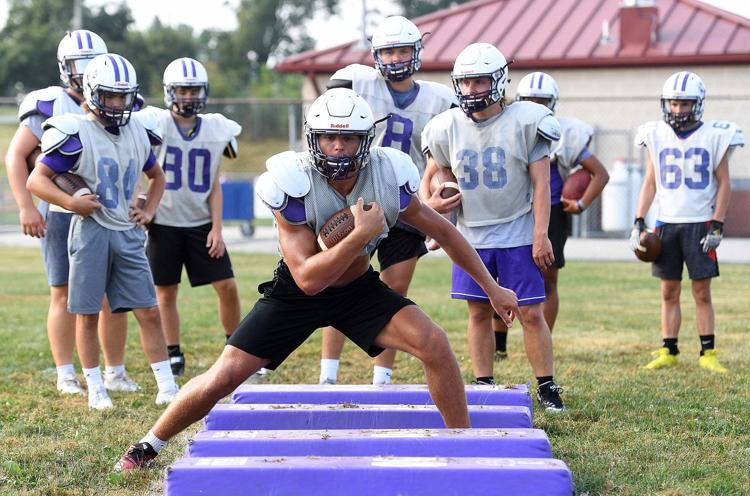 Inside the huddle
Head coach: Bill Miller, 18th season (4th at Northern, 19-13)
Division: Mid-Penn Colonial
Postseason: Lost to York in District 3 Class 5A first round 42-7.
Passing: Comp-Att, Yards, TD
Jordan Heisey: 19-45, 179, 3
Rushing: Att-Yards, Avg, TD
Kyle Swartz: 203-1,230, 6.1, 19
Receiving: Rec-Yards, Avg, TD
Tyler Yohn: 17-220, 12.9, 3
Aidan Wenger: 14-181, 12.9, 0
Tim Geiser: 12-240, 20.0, 4
Key returners: Kyle Swartz, sr., RB-LB; Donovan Bair, sr., OL-DL; Tim Geiser, sr., TE-LB; Tyler Yohn, sr., WR-DB; Ty Regan, sr., WR-DB; Aidan Wenger, sr., WR-DB; Luke Horvath, sr., RB-LB; Jordan Heisey, jr., QB-DB; Hunter Fitterling, jr., OL-LB; Hunter Hertzog, jr., OL-DL; Nick Fekete, jr., OL-DL; Zach Mowchan, jr., RB-LB; Bay Blaschak, jr., OL-DL.
Outlook: It's going to be a dog fight in the Colonial this year, and football fans are all the better for it. If Northern takes the necessary steps to improve with a young roster that made the playoffs last year despite its youth, there's no reason they can't be right in the thick of it. Weeks 8-10 will decide it all.
Schedule
Aug. 23;at East Pennsboro;7 p.m.
Aug. 30;at Middletown;7 p.m.
Sept. 6;vs. Mechanicsburg;7 p.m.
Sept. 13;at Mifflin County;7 p.m.
Sept. 20;vs. Greencastle-Antrim;7 p.m.
Sept. 27;at West Perry;7 p.m.
Oct. 4;vs. Susquehannock;7 p.m.
Oct. 11;vs. Shippensburg;7 p.m.
Oct. 18;at Big Spring;7 p.m.
Oct. 25;vs. Waynesboro;7 p.m.
5 Things To Know: Five talking points about the Polar Bears this season
1. Swartz coming off banner year: Kyle Swartz couldn't have asked for a better junior year. The stud wrestler won his first state championship in March, knocking off rival Donovon Ball four straight weeks in some of the best wrestling the state saw during the postseason. And not long after Swartz nabbed an offer to wrestle for Army, which he verbally accepted. Wrestling, after all, is his No. 1 sport, and 2019 has treated him exceptionally well so far. "The excitement and energy I had, I guess I'm carrying over a little bit," the now-senior said during football heat acclimation week. Swartz is tempering that excitement, though. He said he's trying to compartmentalize his wrestling season from his upcoming football season. And that's fine, because he's still one of the Mid-Penn's hardest and most physical rushers. "And it makes me admire him even more," head coach Bill Miller said. "For a kid who, if that's his first love and that's what he's always been good at, football's like a hobby to him — but when he's here, he's all in."
2. More on Swartz: Everything is lining up for the 6-foot, 210-pound bruiser to leave the Dillsburg gridiron similar to how he capped his junior wrestling campaign. He managed 1,230 stripes and 19 scores behind a largely green line last year that is back in its entirety and improving quickly. And with a likely improved passing game that will stretch defenses, Swartz could break 2,000 yards and potentially rewrite the Northern record books. "I know we're gonna be passing a lot more this year because we got Heisey back, but school record, rushing, all-time, season would be nice to get," Swartz said. Miller said they aren't sure who holds the season and career rushing records, but they're trying to find out because Swartz looks poised to take the top spot, if he hasn't already. "He knows there's a target on his back now," Miller said.
3. Heisey's perfect scenario: Swartz isn't the only one who has the perfect cast around him. Junior QB Jordan Heisey also has it pretty good. Heisey (19-of-45, 179 yards, 3 TDs, 3 INTs) split time under center with Chris Barrett a year ago, but the job is his and his alone. Miller raved about Heisey's improved arm and hinted at a big year for the signal caller. He has the perfect complement in Swartz, plus an experienced line that hopes to keep him off the ground. Plus most of the receiving corps is back: Tyler Yohn (17-220, 3 TDs), Aidan Wenger (14-181 yards) and Tim Geiser (12-240, 4 TDs). "I expect a whole lot from [Heisey]," Swartz said. "He's really good."
4. P-Bears not getting greedy: The Mid-Penn Colonial looks like a three-team race between the Polar Bears, Shippensburg and Waynesboro. Northern is the favorite in some eyes, but not all. Miller is reticent to claim that title. "In our minds, the division title goes through the teams that have won it or shared it the last several years. We haven't beaten Waynesboro in the time I've been here," he said. "Until we get to that level, we don't even want to talk about division title." That's not to say Northern isn't thinking championship, but the P-Bears aren't strutting like they've won it just yet.
5. Not under the radar for long: Keep an eye on Zach Mowchan, who takes over at inside linebacker for the departed Joe Samsel. Mowchan has big shoes to fill — and he'll play next to returning leading tackler Swartz — but coach and teammates think he's going to flash this season. "A leader on defense," Swartz said when asked what Mowchan must be. "Joe was a great talker, called coverages, everything, so Mowch needs to step in and help with that."