2019 Football Preview: Breaking down the Mechanicsburg Wildcats
A new QB, a more aggressive set of linemen and more comfort under head coach Anthony Rose has Mechanicsburg hoping it'll get its rebuild back on track. The Wildcats' prospects of a more balanced, higher scoring offense look good already.
Mechanicsburg Football 6.JPG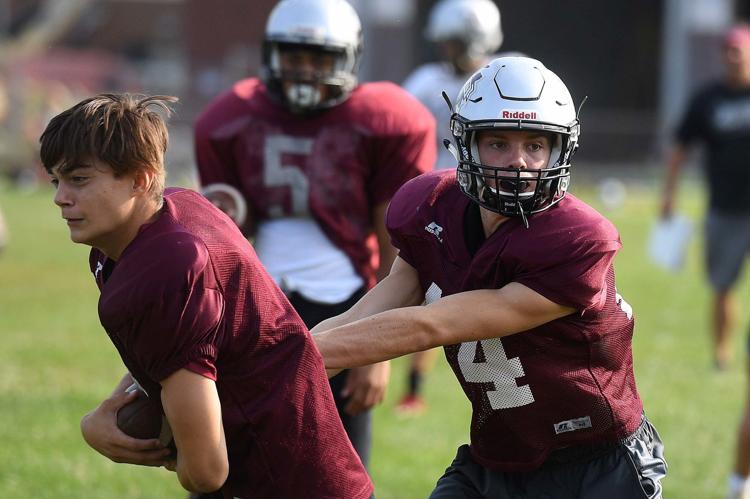 Inside the huddle
Head coach: Anthony Rose, 2nd season (2-8)
Division: Mid-Penn Keystone
Postseason: did not qualify
Passing: Comp-Att, Yards, TD
Elijah Johnson: 38-75, 421, 0
Rushing: Att-Yards, Avg, TD
Keegan Neill: 43-276, 6.4, 2
Receiving: Rec-Yards, Avg, TD
Will Hoover: 10-124, 12.4, 0
Caleb Brubaker: 9-152, 16.9, 0
Key returners: Brando Aristy, sr., OL-DL; Will Hoover, sr., WR-DB; Keegan Neill, sr., RB-DB; Jakub Heirman, sr., OL-DL; Michael Lamancusa, sr., RB-LB; Caleb Brubaker, jr., WR-S; Micah Brubaker, jr., QB-S; Taylor Shearer, jr., WR-CB; Tyree Morris, jr., WR-DE; Hoyt Lechthaler, jr., OL-DL; James Ngyuen, jr., OL-DL.
Outlook: Injuries dismantled the Wildcats barely one half into the season and simply didn't relent after that. Simple regression assumes Mechanicsburg should be healthier, especially at QB with Micah Brubaker assuming the mantle, and that has to mean a few more wins for this club.
Schedule
Aug. 23;at Carlisle;7 p.m.
Aug. 30;vs. Palmyra;7 p.m.
Sept. 6;at Northern;7 p.m.
Sept. 13;vs. Hershey;7 p.m.
Sept. 20;vs. West Perry;7 p.m.
Sept. 27;at Susquehanna Twp.;7 p.m.
Oct. 4;at Red Land;7 p.m.
Oct. 11;vs. Cedar Cliff;7 p.m.
Oct. 18;at Bishop McDevitt;7 p.m.
Oct. 25;vs. Lower Dauphin;7 p.m.
5 Things To Know: Five talking points about the Wildcats this season
1. The elephant in the room: It's Joseph Bruno. It felt like an acrimonious split for the talented receiver, now playing in Maryland, and his longtime team. The Wildcats just want to move on, and it'll take a committee approach to replace Bruno's lopsided production. "He was the star player, but we all gotta step up," junior WR Caleb Brubaker said. "He wasn't the only person making plays out there last year, so we just gotta do it again this year." Running back Taylor Shearer said: "I think we have a lot of good talent coming up, players that we didn't have last year … that can back it up, and be what Joe's not here to do for us." Brubaker will be one of several returning pass catchers that will catch passes from Micah Brubaker, Caleb's twin brother. Nobody that's back had more than 10 receptions, but that will have to change. And quickly.
2. Brubaker's time to shine: Speaking of Micah, his presence alone should dramatic change the 'Cats prospects this season. Micah was expected to start under center last year, but an arm injury forced him to play receiver and linebacker instead. In stepped Michael Vigliano, who was injured in Week 1. Then Elijah Johnson was forced in for several weeks to try and right the ship. In all, Mechanicsburg used four quarterbacks. That's not expected to be the case this time. Micah brings a strong arm, especially on the run, his brother said. "I think he's excited to see what he can do and what we can do with him [at quarterback]," Caleb said. Expect a lot of roll outs and more than a few QB runs from one of the team's faster players. "Micah's one of the smartest kids in this school," head coach Anthony Rose said. "He's a natural quarterback, he's very good at reading defenses, he's very good at zeroing in on not only his top target, but his second and third reads. Just having him allows us to open the offense up a lot more than we were able to last year."
3. Big man making big moves: Brando Aristy anchors both sides of the line of scrimmage this year, and teammates and coaches are high on the returning senior. "For his size, he moves incredibly well for a bigger guy," Rose said. "His strength has increased significantly. He's been in the weight room since the end of last season 'cause he wants to play college football, you can see he wants to do that."
4. Who are the stoppers?: The Wildcats were gashed for 318 yards a game, forcing just 13 turnovers in '18. That has to improve if Mechanicsburg wants to keep working back to .500 ball, which Caleb said is a goal. But who's going to step up and make plays defensively? Rose said the DBs are experienced now, and there's speed on the edges to work with. Aristy, Tyree Morris, Hoyt Lechthaler (who Rose said gained nearly 25 pounds), Dominic Knox and Jakub Hierman are expected to fortify the d-line. "Our linebackers are gonna be key," Shearer said. "We have a lot of size coming in at linebacker, our key linebacker, Michael, is coming back. So I'm happy to see that."
5. On the rebound: Mechanicsburg fought through two 0-10 seasons, went 3-7, then slipped to 2-8 last year. Is that a blip in the rebuild or a negative trend? The Wildcats are adamant it's the former, and improved quarterback play, plus a second year in Rose's system, should improve the odds of inching closer to 5-5.