After a rebuilding season, East Pennsboro believes it has enough pieces that gained valuable experience last year that can help get the Panthers back into playoff contention. 4th Down Magazine previews the 2019 Panthers: 
East Pennsboro football practice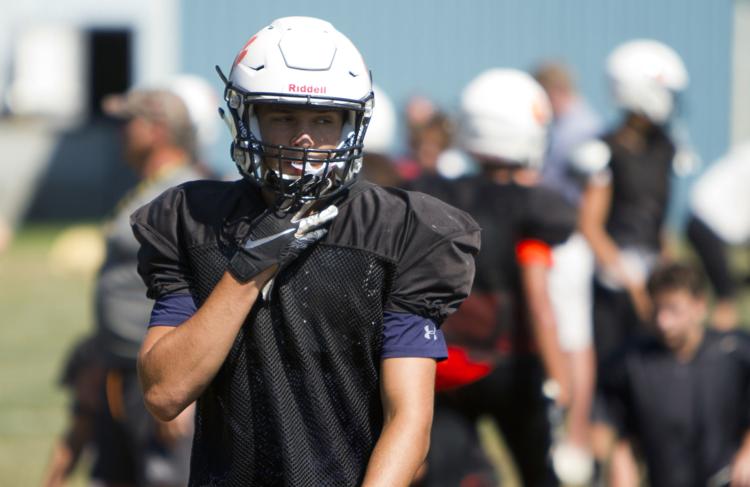 Inside the huddle
Head coach: Todd Stuter, 23rd season (131-89)
Division: Mid-Penn Capital
Postseason: did not qualify
Passing: Comp-Att, Yards, TD
Jared Gorman: 10-25, 102, 1
Zach Zeiders: 11-22, 81, 0
Rushing: Att-Yards, Avg, TD
Jacob Shermeyer: 154-529, 3.4, 8
Receiving: Rec-Yards, Avg, TD
Jackson Irwin: 42-489, 11.6, 5
Hunter Campbell: 16-243, 15.2, 1
Key returning players: Hunter Campbell, sr., WR-FS; Lucas Poticher, sr., G-LB; Makia Stewart, sr., G-DE; Jackson Irwin, sr., WR-FS; Blake Paukovitz, sr., TE-DE; Jared Gorman, sr., QB-DB; Mazeek Dardin, sr., T-DT; Daquaan Everett, sr., WR-DB; Jacob Shermeyer, jr., RB-LB; Zach Zeiders, jr. QB-FS.
Outlook: Improved play from East Pennsboro's offensive line will go a long way to restoring the Panthers' winning ways in Enola. The big men up front have the size and ability, and folks like Shermeyer will benefit.
Schedule
Aug. 23;vs. Northern;7 p.m.
Aug. 30;vs. Red Land;7 p.m.
Sept. 6;at York Suburban;7 p.m.
Sept. 13;vs. Palmyra;7 p.m.
Sept. 20;vs. Milton Hershey;7 p.m.
Sept. 27;at Camp Hill;7 p.m.
Oct. 11;vs. Steel-High;7 p.m.
Oct. 19;at Middletown; 2 p.m.
Oct. 25;vs. Boiling Springs;7 p.m.
5 Things To Know: Five talking points about the Panthers this season
1. Momentum building: The second half of the 2018 season provided a glimpse of what East Pennsboro could expect in 2019. After starting the year off to an ugly 0-5 start in which Todd Stuter's crew lost three games by one touchdown or less, the Panthers rallied to win four of their final five games to salvage a 4-6 overall record. The offense found its footing, pinging the scoreboard for 40 or more in three of the final five games. That built confidence and momentum into the offseason. "We really came together as a team and got the offense going," Stuter said. "Last year, they did a good job of not folding up and quitting. They got some confidence and got some wins. We're way further ahead this year because of that."
2. Offensive line the key: One of the groups that's shown the most growth is the big eaters up front. That should pay dividends on the field for a team which struggled to control the line of scrimmage in 2018. Camp Hill transfer Jude Gourdier, a 6-foot-3, 280-pound tackle, joins an improved line which features center Kaleb Shreiner (5-11, 200), guards Makia Stewart (6-1, 225) and Gavin Garlinger (5-10, 235), and tackle Mazik Darden (6-1, 245). "This is probably one of the biggest lines I've had in my tenure here across the whole board," Stuter said. "It's great to have size, but when you have pillows — which I call the guys who can't move — I'd rather have 190-pound kids who will whack you in the face rather than a 280-pound kid who can barely step off the line. We have kids that are 280, but they aren't pillows. They can pull and get out in front. That's the blessing we have right now."
3. Two-man race: Senior Jared Gorman and junior Zach Zeiders have eyes on the starting role under center. Heading into the Panthers' scrimmage Saturday against Cedar Cliff, the pair were in a dead heat, according to Stuter. "They are both good leaders," Stuter said. "Both are respectful of each other. It isn't a nasty competition. They both are athletic enough to play receiver, so both will be on the field on Week 1. I met this week with them and said, 'You are both even. You both are throwing the ball well and commanding the offense.' ... I would say Zach is more of a take-off type of quarterback where Jared is going to scan the field more. That's the difference. They are similar in arm strength. Once we make a decision we're going to stick with it."
4. Expect big things: As a sophomore, Jacob Shermeyer didn't have it easy grinding out 529 hard-fought rushing yards in the down season for the Panthers. His junior circuit should have a different feel as the 5-9, 190-pound bruiser prepares to carry the load for Stuter's crew. The long-time head coach believes he's ready heading into Week 1 after packing on 15 pounds during the offseason and breaking a bad habit. "Anytime you are going from your 10th-grade year to your junior year, as a coach, we're hoping they put some size on. When we're doing interactions, our line last year wasn't where it is this year. So a lot of times, he was running for his life. You can get bad habits from that — habits where you won't run through a hole because you are anticipating that it won't be there. So a big focus for us was making sure he runs the hole."
5. One to watch … or maybe three: Picking one player on this team to eye as a potential breakout player is challenging. So why not three? Collectively, East Pennsboro is excited about the threats it rolls out downfield — and for good reason. The Panthers sport a mix of size and speed in primary targets Hunter Campbell, Jackson Irwin and tight end Blake Paukovits, who should present matchup problems across the board. "Jackson is going to be a very tough mismatch with basketball abilities," Stuter said. "He can climb the ladder and go get balls. He tracks them well. Hunter is a great between guy. He helps close to the line of scrimmage blocking, and he's still fast enough to go over the top. Blake will be a name people will have to account for because of his size."