Cumberland Valley is almost surely going to rebound from last year's surprising 3-7 turn. The Eagles return nearly all of their defense, which can only help in the brutal, physical Mid-Penn Commonwealth. We scout the 2019 Eagles here: 
Cumberland Velley Football 5.JPG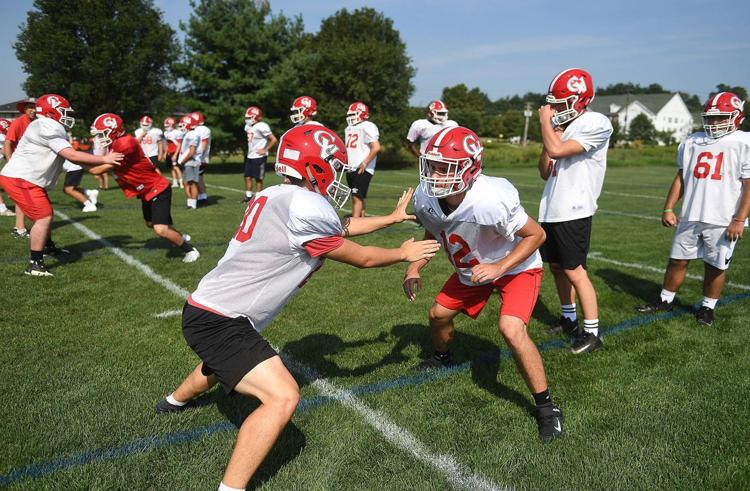 Inside the huddle
Head coach: Michael Whitehead, 7th season (54-23)
Division: Mid-Penn Commonwealth
Postseason: did not qualify
Passing: Comp-Att, Yards, TD
Hunter Grunden: 2-6, 16, 0
Rushing: Att-Yards, Avg, TD
Max Dell'Anno: 125-766, 6.1, 9
Receiving: Rec-Yards, Avg, TD
Logan Ramper: 21-257, 12.2, 1
Max Dell'Anno: 17-271, 15.9, 1
Key returners: Chase Myers, sr., DT; Max Dell'Anno, sr., HB-DB; Logan Ramper, sr., SE-DB; Anthony Fye, sr., TE-DE; Wyatt Claypool, sr., OL-DT; Connor Mundis, sr., OL; Jack Istvan, sr., DB; Derik Sauve, jr., LB; Gavin Conklin, jr., DB.
Outlook: That 3-7 record is going to prove a blip in CV's long track record of success. The Eagles may not get back to a third District 3 championship game in four years, but they're hungry to rebound and have enough returning talent on defense to knock off a few more Commonwealth rivals and maybe make a playoff run this time around.
Schedule
Aug. 23;at Bishop McDevitt;7 p.m.
Aug. 30;vs. Central York;7 p.m.
Sept. 6;vs. Coatesville;7 p.m.
Sept. 13;vs. Central Dauphin;7 p.m.
Sept. 21;at Harrisburg;1 p.m.
Sept. 27;vs. Chambersburg;7 p.m.
Oct. 4;at Carlisle;7 p.m.
Oct. 11;at Altoona;7 p.m.
Oct. 18;vs. CD East;7 p.m.
Oct. 25;at State College;7 p.m.
5 Things To Know: Five talking points about the Eagles this season
1. Lessons learned: The 2018 campaign was one of the worst, at 3-7, in Cumberland Valley history. It left a bad taste in every player's mouth. "Embarrassment fits well," senior RB/DB Max Dell'Anno said. "It's the worst record I think CV's ever had in the history of the program. It's also like a wakeup call. … Kind of realized, 'Hey, it takes a lot more to win football games than you think it does.'" Dell'Anno said it felt like "everything [was] set for you" after two consecutive appearances in the District 3 Class 6A title game. So complacency appears to have set in last year. The back no longer thinks that's the case; he said his teammates put in a lot of work in the offseason and aren't taking this year for granted. Head coach Mike Whitehead isn't stressing over a down year, and he isn't pulling out any new inspirational speeches to rally the troops. "I don't think I have to harp on it," he said. "We talked about it with our leadership group. My expectations never waver."
2. Dell'Anno bigger, faster, stronger: Dell'Anno will be one of those figures tasked with righting the ship. He'll start on both sides of the ball as one of the more experienced runners (125 carries, 766 yards, 9 TDs) and defensive backs (CV returns all four starters) on the roster. He said he learned a valuable lesson last year — in order to run against defenses like Central Dauphin, Harrisburg and State College, you can't be small. So Dell'Anno packed on more than 25 pounds, reaching 200 this summer, to help withstand the constant pounding. He's also excited for some of the other weapons that will be joining him in CV's Wing-T. "Now we have a much more balanced offense, we have plenty of kids who can carry the ball," he said. "We have multiple people who can play the half back position."
3. Replacing Plessinger: Jared Plessinger pulled off a rare feat in Silver Spring Township — he started three years at quarterback. His tenure ended in October, 2018, and for the first time in years Whitehead has to find a new QB. The top two options, the coach said, are senior Hunter Grunden and junior Alex Kovach. Grunden will likely "get the first shot," Whitehead said. But he also has faith in the underclassman if his name gets called.
4. Defense returns largely intact: A year after losing nine starters on the defensive side of the ball, the Eagles find themselves in a wonderful position — nearly all of last year's young defense is back. Anthony Fye, Chase Myers and Wyatt Claypool are back on the line, Dante Logan and Derik Sauve return at linebacker, and Dell'Anno, Logan Ramper, Gavin Conklin and Jack Istvan anchor the backfield. That's a welcomed change for a unit that struggled during an 0-6 start, finding its stride late in the year. CV uncharacteristically allowed 6.5 yards per carry (234.8 per game), and that is likely to be reduced in 2019. "I think by the end of the year we showed we can hunker down and play defense, and I expect that to carry right into this year," Dell'Anno said. Added Whitehead: "I think we'll be able to mix and match and get some pretty good 11 out there, I think, on the field."
5. So what are the expectations?: Whitehead is never one to show his hand, and Dell'Anno has learned well under his coach's tutelage. For now, the Eagles are focused on Week 1 against Bishop McDevitt. Then they'll handle the rest of the schedule on a week-by-week basis. Still, it doesn't take much to know they won't be satisfied with another 3-7 campaign.