Cedar Cliff returns Jaheim Morris at running back. The Colts are excited about their offensive line. There's a new QB in town. Here are the five things (and some other nuggets) to know about the 2019 Colts.
Cedar Cliff's Jaheim Morris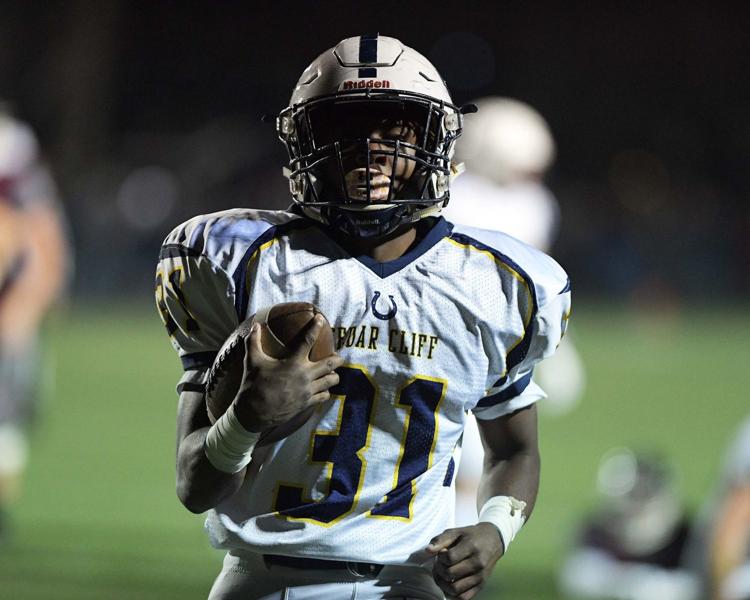 Inside the huddle
Head coach: Colin Gillen, 6th season (42-14)
Division: Mid-Penn Keystone
Postseason: Lost to Manheim Central in the District 3 Class 5A semifinal 42-20.
Passing;Comp;Att;Yards;TD
Jaheim Morris;273;1,905;7;23
Ja'quan Barnes;45;249;5.5;3
Receiving;Rec;Yards;Avg;TD
Jahiem Reynolds;44;646;14.7;11
Jaheim Morris;17;140;8.2;1
Key returners: Jaheim Morris, sr., RB-CB; Kevin Lusk, sr., LB-FB; Jaheim Reynolds, sr., WR-CB; Jayvon Godineaux, sr., OL-DE; Mason Heiple, sr., WR-CB; Anthony Shires, sr., OL-DL; Albert Rosado, sr., OL-DL; Dalton Reynolds, sr., OL-DL; Anthony Jones, sr., OL-DL; Elijah Ikeda, jr., LB-FB.
Outlook: Look for Morris to carry the load for the Colts in the early going as McMeans finds his footing under center. Not a bad option to have as you break in another talented QB. How the Colts' secondary solidifies will have a huge impact on the overall success of this team in 2019.
Schedule
Aug. 23;at Governor Mifflin;7 p.m.
Aug. 29;vs. Cocalico;7 p.m.
Sept. 6;vs. Harrisburg;7 p.m.
Sept. 13;vs. Hollidaysburg;7 p.m.
Sept. 20;vs. Bishop McDevitt;7 p.m.
Sept. 27;at Lower Dauphin;7 p.m.
Oct. 11;at Mechanicsburg;7 p.m.
Oct. 18;vs. Susquehanna Twp.;7 p.m.
Oct. 25;vs. Red Land;7 p.m.
5 Things To Know: Five talking points about the Colts this season
1. Taking the snaps: The QB1 baton is firmly in the hands of junior Gannon McMeans. A quick glance at this cat's scouting report shows the 5-foot-11, 185-pound field general possesses a strong arm and the ability to break the pocket and scramble for positive yardage. Don't expect him to run like former standout quarterback Grant Brenemen (Colgate); he'll hit the passing windows on intermediate routes and tuck it when the lanes dictate.
2. Bigger big men up front: Center Jayvon Godineaux (5-11, 200) and Anthony Shires (6-2, 240) return to anchor the offensive line. The gaggle of young men trying to crack the starting lineup includes: tackles Claude Godineaux (so., 6-1, 280) and Antonio Rodriguez (jr., 6-0, 250), and guard Seth Gillen (jr., 6-3, 260). "All three of those guys have made vast improvements in the weight room," Gillen said. "They dedicated themselves and we love their size. Each is over 6-foot and each is more than 250 pounds. We're really excited about having more size than we've had in the past. Traditionally, the last few years we've been very athletic up front, but a little undersized. … The offensive line has been ahead of the curve, not making many mistakes. They have a good grasp of the concepts we do up front."
3. A reason for excitement: Cedar Cliff's front seven last year sniffed out the run well, limiting opponents to 216 rushing yards per game. That front seven features defensive end Albert Rosada and defensive tackles Dalton Reynolds and Anthony Jones, as well as linebackers Kevin Lusk, Elijah Ikeda and Pedro Cintron. Ben Eisenhower, a 6-5, 302-pound junior, didn't play football last year, but he's making quite an impression on the defensive line for Gillen's crew. "He can get off the ball," Gillen said. "But he's totally off everyone's radar because there is no film on him. … I'm excited for him. He's one of those guys that I can really see making plays for us."
4. Small, but mighty: Mason Heiple isn't you prototypical cornerback. At 5-9, 160 pounds, his small stature lures offensive coordinators to test him. Heiple's lesson — do so at your own peril. "He just makes plays," Gillen said, describing an interception Heiple had against Bishop McDevitt last year. "He's really a technician, and he understands his weaknesses. He's able to overcome them with his technique." Heiple's joined in the secondary by Ashton Gombola and a number of candidates battling for starting roles.
5. An all-time great in the making: Jaheim Morris needs just 1,806 stripes this season to pass Jayden Demmy's school record of 4,053, set in 2015. Sharp money says the 5-10, 190-pound slasher etches his name in the record book. With an extra 15 pounds of muscle packed on during the offseason and an offense that will run through the fleet-footed Morris, nothing short of a season-altering injury should derail him.