2019 Football Preview: Breaking down the Camp Hill Lions
There are a lot of returning pieces for Camp Hill. A little injury luck and some extra seasoning will be important if the Lions hope to bounce back from a rough 2018. Here are the five things to know about the 2019 Lions.
Football West Perry at Camp Hill Sep 7, 2018 (copy)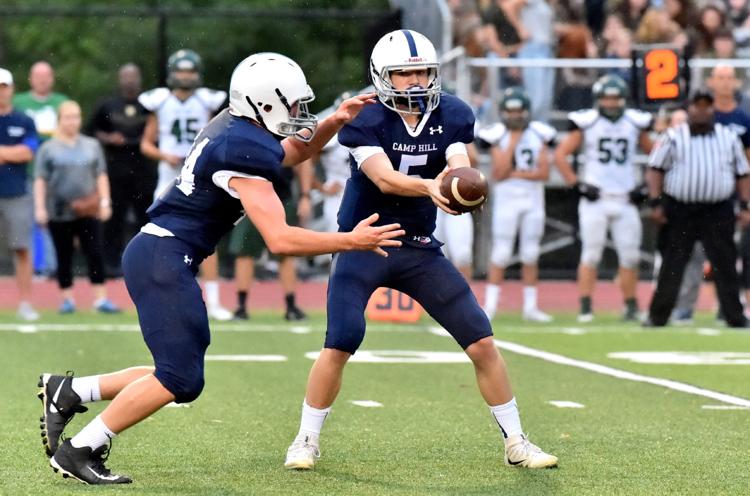 Inside the huddle
Head coach: Tim Bigelow, 3rd season (5-15)
Division: Mid-Penn Capital
Postseason: did not qualify
Passing;Comp;Att;Yards;TD
Greg Labine: 80-142, 928, 8
Daniel Shuster: 57-125, 798, 3
Frank Shartle II: 110-418, 3.8, 1
Greg Labine: 52-154, 3.0, 0
Receiving;Rec;Yards;Avg;TD
Connor Trumpy: 25-519, 20.8, 5
Frank Shartle II: 26- 262, 10.1, 1
Key returners: Greg Labine, sr., QB-DB; Chase Gierasch, sr., B-WR; Connor Trumpy, sr., WR-DL; Ben Mullin, jr., FB-LB; Frank Shartle, sr., RB-LB; Tommy Zerbe, sr., OL-DL; Patrick Becker, jr., DB; Max Delaye, jr. FB-LB; Daniel Shuster, jr., QB-DB; Peter Chelap, jr., DB; Grant Bayesa, jr, WR-LB.
Outlook: Did Camp Hill play a single game last season with their full squad healthy and intact? We don't think so. That makes health the No. 1 issue facing the Lions in 2019. Beyond that, look for Camp Hill to be more aggressive on offense, taking more calculated risks on convertible fourth downs.
Schedule
Aug. 23;at Lancaster Catholic;7 p.m.
Aug. 30;vs. Greencastle-Antrim;7 p.m.
Sept. 6;at West Perry;7 p.m.
Sept. 13;vs. Middletown;7 p.m.
Sept. 20;at Palmyra;7 p.m.
Sept. 27;vs. East Pennsboro;7 p.m.
Oct. 4;vs. Steel-High;7 p.m.
Oct. 11;at Boiling Springs;7 p.m.
Oct. 18;vs. Milton Hershey;7 p.m.
Oct. 25;at Trinity;7 p.m.
5 Things To Know: Five talking points about the Lions this season
1. A new approach: There's an adage that says not to expect different results if you try the same approach. Credit the Camp Hill coaching staff for adapting their approach heading into the 2019 campaign after the Lions suffered a rash of injuries last year. Bigelow's crew altered their tackling technique, stretching routines and physical mentality — all with the goal of keeping the Lions healthy and effective deep into regular-season play. "We already are teaching head-out tackling, but you know, this group coming up through right now, hopefully, is the last group that has been taught the true shoulder-tackle-drive-to-the-ground-lay-him-out approach that has been taught in the youth leagues forever," Bigelow said. "Now, there's no more kill shots. There's no more 'woah' hits, as we call them. We don't want that, and we don't need it in the game. So we're teaching the old Florida Gator roll tackling scheme made famous by the Seattle Seahawks. We think everybody's kind of going to this scheme. But the kids, once they come up with this attitude of 'I'm going to lay out kids,' it's very hard to break that when they get into game situations. So we're trying to basically revolutionize our kids in their brain and say, 'Listen, that's not your focus. Your focus is not to drive them into the ground and hurt them. Your job is to get them to the ground in the safest possible way.'"
2. A two-horse race that may stay that way in-season: Incumbent quarterback Greg Labine and sophomore challenger Peyton Shore could split time under center not only throughout camp, but also into the regular season. It's not unlike 2018 when Labine split time with Daniel Shuster. Whoever takes the snaps will benefit from a downhill runner in Frank Shartle II and one of the most talented wideouts in the Capital Division in the 6-foot-5, 185-pound Connor Trumpy.
3. A stud freshman: Perhaps the biggest question mark heading into the season hinges on what to expect from the big men in the trenches. Freshman Dylan Lamprey earned high praise from Bigelow as a piece of the puzzle. "He's got a very, very bright future," the third-year coach said. "He's got great feet at 6-5, 260. He's probably the biggest and strongest and fastest linemen as a freshman that we've ever seen here. He's got a very, very bright future. We know that a lot of people are going to take notice to him this year." Tommy Zerbe, a 6-4, 250-pound rock getting D1 looks, and sophomore center Eric Dick will help to fill out the line.
4. Four per down: That's the goal entering the season offensively for the Lions. Four yards per down. That builds consistency. That sustains drives. And Bigelow hopes that will lead to more scoring opportunities. "Last year was about consistency," Bigelow said. "We were so inconsistent, we just could not maintain a drive. This year, I'm telling the kids that we need to get 4 yards every down. That's our goal. If we can get those 4 yards, we can keep the ball and stay on schedule, maintain the drive." 
5. One to watch: At 5-5, 125 pounds, sophomore Christian Doi isn't going to intimidate opponents. But the small-statured Lion, a state qualifier in wrestling, possesses an aggressive, physical mentality and the versatility to play at linebacker or corner. "He's going to be one of those X-factors this year," Bigelow said. "We're really excited to get our hands on him and work with him to see what kind of production we're going to get."