2019 Football Preview: Breaking down the Boiling Springs Bubblers
Brad Zell's charges are thinking five wins or better. Boiling Springs feels better with another year with the new system, and Division II prospect Landon Billman wants to go out with a bang. Everything you need to know about the 2019 Bubblers: 
Boiling Springs football 3.JPG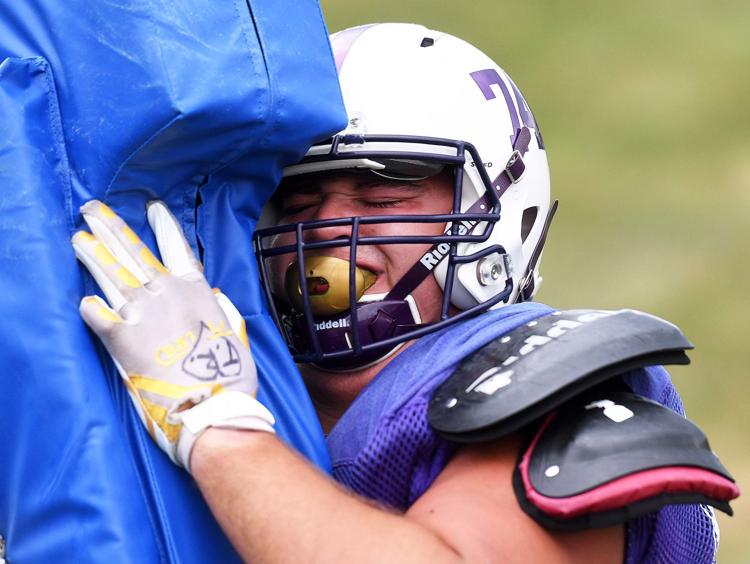 Inside the huddle
Head coach: Brad Zell, 2nd season (3-7)
Division: Mid-Penn Capital
Postseason: did not qualify
Passing: Comp-Att, Yards, TD
Rushing: Att-Yards, Avg, TD
Quentin Jones: 121-623, 5.2, 3
Receiving: Rec-Yards, Avg, TD
Quentin Jones: 3-11, 3.7, 0
Key returners: Landon Billman, sr., OL-DL; Quentin Jones, sr., RB-DB; Ian Rowe, sr., TE-S; Doug Bear, jr., FB-LB; Patrick Garvey, jr., WR-DB; Carson Garvey, so., WR-S.
Outlook: A lot of playmakers are gone, including Tayven Kelley (totals: nearly 1,200 yards, 14 TDs) and QB Zack VonStein. Nathan Yunk is new to the team and challenging sophomore Colin Lunde for the starting quarterback job. But there's reason for optimism in Bubbletown, especially with an improving defense that hopes to lock teams down better. 
Schedule
Aug. 23;vs. Littlestown;7 p.m.
Aug. 30;vs. Bermudian Springs;7 p.m.
Sept. 6;at Big Spring;7 p.m.
Sept. 13;vs. Milton Hershey;7 p.m.
Sept. 20;at Trinity;7 p.m.
Sept. 27;vs. Middletown;7 p.m.
Oct. 11;vs. Camp Hill;7 p.m.
Oct. 19;at Steel-High;2 p.m.
Oct. 25;at East Pennsboro;7 p.m.
5 Things To Know: Five talking points about the Bubblers this season
1. Ticked off and ready to rumble: It was understandable the switch to the Wing-T last year would take time. But that transition also hampered the defense, which allowed nearly 450 yards — the Bubblers did have 19 forced turnovers, though. Teams got chunk plays all year (10.3 yards per pass attempt, 6.1 yards per rush). Head coach Brad Zell admits the defense didn't get the proper attention last season in his haste to install the Wing-T in Year 1. "And that was my fault last year, I think we spent too much time on offense and not enough on defense. But we've really tried to rectify that in the offseason as well," he said. "We're a little more athletic on defense, and we have some depth that I'm comfortable with playing." Zell said his defense is "pissed off" about last year and doesn't want to be pushed over again. That's good. "Majorly, we're working on our run-game defense," senior safety Ian Rowe said. "Last year we got killed on that — we had guys in the wrong position, weren't filling the right holes or anything like that."
2. What a difference a year makes: Even with the defense getting more attention this season, don't expect the offense to get neglected. Last year's scheme change was dramatic. This year everyone feels like they're miles ahead to start. The vets know what they're doing, the offensive line is more agile and the entire team (which runs nearly 50 strong now) has bought in. "Oh, it's so nice coming back out this season and just being able to sort of jump back into stuff," senior lineman Landon Billman said. "We gotta tweak a [few] things here or there, perfecting stuff. But it's nice having a background of the offense now."
3. The man in charge: Speaking of Billman, he's probably the most important piece to this team. The two-way, 6-foot-4 monster is getting PSAC interest. "It's awesome," Billman said of the recruiting scene. "I love coming in every day, throughout the summer, and getting another letter through Coach Zell laying it down on the table. It's just an awesome feeling." Zell glowed about Billman's improved leadership; the senior is THE leader on the o-line now. "In the weight room, it started in the offseason," Zell said. "He took all the linemen, and he wanted all the linemen to lift with him, or around him or in one area so he could keep an eye on them. He pushed our linemen more than [the coaches] did. … Some people just are born leaders, and he is one." Billman will play tackle and d-line, but Zell is entertaining the idea of using Billman's surprising athleticism at guard down the line. Wherever he lines up, back Quentin Jones (121 carries, 623 yards, 3 TDs) will follow right on his hip. "I think this year will be a lot better," Jones said.
4. Early wins crucial: The Bubblers again open with games against Littlestown, Bermudian Springs and Big Spring before diving into Capital Division play. For a 3-7 squad, that opening stretch will be huge. Bubbletown wants to prove to itself it has made huge strides during the offseason, and getting off to a 2-1 or 3-0 start would go a long way to building momentum during this lengthy rebuild.
5. Favorable conditions: Boiling Springs is up to nearly 50 rostered players, Zell said, a decent size for the Class 4A program. There's more depth to work with. The freshman linemen are big, Jones said. If they can approach .500 or better like Jones, Billman and Rowe predict, it will only reinforce all the positive changes. Some of these seniors won't get to see the fruits of this process in person, but at the least they want to help build this program for the future.