2019 Football Preview: Breaking down the Big Spring Bulldogs
Breaking down the Bulldogs' upcoming season, including questions, analysis, the roster and schedule.
Big Spring Football 4.JPG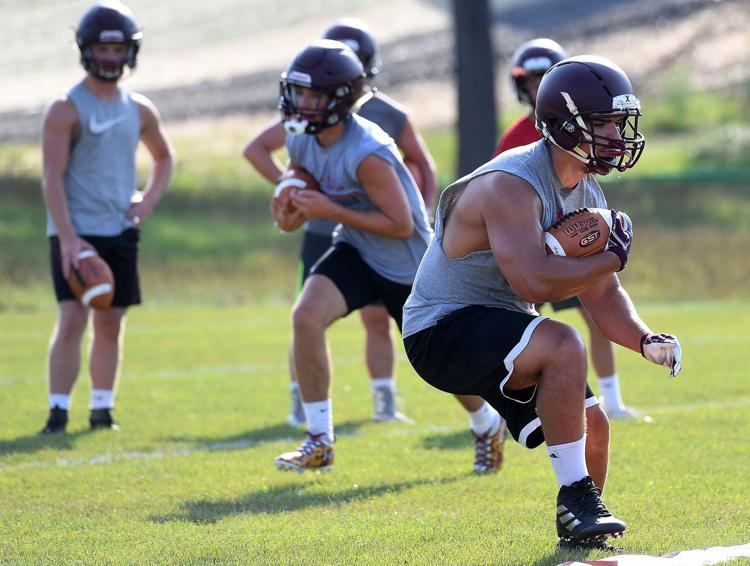 Inside the huddle
Head coach: Joseph Sinkovich, 10th season (48-48), 1st season at Big Spring
Division: Mid-Penn Colonial
Postseason: did not qualify
Passing: Comp-Att, Yards, TD
Jack Shulenberger: 4-9, 40, 0
Rushing: Att-Yards, Avg, TD
Anthony Gaudioso: 84-565, 6.7, 3
Nathan Fetchkan: 73-408, 5.6, 2
Receiving: Rec-Yards, Avg, TD
Gavin Pritchard: 33-324, 9.8, 5
Adam DeGregorio: 30-411, 13.7, 2
Key returners: Gavin Pritchard, sr., TE-DE; Anthony Gaudioso, sr., RB-DB; Nathan Fetchkan, sr., RB-LB; Adam DeGregorio, sr., RB/WR-DB; Jashaun Gerald, sr., OL-DL; Logan Peck, sr., OL-LB; Spencer Fauver, sr., OL-DL; Josh Russell, sr., WR-DB; Austin Walter, sr., WR-DB; James Washington, sr., RB-LB; Ethan Hunt, sr., OL-DL; Jack Shulenberger, jr., QB-DB; Grant Long, jr., RB-DB; Austin Long, jr., TE-LB.
Outlook: The Bulldogs return a lot in the backfield and out wide. But the biggest impact will be having nearly all of the defense back after a trying 2018. Even just average improvement across the board would make a huge difference in trying to get back to .500.
Schedule
Aug. 23;vs. Biglervile;7 p.m.
Aug. 30;at James Buchanan;7 p.m.
Sept. 6;vs. Boiling Springs;7 p.m.
Sept. 13;at Kennard-Dale;7 p.m.
Sept. 20;vs. Waynesboro;7 p.m.
Sept. 27;at Mifflin County;7 p.m.
Oct. 4;vs. Greencastle-Antrim;7 p.m.
Oct. 11;at West Perry;7 p.m.
Oct. 18;vs. Northern;7 p.m.
Oct. 25;at Shippensburg;7 p.m.
5 Things To Know: Five talking points about the Bulldogs this season
1. Getting to know the new guy: Most of the Bulldogs probably met Joe Sinkovich a time or two since he was hired as athletic director. But now they'll be spending a lot more time with him after he was named the head coach for 2019. Sinkovich, who was the head guy at Hamburg for nine years, has plenty of experience, and Adam DeGregorio said he was among those that took note of that track record. Sinkovich was noncommittal during heat acclimation week about several roster questions, but that's because he still needed time to get used to the players and their skills. But he has been antsy for the season to start for quite some time. "I think for the last week I had the butterflies again in the stomach just wishing it would just get here, so it would get rolling," he said. "It's exciting to get back and get started again."
2. Not lacking for skill: Big Spring may only boast a roster in the 40s, but they won't be lacking for experience in the backfield and out wide. DeGregorio, Anthony Gaudioso and Gavin Pritchard make for a veteran weaponry for new quarterback Jack Shulenberger. DeGregorio and Gaudioso in particular bring plenty of burst. Pritchard is coming off a 33-catch junior year and should be a key receiver once again (he'll also line up at defensive end once again). "I think that offense fits the way we are," DeGregorio said. "This is an offense for shorter, quicker guys. And we definitely have that, but we also have guys like [fullback Nathan] Fetchkan that can just pound it up the middle and Gavin's obviously a weapon, we'll find a way to get him the ball."
3. Now that the D took its lumps: It's bound to get better. Big Spring returned just two starters on the defensive side last season. Now it's the reverse — nearly all the 2018 unit that allowed nearly 350 yards and 257 on the ground is back. And they're eager to prove 2019 won't be a repeat. "We're a lot more comfortable than we were last year, because last year was a whole lot of new guys," DeGregorio said. "Everybody on this defense's football IQ is through the roof." While Pritchard provides plenty of pass-rushing pop up front, it's the back of the defense that could see the most improvement. While short on the outside, it's a group that has speed; Gaudioso, a receiver, will play 'backer as well after working as a safety in '18.
4: Struggles in the Colonial: The past two seasons the 'Dogs have gone just 1-5 in the Mid-Penn Colonial. The lone victory last year was Week 6 against Greencastle-Antrim. Northern and Shippensburg look like the top of the class this year, and West Perry has been on the rise for a few years now. Big Spring would love nothing more than to get even one more win against a division opponent. But where? It will be tough this year. Getting off to a 3-1 or 4-0 start in non-conference play would do wonders for confidence.
5. It's all up to the seniors: Last year the Newville crew was junior heavy. That means there's a lot of senior leadership back on the field. That's especially crucial on the defensive end, but as a whole the Bulldogs hope all of those veterans can turn around last year's three-win season. As mentioned previously, the offensive weapons are veterans. And Shulenberger, the new QB who has a "whip" of an arm, DeGregorio said, is also a senior. The WR compared Shulenberger to former signal caller Jaret Petty, who was a dual-threat weapon for the 'Dogs a few years ago.
Breaking down the Bulldogs' upcoming season, including questions, analysis, the roster and schedule.