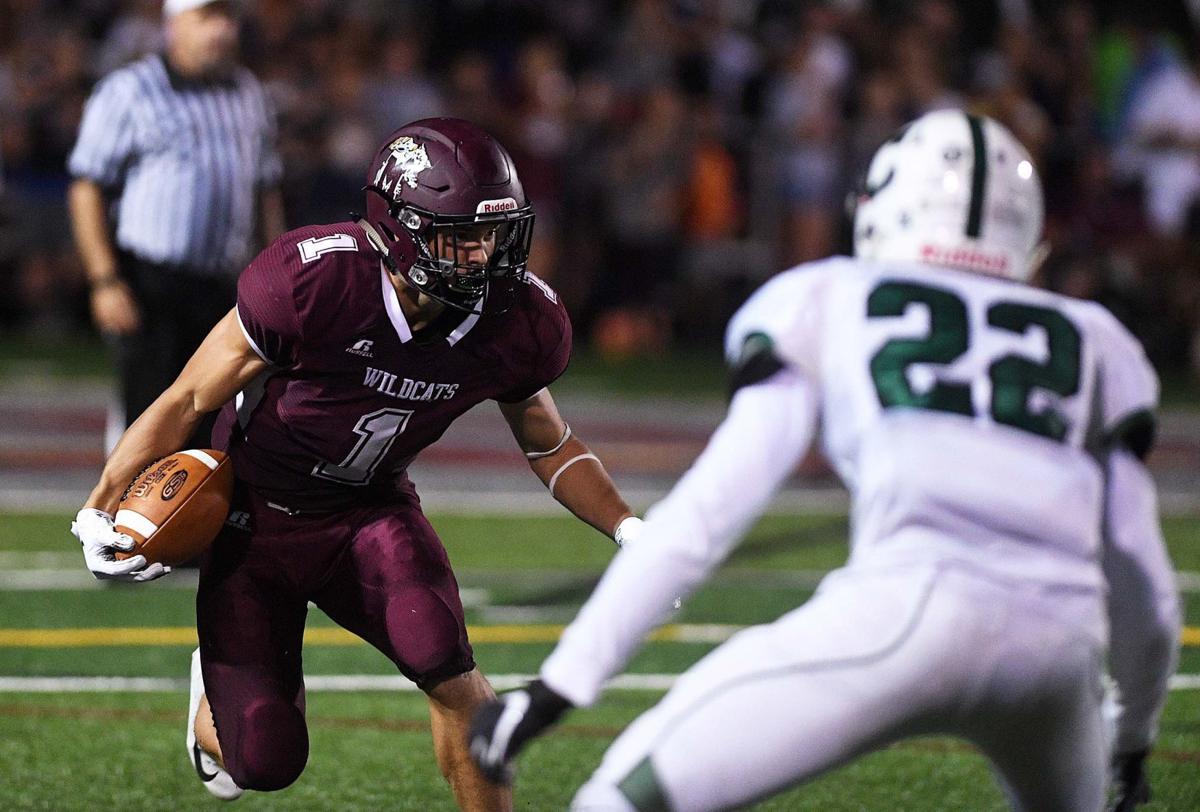 Joseph Bruno is no longer transferring to Bishop McDevitt from Mechanicsburg.
The Division I football recruit instead is heading across the Mason-Dixon line to Northwest High School in Germantown, Maryland.
The change in plans comes nearly a month after Bruno originally indicated on Twitter he would transfer to attend Bishop McDevitt in Harrisburg. Bruno told The Sentinel on Monday he's making the switch because Mechanicsburg Area School District officials chose to challenge his transfer to McDevitt was for athletic purposes.
Bruno said in June — and reiterated Monday — that he planned to transfer to McDevitt because his father, Peter, moved to Maryland for work. Bruno's parents do not live together — his mother lives in Harrisburg and Peter is leaving the Mechanicsburg area for Ellicott City, Maryland.
Bruno, who lived with his dad while attending Mechanicsburg, had to pick one household and originally decided to stay in state with his mom and go to Bishop McDevitt, joining a perennial District 3 championship contending football team in the process.
A key member of the Mechanicsburg football team will be transferring to Bishop McDevitt High…
He said Monday the choice was not motivated by athletics.
"I didn't want to make the big jump of moving to another state, especially my senior year of high school," Bruno said via Twitter direct message. "I hated the idea of moving away from home base, so moving to my mom's alone was already big enough of a change, let alone even considering transferring to a place hours away. Nonetheless, since my mom is in Harrisburg, there were only [two] options of schools given her location and that was Susquehanna [Township] or McDevitt. I knew McD was a good school and saw it as the better option of the [two]."
Bruno certainly knows about the Crusaders' football success, taking part in losses all three years he played with the Wildcats. But he said he McDevitt did not recruit him.
"McD is a reputable school obviously, but in no way did they recruit," he said. "I tried picking the best opportunity given the circumstances of my dad leaving the state for work and me having to [move] to my mom's just to stay within the state."
But Mechanicsburg's challenge of the transfer created a dilemma for Bruno. The District 3 hearing to determine the reason behind the transfer was scheduled for Aug. 5, according to PennLive, the first day the PIAA allows heat acclimation practices and 18 days before the first game of the season.
"The PIAA requires athletic directors/principals to complete a form for every student-athlete that transfers while in high school," Mechanicsburg athletic director Seth Pehanick said in a texted statement to The Sentinel. "Based off of that form, District [3] determines if a hearing is necessary, which in this case, they have determined it is."
Bruno indicated he did not want to risk getting denied the transfer and then either being stuck at McDevitt without being able to play the sport that could land him a college scholarship or having to pack up and leave for Maryland weeks away from the start of the school year and just days before practice starts.
Moving to attend Northwest now is less stressful, he indicated. The Jaguars' first game is Sept. 6.
"I decided to transfer to Maryland because of the PIAA rules," Bruno said. "The challenge [and] court case was completely disrespectful, and we were not here to play games just to see if a jury thinks we're 'lying' or not. Especially being that the court case was scheduled at the beginning of August, only weeks before first games for most teams, it would completely screw us over for the entire season with McD and make us scramble for an answer."
This is a critical year for Bruno, one of the Mid-Penn Conference's best athletes the past two years.
The 6-0, 200-pound rising senior was a multi-talented weapon for the Wildcats (2-8 in 2018), serving as a running back, receiver, defensive back and kick/punt returner the past few years. But he suffered a compound fracture in his middle finger in the second game of his junior season and missed several weeks. He still finished with 605 rushing yards, 201 receiving yards and eight total touchdowns.
He said he has picked up a half dozen D-I offers: Fordham, Holy Cross, Robert Morris, Buffalo, Army and Air Force. He has not committed yet, and he could not afford to lose an entire season of play with a scholarship on the line.
Bruno is also a top-tier sprinter in track, winning District 3 Track and Field medals in the 100, 200 and 400 races, then following up with two more medals at the PIAA Track and Field Championships in May.
"Sports is going to be a big part of my future, and I'm being punished even given my circumstances of my dad leaving, takes away something that I love and have been doing all my life," he said. "I can't give that up, especially not my senior season where it could be the 'end all' or 'be all.' My future is unknown, but I will not allow my options to be limited by a jury."
Yet again Marlee Starliper is our All-Sentinel Track & Field top female athlete. And she's joined by a Northern teammate as the Polar Bears sweep both our Athlete of the Year spots.
Bruno said he wanted to stay in Pennsylvania. He said he has no regrets even after the emotional toll this has taken, but "we'll push on." He said he wished transfer rules "were implemented differently."
"Yes, I'm excited to be a student-athlete at Northwest," Bruno said. "I don't know much about the school, but it's a really pretty area."
Northwest High School is coached by Mike Neubeiser. The Jaguars went 9-3 last season, qualifying for the Maryland state playoffs where they lost to eventual state champ Quince Orchard in the quarterfinals. They are a Class 4A school in the Maryland Public Secondary Schools Athletic Association.
Get in the game with our Prep Sports Newsletter
Sent weekly directly to your inbox!