District 3 Quarterfinals Football Previews: Cedar Cliff, Shippensburg and West Perry ready for openers
Editor Jake Adams breaks down the second week of the District 3 championships, predicts the winners and provides the updated statistical leaderboards and postseason schedule.
Cedar Cliff at Susquehanna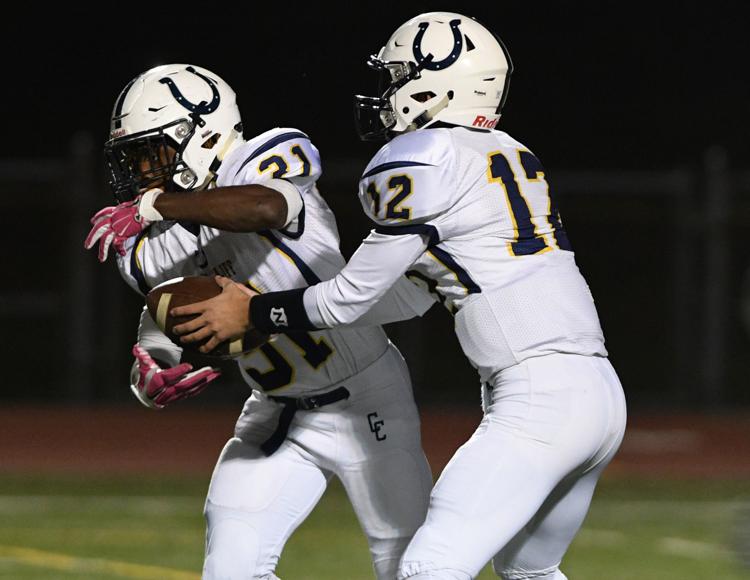 Class 5A Quarterfinal preview: No. 5 Warwick at No. 4 Cedar Cliff
Key players
Warwick
Trey Glass (WR/DB/KR)
Joey McCracken (QB)
Cedar Cliff
Jaheim Morris (RB)
Bobby Whalen (WR/DB/KR)
What to watch for
Coach Colin Gillen called his Colts (9-2) chameleons last week for their ability to play different styles depending on opponent or, in last week's case, weather. QB Chris Dare can throw for 300 yards one week, or Morris and company can pound it for 300 on the ground. That will be important against an emotionally charged Warriors (9-2) side and in potentially more rain this week. That crew, still dealing with the loss of two classmates in a tragic car crash two weeks ago, just pummeled Palmyra 64-0 and has scored 38 or more points in each of the past four games. And when's the last time you saw a team with two QBs with 10-plus TDs and 1,300-plus yards? That's what Adam Ricketts and McCracken bring to the table. Trey Glass benefits the most with 69 catches for 1,285 yards and 14 TDs. Warwick will still air it out in the rain because it is not an elite run team (117.8 yards per game). 
Shippensburg at Big Spring, Little Brown Jug game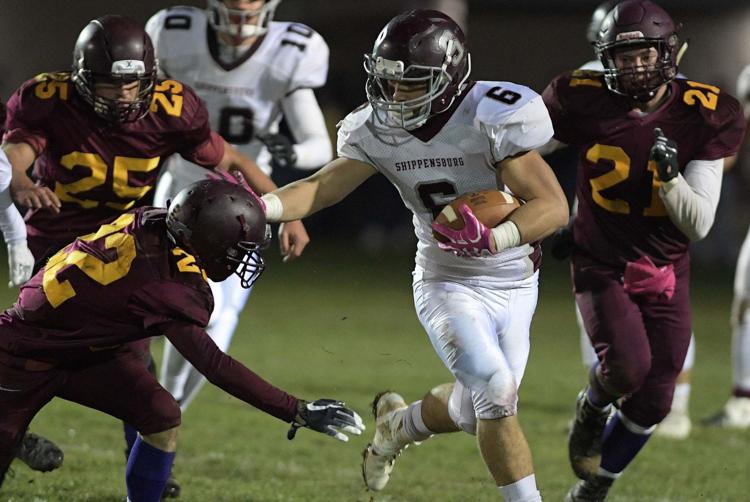 Class 5A Quarterfinal preview: No. 6 York at No. 3 Shippensburg
Key players
York
Dayjure Stewart (RB)
Robert Rideout (WR)
Shippensburg
Jacob Loy (FB/LB)
Adam Houser (RB/S)
What to watch for
This all boils down to Houser vs. Stewart. Whichever back has the most success against the opposite defense is probably that one that leads their team to victory. Stewart is fresh off a 464-yard shredding of the Northern Polar Bears, and the Houser/Loy pairing has done it's fair share of slicing up defenses of late, grinding hard in last week's 6-0 win. And with conditions again expected to include rain at least during the day and evening — District 3 announced Wednesday afternoon the game has been moved to Chambersburg's Trojan Stadium — the quarterfinal will be all about running the ball. The Greyhounds' (10-1) defense has allowed just 3.9 yards per carry this season. The Bearcats (10-1) likely won't be held that low, but Ship should be able to keep things in check to some degree with good line play. Toss playoff seeding out the window with the way these two teams are playing right now.
West Perry Shippensburg Football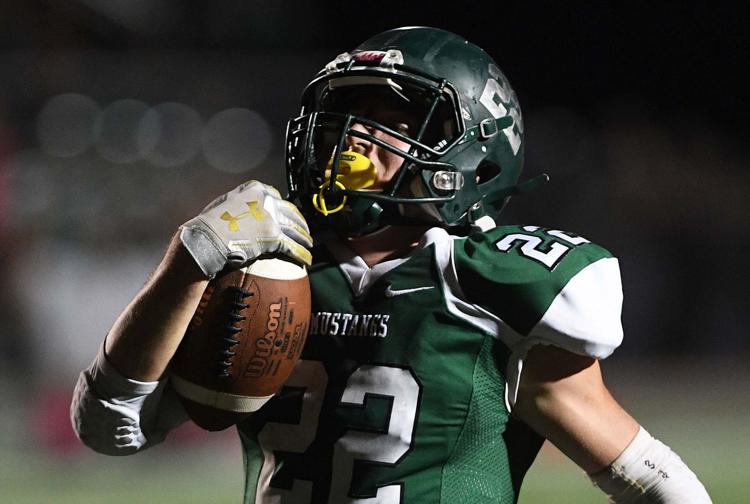 Class 4A Quarterfinal preview: No. 8 West Perry at No. 1 Bishop McDevitt
Key players
West Perry
Terrance Quaker (RB/DB/KR)
Kenyon Johnson (QB/DB/KR)
Bishop McDevitt
Chase Diehl (QB)
Nazir Burnett (WR)
What to watch for
The Mustangs' reward for their second District 3 playoff victory ever is a doozy: perennial power Bishop McDevitt. That should not sour what has been a historic season for West Perry (8-3). But to avoid reflecting with flowery prose, let's focus on the matchup. The Crusaders (9-1) boast what has to be considered one of the best QB-WR connections in the state. Diehl (139-197, 2,850 yards, 33 TDs, 3 INTs) has hit Burnett — who just decommitted from Syracuse yesterday — 61 times for 1,368 yards and 21 scores. Those are video game numbers. Burnett checks in at 6-foot-2 and has two 200-yard games this season. The Mustangs have played solid defense all year with 11 picks and less than 300 yards per game allowed, but they have never faced anyone in Burnett's (or the Crusader's) echelon this year. McDevitt will need to gift several turnovers and completely sleep on WP to be at risk here.
This week's picks
Cedar Cliff 37, Warwick 35
York 28, Shippensburg 26
Bishop McDevitt 49, West Perry 14
Jake's record to date: 81-29
Sentinel-area leaderboards after Week 11
(Stats reflect only those reported to The Sentinel)
RUSHING
Player (team);Rush;Yards;Avg;TDs
1. Adam Houser (Shippensburg);232;1,872;8.1;24
2. Jaheim Morris (Cedar Cliff);216;1,671;7.7;21
3. Kyle Swartz (Northern);203;1,230;6.1;19
4. Terrance Quaker (West Perry);141;1,206;8.6;14
5. Trystin Sulich (Carlisle);204;1,131;5.5;12
6. Kenyon Johnson (West Perry);138;1,129;8.2;19
7. Maximos Dell'Anno (Cumberland Valley);125;766;6.1;9
8. Tayven Kelley (Boiling Springs);100;683;6.8;9
9. Chris Barrett (Northern);114;649;5.7;2
10. Quentin Jones (Boiling Springs);121;623;5.2;3
RECEIVING
Player (team);Rec;Yards;Avg;TDs
1. Bobby Whalen (Cedar Cliff);49;838;17.1;11
2. Jaheim Reynolds (Cedar Cliff);36;578;16.1;8
3. Michael Wagner (Boiling Springs);38;575;15.1;4
4. Tayven Kelley (Boiling Springs);29;543;18.7;5
5. Jaxson Irwin (East Pennsboro);42;489;11.6;5
6. Michael Chismar (East Pennsboro);39;486;12.5;5
7. Braden Petty (Big Spring);32;474;14.8;4
8. Cade Sutch (West Perry);19;438;23.1;2
9. Kurtis Ravenel (Carlisle);43;426;9.9;2
10. Connor Trumpy (Camp Hill);20;421;21.1;5
PASSING
Player (team);Comp-Att;Yards;TDs;Int
1. Chris Dare (Cedar Cliff);129-202;1,905;27;4
2. Nikolas Karoly (East Pennsboro);116-210;1,457;12;12
3. Tim Siwy (Big Spring);120-222;1,372;13;4
4. Zack VonStein (Boiling Springs);77-162;1,209;10;12
5. Jared Plessinger (Cumberland Valley);69-130;1,082;6;8
6. Danny Scott (Trinity);84-165;1,056;5;15
7. Kenyon Johnson (West Perry);56-98;975;8;8
8. Zack Manning (Shippensburg);39-85;728;7;5
9. Cole Wolaver (Carlisle);78-154;723;2;10
10. Chris Barrett (Northern);54-88;719;5;5
SCORING
(Includes two-point conversions, extra points and field goals where applicable)
Player (team);TDs;2-pt;PATs;Pts
1. Adam Houser (Shippensburg);24;3;0;150
2. Jaheim Morris (Cedar Cliff);23;0;0;138
3. Terrance Quaker (West Perry);21;1;3;131
4. Kenyon Johnson (West Perry);21;1;0;128
5. Kyle Swartz (Northern);21;0;0;126
6. Tayven Kelley (Boiling Springs);14;0;0;84
7. Bobby Whalen (Cedar Cliff);13;0;0;78
8. Trystin Sulich (Carlisle);12;0;0;72
9. Maximos Dell'Anno (Cumberland Valley);10;0;0;60
9. Jake Fadness (West Perry);10;0;0;60
KICKING
Player (team);FGs;PATs;Pts
1. Jack Quesenberry (Cedar Cliff);2;51;57
2. Caleb Richwine (Carlisle);7;27;48
3. Zack Quaker (West Perry);0;39;39
4. Jacob Henry (East Pennsboro);0;24;24
5. Tim Kissinger (Cumberland Valley);1;20;23
6. Bailey Blaschak (Northern);2;12;18
7. Nicolas Morrison (Mechanicsburg);1;11;14
7. Rob West (Shippensburg);1;11;14
7. Abi Sweger (Big Spring);0;14;14
10. Chris Barrett (Northern);0;12;12
District 3 and PIAA tournament brackets
Class 6A
Quarterfinals: Friday, Nov. 2
Wilson 36, Red Lion 0
Manheim Twp. 20, Chambersburg 17
Central Dauphin 49, Central York 21
Quarterfinals: Saturday, Nov. 3
Harrisburg 42, Hempfield 0
Semifinals: Friday, Nov. 9
No. 3 Central Dauphin (8-3) at No. 2 Manheim Twp. (10-1), 7
Semifinals: Saturday, Nov. 10
No. 4 Wilson (8-3) at No. 1 Harrisburg (1-1), 1:30
Championship: TBA
TBD
Class 5A
First Round: Friday, Nov. 2
Governor Mifflin 30, Elizabethtown 0
Cedar Cliff 50, Exeter Twp. 6
Warwick 64, Palmyra 0
Solanco 49, Waynesboro 0
Shippensburg 6, Northeastern 0
York 42, Northern 7
Quarterfinals: Friday, Nov. 9
No. 9 Governor Mifflin (7-4) at No. 1 Manheim Central (10-0), 7
No. 5 Warwick (9-2) at No. 4 Cedar Cliff (9-2), 7
No. 10 Solanco (7-4) at No. 2 Cocalico (8-2), 7
No. 6 York (10-1) at No. 3 Shippensburg (10-1), 7
Semifinals: Friday, Nov. 16
TBD
Championship: Friday, Nov. 23
TBD
Class 4A
First Round: Friday, Nov. 2
West Perry 33, West York 22
Lampeter-Strasburg 37, Elco 0
Quarterfinals: Friday, Nov. 9
No. 8 West Perry (8-3) at No. 1 Bishop McDevitt (9-1), 7
No. 5 Gettysburg (8-2) at No. 4 Conrad Weiser (8-2), 7
No. 10 Lampeter-Strasburg (6-5) at No. 2 Berks Catholic (8-2), 7
No. 6 Susquehanna Twp. (6-4) at No. 3 Milton Hershey (9-1), 7
Semifinals: Friday, Nov. 16
TBD
Championship: Friday, Nov. 23
TBD
Class 3A
Quarterfinals: Friday, Nov. 2
Bermudian Springs 14, Annville-Cleona 7
Quarterfinals: Saturday, Nov. 3
Wyomissing 27, Littlestown 9
Semifinals: Friday, Nov. 9
No. 5 Bermudian Springs (8-3) at No. 1 Lancaster Catholic (10-0), 7
No. 3 Wyomissing (9-2) at No. 2 Middletown (9-1), 7
Championship: Friday, Nov. 16
TBD
Class 2A
Semifinals: Friday, Nov. 2
York Catholic 21, Steel-High 0
Semifinals: Saturday, Nov. 3
Delone Catholic 48, Upper Dauphin 23
Championship: Friday, Nov. 9
No. 1 York Catholic (11-0) vs. No. 2 Delone Catholic (10-1), TBA
Class 1A
Championship: Friday, Nov. 2
Halifax 37, Fairfield 6