Abi Sweger stood by herself in the girls locker room at Biglerville High School on a Friday night in late August facing a wardrobe problem — how does one put on football pads, jersey and pants?
This was a whole new world for the Big Spring senior athlete, one she threw herself into just days before. Classmate Braden Petty, a football player for the Bulldogs, approached Sweger to see if one of her male soccer friends could kick for the football team when the season opened in a week.
Instead, Sweger volunteered her own right leg.
So after a quick trip to the store that day, some ensuing practice with her dad, a tryout for football coach Cory Hoffman and a bus ride for the season opener against the Canners, there Sweger stood.
She was alone — the rest of the team dressed in the boys locker room — and trying to figure out the puzzle that was her new uniform.
For the headstrong 18-year-old who doesn't want to hear she can't do something because of her chromosomes or because she's too small, this was just another challenge to overcome. After all, she had trained horses many times her size. And she had broken into male sports nearly a year earlier when she joined the Big Spring wrestling team for head coach Nate Gutshall.
"I don't think I'd want to be treated any differently," Sweger said. "I think everyone should have a fair shot no matter what gender."
And she was ready for this challenge … with a little help, it turned out.
The Biglerville girls soccer team came in from their practice in the nick of time and helped Sweger put on her uniform in time for the game. The Canner players decided to come watch her play as well.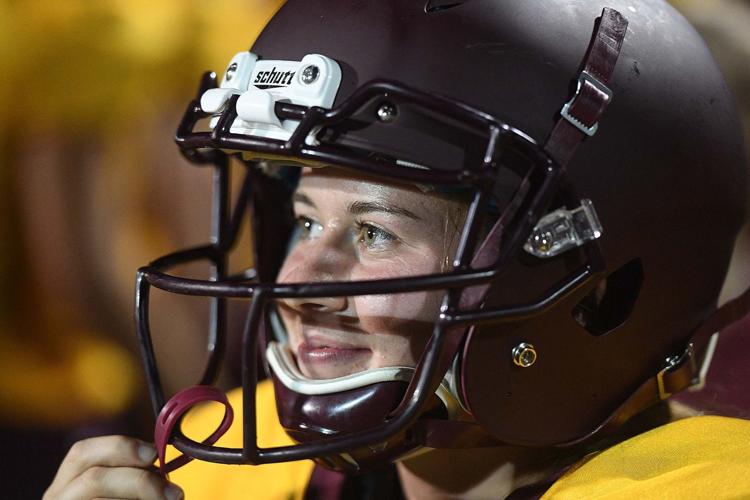 Taking the plunge
Gutshall knows Sweger well. They attend the same church, and she took part in one of his social studies classes in high school. He is the one who encouraged her to give wrestling a try when she was a freshman and every year after.
Sweger, a little nervous and unsure, declined those invitations for two years despite her soccer teammates joking with her to join because she's one of the most aggressive players on the team. She is a player who is unafraid to body up against girls twice her size, Big Spring girls soccer coach Matt Kump said.
But during her junior year, Sweger decided to take Gutshall up on the offer.
"It was definitely the most nerve-wracking thing I did, joining wrestling," she said.
Gutshall did suggest that Sweger find someone to work with. So she asked close friend and soccer teammate Lyra Clark, who agreed to join. Gutshall said he thought it would help if the two of them had each other to lean on in the locker room and in practice.
"I don't know why [Sweger] decided," said Gutshall, admitting he never asked her. "I hope it was because of the great tradition that we have.
"I never thought of saying no."
Sweger's parents, Kim and Andy Sweger, did think about saying no.
"That threw us," Kim said.
Kim and Andy have been married 29 years. Kim runs her own business in Carlisle. Andy, who retired after 25 years working at Dickinson College, played football, basketball and did track and field with the Bulldogs.
Abi had a long talk with her parents when she approached them about joining the wrestling team. The Swegers said they typically don't place limits on their three children — Abi has two older brothers, Michael and Alex, who played various sports growing up — including their only daughter, but they were nonetheless hesitant to let her join a sport they knew little about other than she'd likely square off against a male opponent.
They discussed the physical risks as well as the possibility she could be ridiculed by classmates or other players and coaches.
When Abi Sweger wanted to join the Big Spring wrestling team, her parents' concerns were imm…
But they didn't tell her no.
"That wasn't an option," Kim said. "She's a smart kid. She's not doing things for attention. Her purpose is genuine."
The next step was to learn how to wrestle.
It was new territory for just about everyone involved. The Swegers are not a wrestling family. And Gutshall did not have the time to devote every practice to one raw rookie when he had an entire team to coach.
So he taught her some basics early on, and then focused on the entire roster like normal. Teammates, who Abi said were overwhelmingly accepting of her, also offered pointers.
"The transition," Gutshall said, "was seamless."
Gutshall spoke to veteran wrestlers Blake Barrick and Hunter Gregoris before the season and said the two were "on board" with Abi joining the team immediately.
Her new teammates quickly became training buddies and offered a large support system, unafraid to scream at opponents they thought were too aggressive on the mat. They were her big brothers.
Abi also relied on YouTube videos to learn moves and strategy, her mom said.
It was also a learning experience for Gutshall, who has three daughters of his own — one in college, one a freshman at Big Spring who also wrote a feature for the school paper on Abi, and a sixth-grader. None wrestle. While he wants to see more girls wrestle at all ages, he said he initially didn't know how to approach teaching Abi and Clark.
"Not being afraid of contact from the opposite sex," Gutshall said. "That was a little bit of a hurdle to get over at first."
His original plan was to ease her into the season, despite not having another 106-pound wrestler, but a day before the season-opening dual meet he switched gears and told her she would be wrestling.
It was love at first pin.
Abi only won two bouts, Gutshall said, but she steadily improved throughout the year and will wrestle again this season.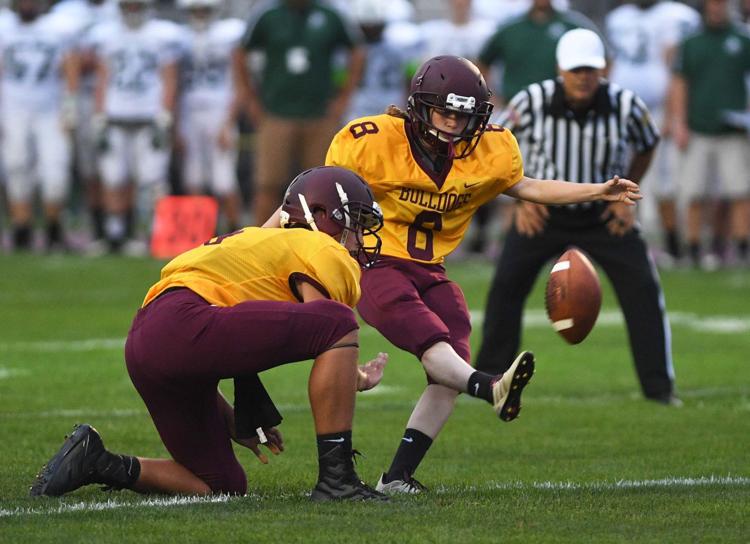 Off on the right foot
Football proved to be an easier transition for Abi.
Big Spring entered training camp in August without a kicker and didn't find one during camp. Hoffman decided to look outside the current roster.
So Petty approached Abi looking for a kicker.
"I was like, 'Sure, why not?'" she said. "He was like, 'Wait, really?'"
So Petty told his coach. Zach Hasco, a senior linebacker out for the season with a torn ACL, also vouched for Abi, Hoffman said.
That led to another chat with her parents, and this time her dad was gung-ho. He practically ran out the door, his wife and daughter said, to the store to pick up a football and kicking tee. He had her practice for roughly a half hour that night and even had her throw a few passes — you know, just in case.
"I'm more open-minded about all of that for sure," Andy said. "I just think it's neat. It's something that Abi can do — or anybody can do — if put in the right situation."
"They have had so much confidence in me [ever since]," Abi said. "I don't think I've ever been that close to my dad until I started doing wrestling and football."
Even Kump was on board — "You have to do this," is what Abi said the soccer coach's response was.
"Relentless," Kump said, describing Abi's personality. "She's like a never-give-up, relentless person."
She tried out three days before the first regular season game in front of Hoffman.
Kim said her daughter connected from as far out as 37 yards. Hoffman said she made about six kicks in a row.
"And he asked [her], 'How old are you?'" Kim said, referencing Abi's small stature at 5-foot-1, 105 pounds.
Hoffman and Kump came to the agreement that Abi, a valuable four-year starting midfielder/defender for the soccer team with two career goals, would only kick field goals and would not take part in the kickoff unit, despite Abi's overwhelming urge to get the chance to hit someone on a kickoff return.
Having already been wrestling teammates with several of the boys on the football team, Abi fit right in.
"They really appreciate what I do for them," Abi said of her teammates.
Kicking a football was a much easier transition for Abi than wrestling. She had to get used to working with a holder and long snapper, the timing after the snap, and technique. But for the soccer player, that was it.
Abi — who now has her very own chant from the Big Spring Dawg Pound student section: "All hail Abigail!" — has made 13 of 19 extra point attempts this season, eighth in the Sentinel area, entering Friday's Little Brown Jug game against Shippensburg to close the season.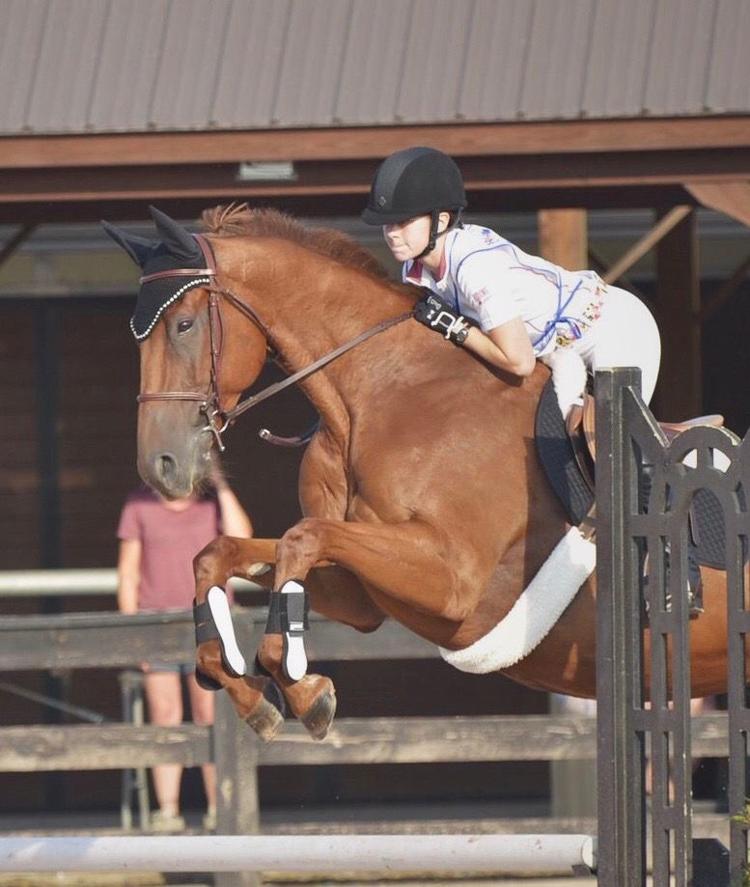 Riding horses and kicking soccer balls
Horses are Abi's true passion, though.
After she dabbled in dance (to her father's dismay), she picked up riding when she was 6 years old.
"That was all she wrote," Kim said. "She rode a horse a couple weeks in," got hooked, and the family eventually bought one horse and adopted another.
Abi spends hours every week at Winsome Farm in Newville tending to her two horses — 11-year-old, Raven, and 7-year-old retired thoroughbred race horse, Arlo.
And in Abi's mind, riding horses was just as dangerous as strapping on a singlet or football pads. And the hours of riding and cleaning her horses and stalls have made her 5-foot-1 frame deceptively strong.
She has traveled to multiple states for shows and competitions. Abi said she was invited to compete internationally as well but couldn't make the commitment.
"I couldn't imagine not horseback riding now after this," Abi said. "I think the thing I like about it most is being able to communicate with a horse."
In 2017, she had to convince Arlo's previous caretakers, who were only seeking male riders to adopt him, that she could handle the retired race horse. Abi showed up in Ohio and offered to ride the horse right there, determined to prove any doubters wrong.
Abi's second sport is soccer, which she has played nearly as long as she's been on a horse.
She learned alongside her brother, Alex.
"They didn't compete [as rivals], but they're out back kicking a soccer ball, her brother [Alex] would kick it as hard as he could at her," Kim said.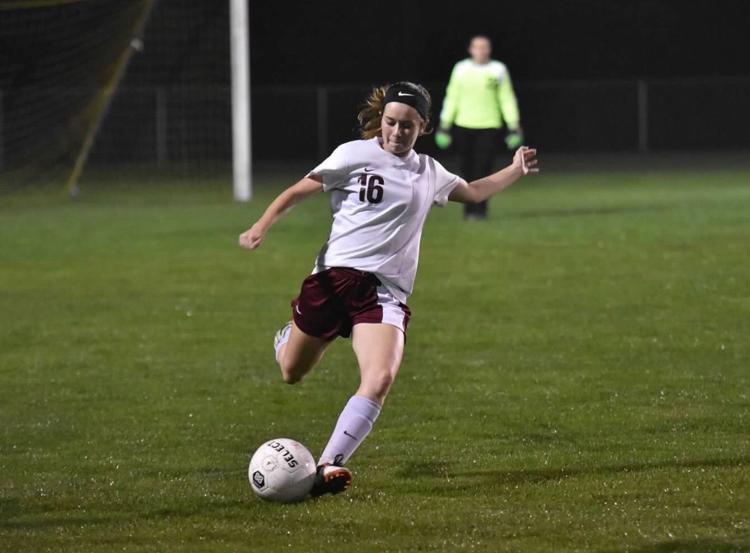 'She's really a Bulldog'
The past year has been a learning experience for Abi, who has seen a change in herself and in others around her.
"I really kind of learned from this whole experience to not judge a book by its cover," said Abi, who will study to be an audiologist to become a speech pathologist, yet another wrinkle that surprised parents expecting her to become a veterinarian.
She laughed when talking about getting the first two yellow cards of her soccer career this season — perhaps proof that she's developed more tenacity since she began wrestling.
Abi intends to wrestle again this winter — and wishes she had started wrestling years ago — but the Bulldog coaches expect an underclassman will take her starting spot at 106. She is excited nonetheless.
She is not a celebrity, but she has left her mark on coaches and perhaps the next generation.
Gutshall said New Jersey is sanctioning varsity girls wrestling and wants to see Pennsylvania do the same. He's only become more steadfast in that belief since coaching Abi.
"I think she's really a Bulldog, she's what we want: people that are going to go the extra mile for our school."
Big Spring varsity teams visit elementary schools at the end of every season to read to younger students. The wrestling team visited Mount Rock Elementary School, and Abi was nervous she would disappoint kids expecting to see her more muscular teammates.
"But there's this little girl in there that had a medal on," said Abi, who learned that the girl wrestled in kindergarten. "She was like, 'I wanna be just like you.'"