8 observations from the opening weekend Big Spring soccer, field hockey and volleyball tournaments
For the second year in a row, Big Spring hosted a four-sport tournament to kick off the 2019 fall sports season.
More than a dozen schools descended on Newville to battle for titles and get an early feel for how their seasons will go. Sentinel reporters Mallory Merda and Jeffrey Kauffman tagged along to see the sights and get an early look at some of Cumberland County's teams.
Here are eight observations from field hockey, boys and girls soccer, and girls volleyball:
Boiling Springs Red Land Volleyball 3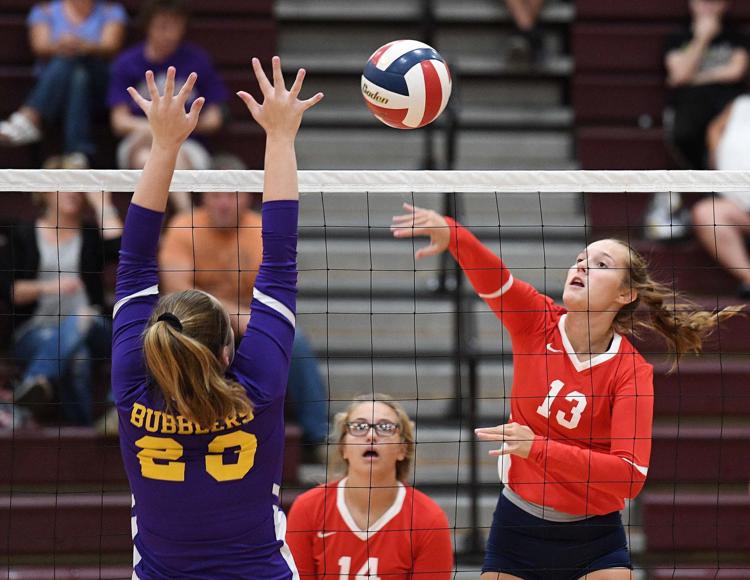 1. An emotional win for Big Spring volleyball
The Big Spring girls volleyball team was feeling on top of the world after pool play Saturday at Big Spring's four-sport opening-weekend tournament.
A shaky start to the Boiling Spring match in the semifinal put the Bulldogs, undefeated to that point in their home tournament, on their heels. But it also forced them to think quickly, and that resulted in a run to cut a six-point deficit in the second set and turn it into a win.
And one more victory from the tournament championship.
"They didn't set that as the goal, but once they made it through the pool play undefeated they were just like, 'We can do this,'" Bulldogs head coach Cara Rhone said. "If you have that mindset, yes, you can do it. And they did it. We were down to Boiling Springs, and they didn't hesitate. They knew they had to fix it, and they easily fixed it and pulled out a win."
Having that mindset going into the final against Bermudian Springs was exactly what Big Spring needed. The Bulldogs never trailed the Eagles and pulled out a straight-set victory to claim the title — and go 8-0 in the tournament.
"They're at a whole other level this year, and it makes coaching easy for me, which I enjoy because I can sit back and watch them play," Rhone said. "It's exciting."
There were some very happy tears to go around. Lauren Finkenbinder was on the sidelines on crutches, but that didn't mean she couldn't enjoy the win for her teammates. 
"I'm just so happy, I can't stop crying," she said. "I'm so proud."
Big Spring Mifflin County Boys Soccer 2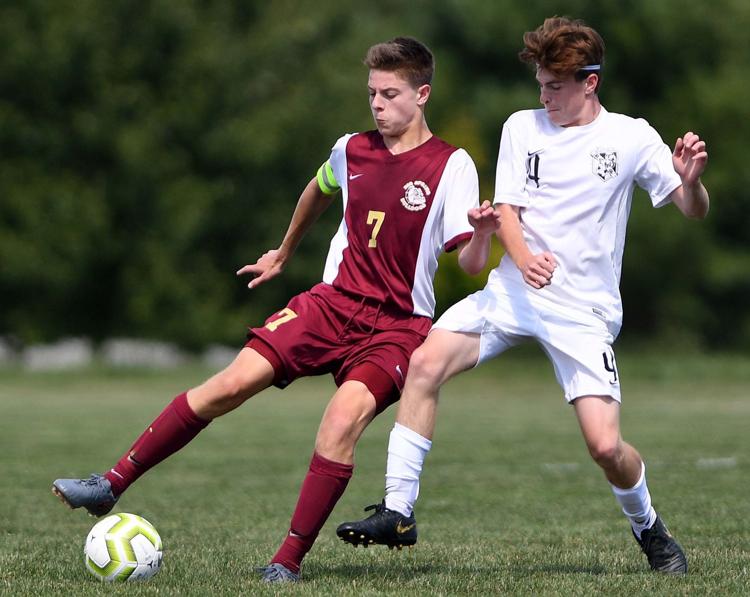 2. Lions land first victories of season
With a ton of question marks surrounding the Camp Hill boys soccer team before the season even started, the Lions came out with an impressive tournament victory.
After pulling out the win over Mifflin County to make it into the final, the Lions continued their tear through Greenwood 1-0 to take home the trophy.
"The guys deserve it, and they can enjoy the day," Lions head coach Justin Sheaffer said after the win. "Last year when we came here, Greenwood got us, so it's nice. They held onto the previous year in the district championship for a long time, so they got their revenge last year, and it was nice to return the favor this year. They're a good squad, so it's always nice to beat a good team."
The wins — and the trophy — may have shown that the Lions can still hang with championship teams, but Sheaffer isn't looking too far ahead after one tournament.
"It's a good start, but it's a long season," he said. "Our guys worked hard today, they played for each other and hopefully they continue to do that. We'll see what happens."
Big Spring Mifflin County Boys Soccer 1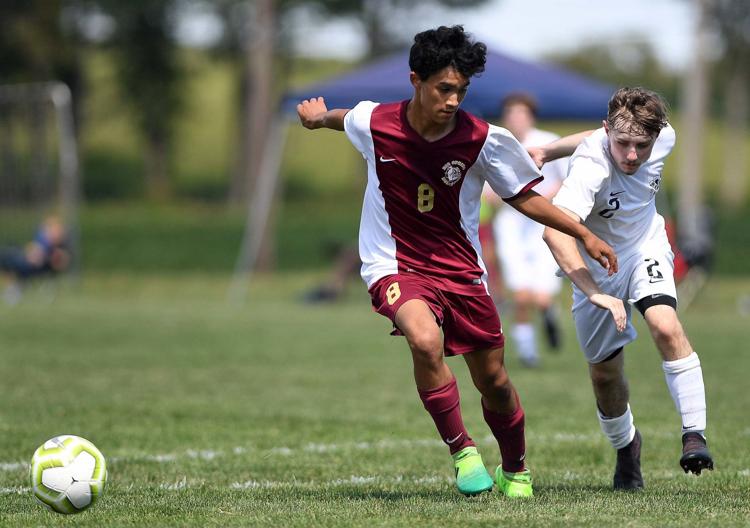 3. Broken trophy? No problem!
The wind may have gotten the best of one of the Big Spring Tournaments mementos, but that didn't stop one team from turning it into a positive.
The runner-up trophy that was awarded to Greenwood boys soccer after falling to Camp Hill in the final was knocked off the scorer's table and onto the ground, breaking the figure off the top.
"Wind. Wind happened to it," Big Spring head coach and event coordinator Scott Anderson said with a laugh. "It was sitting at the corner of the table, and we had the wind blow it down. I said, 'Do you want me to take it and get it fixed?' and [Greenwood's coach] was like, 'No, no, it'll give us something to think about. We got two captains, two trophies.'
"I walked over and said, 'Guys, which one do you want?' and they were very excited that each could walk away with something to hold," Anderson said. "Their coach said something about it being a metaphor for today, How things kind of didn't go the way you wanted them to, and so as a coach we always have to find the silver lining in anything."
Big Spring Camp Hill Field Hockey 1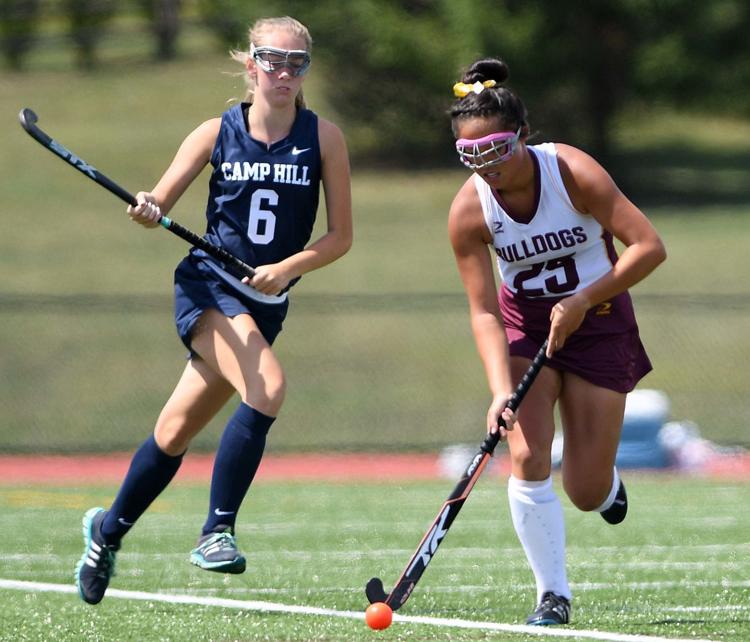 4. Help wanted
If you attend Big Spring and can play field hockey, coach Angie Noreika might be looking for you.
With a solid nucleus returning from last year, expectations were high but much changed when daughter Laney went down, facing ACL surgery. Noreika was looking at senior Alex Kutulakis to lead the offensive effort. Then Kutulakis went down with a broken ankle, and the coach started searching the hallways.
She found softball player Emilee Sullivan to help and also several freshmen who are going to have to step up. Saturday, the Bulldogs started one senior, one junior, five sophomores and three freshmen on the field, and newcomer Zoe Cummings in goal (more on that later).
"We have a lot of room to grow," Noreika said. "Defensively, I thought we were strong, but we didn't have an offensive push, Hannah Jones and Haleigh Snyder played the best games of the day, and they are defenders. We have plenty of room to grow and we will be okay this year."
Kutulakis is expected to play later this season; her recovery is projected to take 4-6 weeks. In the meantime, she's helping her teammates in other ways.
"We hope to get Alex back before the season ends. Alex and Laney were here for a while this morning," Noreika said. "[Laney Noreika] had her surgery Friday and is doing well. She has been so good at helping the younger players on things to work on and help them."
Big Spring Bermudian Springs Soccer 3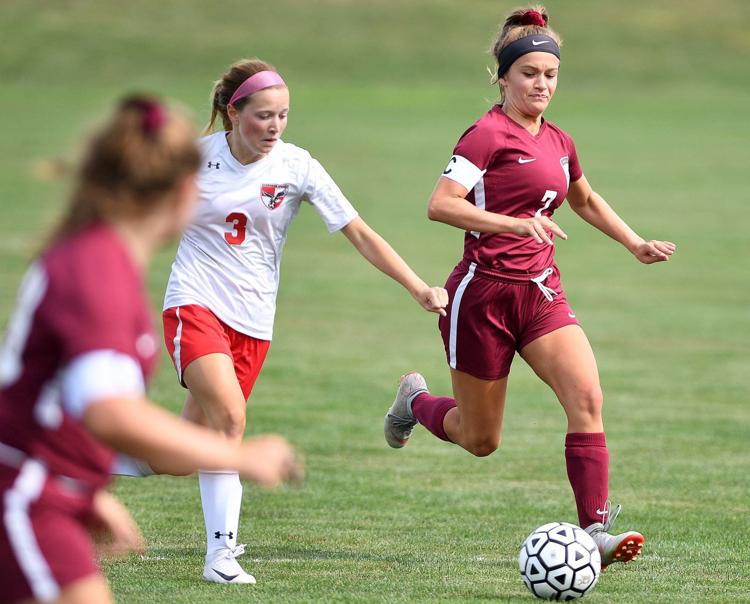 5. A win in the losses
Big Spring girls soccer dropped two games — 6-0 to South Western and 3-0 to Camp Hill — on the day.
But there was a notable positive in Cummings' play, her first start ever. It also came on the heels of the Bulldogs' losing a stalwart in the cage to graduation.
"Our goalie [Cummings] has never played before, and today she had 17 saves," Noreika said. "You really can't replace [former goalie and 2019 graduate] Jaime Yaukey. Zoe has done great — stepping in a week before practice and putting the pads on for the first time. We didn't get that offensive push, so the ball was in our defensive end all game, and she did a good job."
Big Spring Camp Hill Field Hockey 6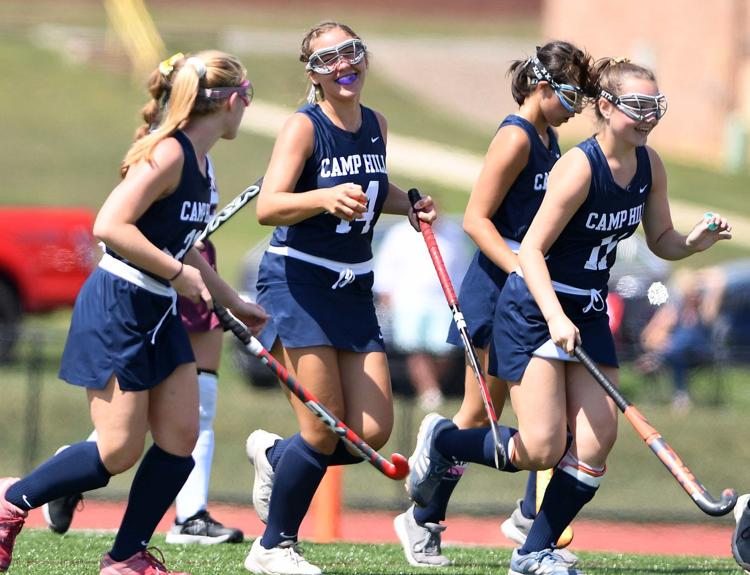 6. Camp Hill's new beginning
Traditionally, Camp Hill has been very strong in field hockey. But this year is starting a bit different.
Injuries and vacations played a role Saturday, and the Lions also have several players getting used to playing different positions with different players beside them.
"Bella Zarcone, a William & Mary recruit, is the leader, but others need to find their spots," head coach Julie Colestock said. "In the past, we had kids who looked up to one or two players, and this year we have been stressing using everybody. We started to look for that one or two people today at times."
Camp Hill fell to South Western 1-0, giving up a final-minute goal off a corner. The Lions then beat Big Spring 3-0 in the consolation game. Ashley Corbin, Julia Tomalis and Kinsey Brunner tallied Lion goals. Nora Klapkowski, Jordan Baney and Lily Sohanage added assists for the Lions.
Big Spring Bermudian Springs Soccer 4
7. Looking for improvement
Bulldogs girls soccer has struggled to win games over the past 5-7 years, winning five games in 2017 and only one last year.
"I will admit it has been frustrating, but we have been seeing growth the past couple of years," Big Spring head coach Matt Kump said. "We have some good players, but we need to find that person to finish goals. Sydney Hutchinson and Allison Frick have been solid and could play at the next level if they want to. We saw some good combinations to get into the offensive end but couldn't finish."
Big Spring fell 2-0 to Bermudian Springs in the morning and dropped a 1-1 (2-1 penalty kicks) decision to West Shore Christian in the consolation game. Ava Wilson scored the Bulldog penalty kick, while Katelyn Springman and Sofia Godoy scored for the Bobcats. Marcy Foltz stopped four Bulldog penalty kicks.
Two close losses could be a building block for the Bulldogs, but a win could have been a really big step.
Big Spring Mifflin County Boys Soccer 3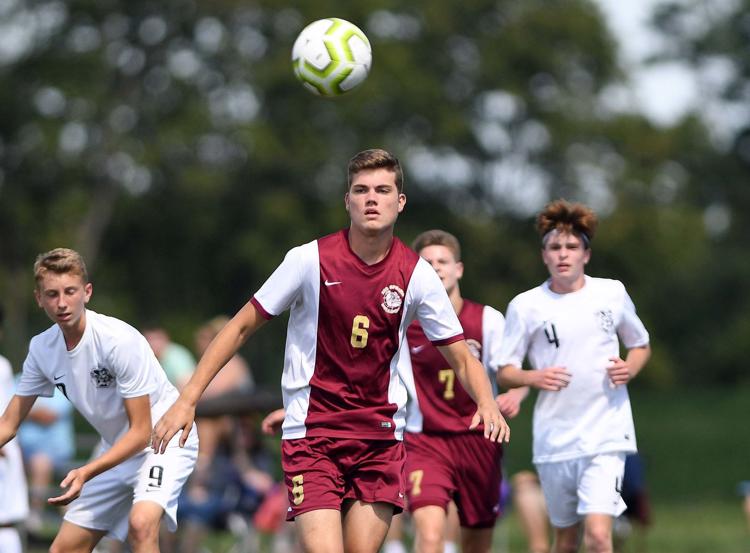 8. Another successful weekend
It was another successful Big Spring fall boys soccer tournament, according to Bulldogs head coach Scott Anderson.
Unlike last year, 2019 saw plenty of sun instead of dreary, rainy weather, and the atmosphere around the tournament seemed to be a lot more upbeat.
"It was a good day," Anderson said. "A little less sun in the second half, but overall I thought it was a great tournament. When the coaches come over and shake your hand afterwards and say, 'Really great effort, thanks again for all you do and how you organize things,' it makes you feel good after all the planning you put into it."
Overall, the attendees of the tournament seemed to walk away with some good food, good memories and a good time. Although there were some mishaps, like injuries and a scuffle during the Camp Hill-Greenwood championship, Anderson was very happy with the outcome for another start to the season.
"More importantly, you want the kids, the parents, everyone to come away saying it was a good tournament, it was worth our time coming today," Anderson said.