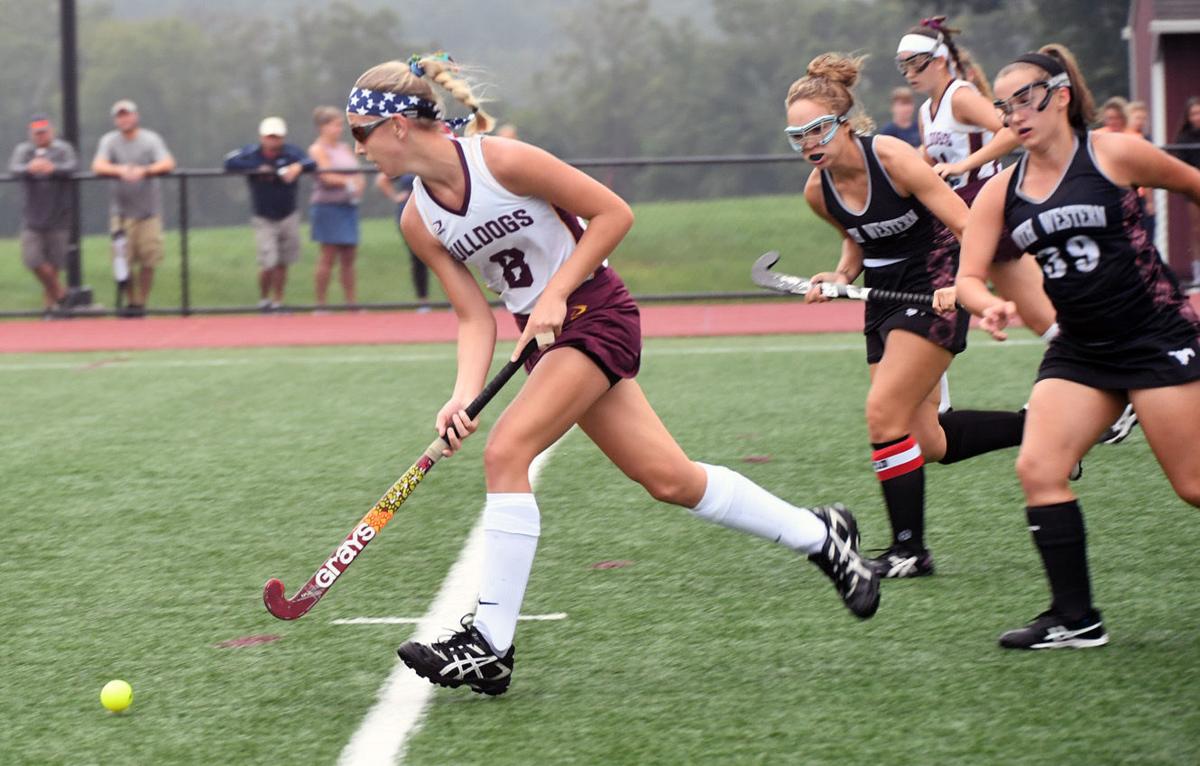 It's not too often you see a breakout season for a freshman.
Big Spring's Laney Noreika isn't like most high school freshmen, though.
Already tall for her age at almost 6 feet tall, Noreika's first season in a Bulldogs field hockey uniform is proving to be a big one.
She's amassed 27 goals and 24 assists, enough to be one of the better offensive producers in the Mid-Penn Conference. And Big Spring captured the Mid-Penn Colonial title and is preparing for Wednesday's District 3 Class 1A first round.
Noreika is a big reason why.
"Honestly, it's the little things," head coach and mom Angie Noreika said about what has led to Laney's success. "The burst of speed when you think she can't go any faster, or that small jab that redirects the ball. My favorite thing, though, is her total team-first attitude."
Laney picked up a stick in the fifth grade when Angie was still the head coach at Shippensburg High School. She joined a team two years later and is currently a two-sport athlete, playing basketball in the winter.
"My mom definitely had a big influence on me starting to play field hockey," Laney said. "With her playing field hockey in college and coaching for many years, I knew it was something I'd want to try. I mostly focus on basketball. I play basketball year-round and have already gone on a few college visits. Basketball is my main focus because I've had the most success with it."
Being a multi-sport athlete is also something Angie has taught both of her kids. She encourages them to try all of the sports to see which one really sticks. Or if multiple stick, like with Laney.
"No one-sport athletes in our house," Angie said.
Even with her focus on the hardwood, Laney's first varsity field hockey season has been memorable. Just in the closing weeks of the season she scored the game-winning goal to beat rival Boiling Springs and then toasted Waynesboro for two goals and seven assists in a 9-0 win.
And all this comes with working under her mom, who is a demanding parent.
"It's no secret that I'm not the easiest person to play for," Angie said. "I demand a lot and do not put up with drama. Honestly, it's been going a lot better than anticipated. We leave field hockey on the turf and it is not discussed at home."
Laney, quiet and soft-spoken compared to more boisterous teammates like Jamie Yaukey, defers to talking about the team many times when asked about herself. But she is driven.
"Before the season started, my dad made a goal for me," Laney said. "With scoring over 30 goals last year in eighth grade, my dad wanted me to have at least 20 this season. This helped motivate me, and I knew I had high expectations placed on me with being the coach's kid.
"So, I did everything I could to help keep this team winning. That doesn't mean I'm taking the ball up the field by myself every time. We all have to work together if we want to be successful and I think that plays a huge role in my success."
Big Spring (13-5, 10-2) dominated the Colonial division during the regular season and hopes to continue that roll right into districts as the No. 6 seed. The Bulldogs face Susquenita at 7:30 Wednesday at West Perry High School.
"I did not imagine having this great of a season," Laney said. "I wasn't sure how our team all together was going to be after losing many starters. We managed the situation very well and had many freshman step up when needed.
"If I didn't have these amazing teammates, the team and I would not be where we are right now."
Get in the game with our Prep Sports Newsletter
Sent weekly directly to your inbox!