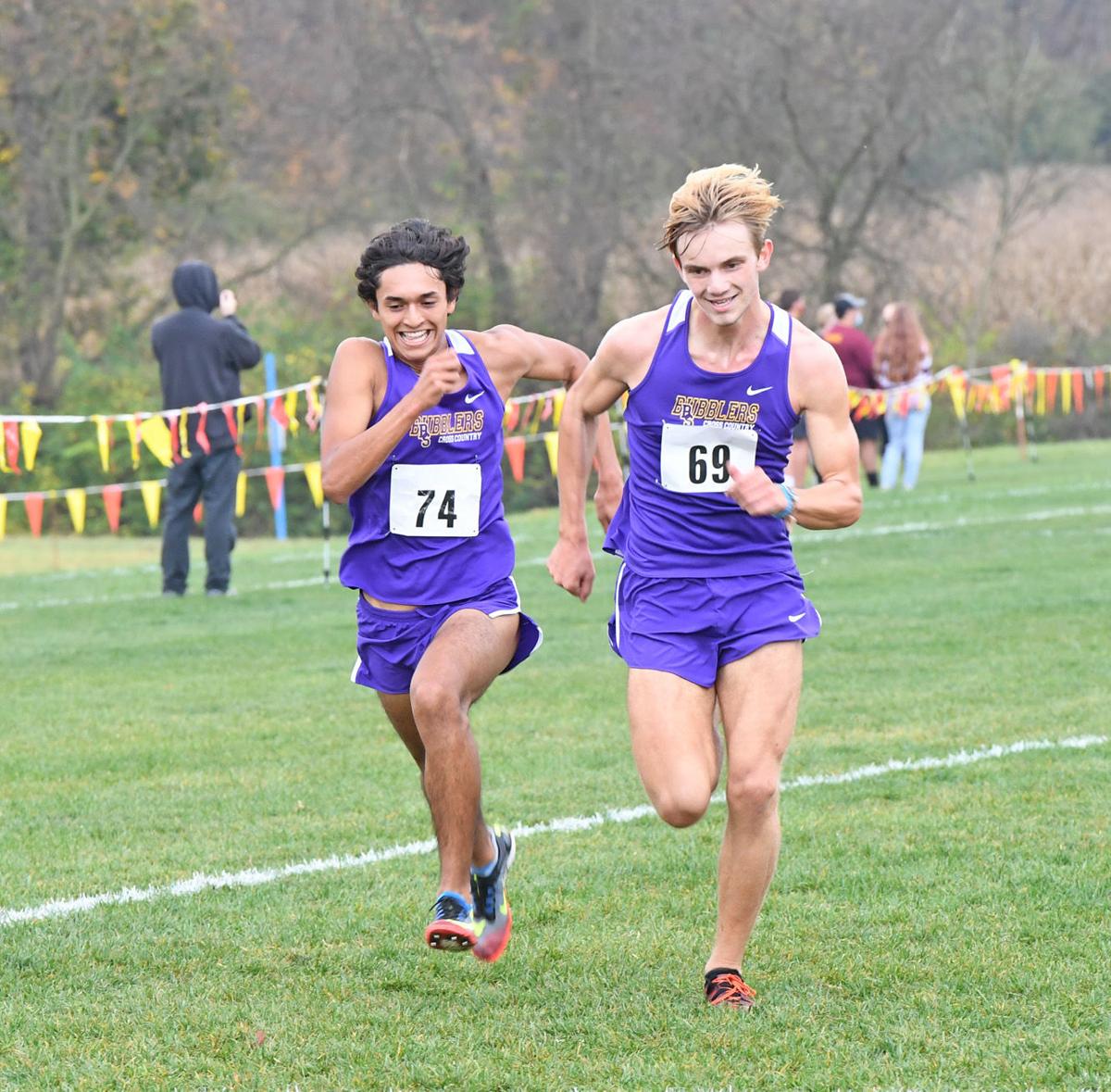 NEWVILLE — It was like a long-awaited reunion.
Saturday's Mid-Penn Cross Country Championships was the first major weekend event of the season for many runners. And that meant runners competing against each other in some cases for the first time in 12 months.
Typically, the season features a handful of major weekend invitationals — Chambersburg's season opening Enos Yeager Invitational, Big Spring's Ben Bloser Invitational and the Carlisle Invitational are among the local highlights, but there are others throughout the state.
COVID-era cross country doesn't allow for that. Only a handful of multi-team meets were held during the shortened 2020 season, and many of the runners in Cumberland County hadn't raced in more than a couple division tri-meets all season.
"This season a lot of the teams limited down, we noticed that. And we also had a lot less meets, so not enough time to prepare," said Big Spring's Mikaela Ward, who finished fifth (21:35) in the girls Class 1A/2A race. "I think that the short season kind of rushed a little bit in that way, but I think that once we started getting into the season we worked a lot more [and got ready for the postseason]."
Saturday's conference championships at Big Spring High School — which serves as the qualifier for the District 3 championships next week, back at Big Spring — was the first opportunity teams and runners had to find out how they stack up against their peers.
"We had so many opportunities to better ourselves," Boiling Springs sophomore Peyton Ellis said after winning the girls 1A/2A race by more than a minute (19:38.72). "And if we didn't do too well at one invitational, you had so many in the future. But this year you have to run everything like it's your last, because it really could be. So, it's hard to kind of put a mark on yourself and where you should be this season. So, it's just you have to be lenient with yourself, which is hard, but it's something you have to adapt to."
"I think it made it a lot harder because nobody really knows where they are," said Mechanicsburg's Hope McKenney (19:20.09), who led the Wildcats to the Mid-Penn's top qualifying spot for districts in Class 3A.
Runners lose out in several ways when they don't have regular-season invitationals to prepare for the postseason, they said.
For starters, teams and runners don't know the competition as well. Some runners, like Ellis, almost prefer to have less information about their competition going into a race so they don't succumb to information overload. Others, like Ward, say the lack of invitationals mean they may not know about the young up-and-comer who's a threat for their podium spot because they only remember the runners they faced last year.
But even race strategy can be impacted, with runners saying they struggled to find the right pace during the shotgun start so they didn't burn too much energy or fall too far behind.
"Usually, whenever we do other invitationals, it helps us know how to start a certain speed. But we hadn't done that," Carlisle's Kevin Shank said after his eighth-place finish (16:33.53) that helped the Herd clinch a spot in districts. "Usually, invitationals get you in the idea of how to stay with the pack and when you need to pass them and stuff."
For the Bubblers boys, which won the 1A/2A race and earned the conference's top qualifying spot for districts with 44 points, the set-up breeds excitement.
All season they didn't know how they compared to competition outside the Mid-Penn Colonial Division. Now after an impressive showing they feel more confident.
"Today was our first real see-where-the-team-is against people we're gonna be competing against," Evan Kase (fifth, 17:10.12) said.
"I think the best part of it is we don't know how good we are right now, we don't know what we can put down because we haven't had those benchmarks early in the season," said Gibran Varahrami (fourth, 17:09.98), who boldly claimed later he thinks this is the best Bubblers boys team in program history.
Kase added the team hasn't "had an all-out race" yet.
But while the unusual regular season led to an unusual start to the postseason, the runners who have at least one more week of racing left have to make quick adjustments. They have to quickly make the necessary adjustments in their race strategies to give themselves the best chance to qualify for states.
The pandemic forced the PIAA, like District 3, to contract the number of teams and runners that can qualify for states.
In boys and girls, District 3 will send the Class 1A champion and top five remaining individual runners, the 2A champion and top six remaining individual runners and the 3A champion and top 12 remaining individual runners.
"I feel like I have to be more ready this year for Mid-Penn's than I would have to be last year for Mid-Penn's just because if you don't perform well you don't get to make it to districts, you don't get to make it to states," Mechanicsburg's Carter Paul (10th, 16:43.54) said.