NEWVILLE — Sophia Toti's first season of cross country after devoting herself fully to the sport can now be considered a rousing success.
The Carlisle junior finished ninth Saturday at the District 3 Class 3A Girls Cross Country Championships in 19:45.4, booking a spot in the PIAA championships next week in Hershey.
It comes months after the former transfer dedicated her summer to training properly for running. The motivation to do so came from head coach Ed Boardman, she said, who instilled in her a belief that she had more to give and could one day run in college if she committed.
The proof is now in the proverbial pudding.
"He's a little hardcore, but he kind of knows to listen to our bodies," she said, laughing at the comment and just because she was happy with her performance.
"Now I really want to get a medal at states. I feel like I can do it and I feel more motivated."
Toti, however, will have to do so without the backing of her teammates. The Thundering Herd, a preseason favorite to qualify for states, missed out by a point. Exeter edged Carlisle 222-223 for the fourth and final District 3 spot, with champion Dallastown, Wilson and Governor Mifflin taking the Top 3 spots.
The absence of senior Meg Lebo, a staple of last year's team that's missed the entire season with "an oxygenation problem," she said in her recent In My Words, did not help.
"I'm happy that I made it, and I know we gave it all 100 percent. But we were so close, so I'm a little sad about that," said Toti, who will have the entire team to train with during the week at least.
Sophia Salomone was second for the Herd in 37th (20:36.9), followed later by Alyssa Dyson (55th), Alyson Henry (61st) and Gretal Shank (72nd). Exeter's fifth scorer came in 66th.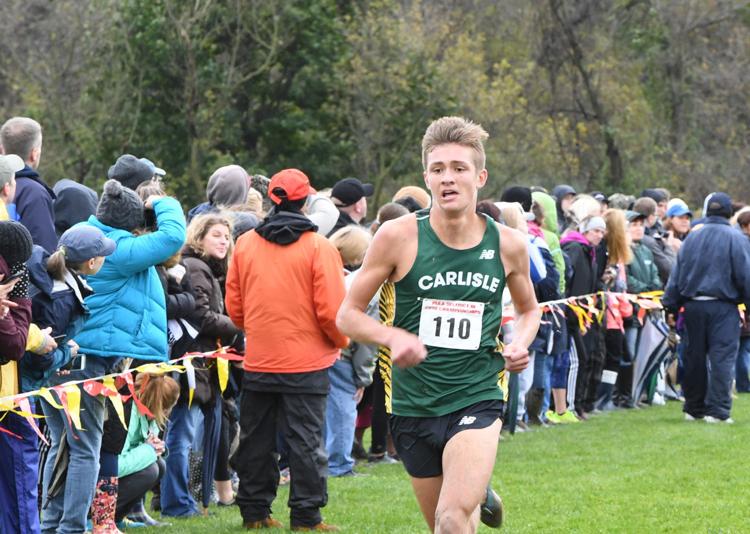 Wisner, boys do qualify
The Carlisle boys, however, surprised.
The Thundering Herd finished third and will run together in Hershey next week, surprising themselves with a score of 217 that was one better than Hershey and 25 better than Hempfield. Cedar Crest (145) won, with Warwick (189) second.
Jack Wisner led the charge, crossing in fourth (16:44.1) on a field that had deteriorated from rain-soaked and slick in the morning to three miles of mud and slop at Big Spring High School by the time the final race commenced.
"As I finished, I was really concerned about us making it as a team," Wisner said. "But I was watching the guys come in, I was like, 'Oh, no. Coach, I don't think we made it.'"
But his worries were gone in the moments after.
Wisner trailed the lead runners, including Mechanicsburg's Brandan Knepper, for nearly the entirety of the race. He suggested he may not have handled the course conditions as well as he could have.
Evan Peachey impressed his senior teammate with a 24th-place finish (17:23.8).
"Evan Peachey I feel was one of our stronger guys," Wisner said. "I was really happy with his performance."
Behind those two was Bryce Dunkelberger (40th, 17:45.4), Casey Padgett (41st, 17:47.4) and Jacob Morris (115th, 18:28.3).
Knepper grabs bronze
For a runner who lost a nearly race-long lead in the home stretch, Knepper was certainly happy.
It's not a common look for a runner in his position, but the Mechanicsburg senior enjoyed leading nearly the entire District 3 race, before succumbing at the end to Manheim Township's Evan Dorenkamp and Ephrata's Andrew Forster.
Knepper finished in 16:37.4, still not a PR but a race he was pleased with nonetheless.
"I sat [in the lead] for the whole time, actually," he said. "The last 50 feet, I just broke. I was just so tired and worn out. But it was really enjoyable to sit up there — it was great.
"I think I did what I could. I was happy with the layout and how it went. … I did what I could, it just happened how it did."
You have free articles remaining.
Keep reading for FREE!
Enjoy more articles by signing up or logging in. No credit card required.
He will also get to run with teammate Kyle Costello (28th, 17:30.1) and fellow PIAA qualifier, giving him a training partner he was eager to have for the final week of the season.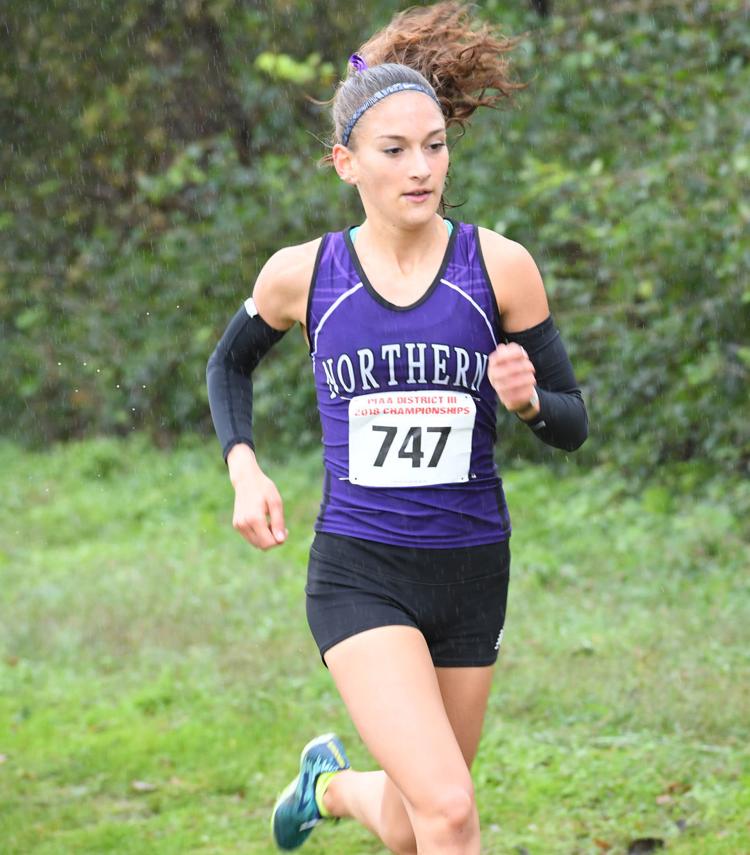 Starliper's smile says it all
The past three weeks have been some of Marlee Starliper's best.
She effectively overworked herself through the regular season and didn't realize it until about two weeks before the Mid-Penn Championships.
But since adjusting, both mentally and physically, she has been on a tear. And she looks like the same confident runner she was during her breakout 2017 season when she won the District 3 and PIAA Class 2A titles with ease.
She defended her district title with a dominant 17:19.7, nearly 45 seconds faster than rival Taryn Parks (Greencastle-Antrim) despite the slop on the Big Spring course.
That time also breaks her own District 3 girls record (17:25) set last season.
And she crossed looking like she could run another race that moment, smiling wide and enjoying the moment.
"I just felt more like how I did at the end of the summer, which was definitely a huge step up from last year," Starliper said. "That just really was refreshing."
And that moment kept getting better, as the Polar Bears' Top 5 followed one after another to crush the girls Class 2A field with 52 points for a successful district three-peat. The score was 102 points better than second-place Donegal.
Katie Anthony (7th), Allie Engle (8th), Meredith Engle (19th) and Madison Saltzburg (21st) all likely would've qualified individually with impressive times of their own. And Starliper was there 50 feet past the finish line hugging each of them as the points piled up.
"So many of our girls just ran so great individually. I was getting emotional," she said. "I was almost crying because I was getting so proud of them. It was just an exciting moment."
Starliper said she "got in a groove" early, sprinting out ahead of Parks in the first half mile and never looking back. By the time she got into the woods, Starliper said, "I almost smiled a little bit because it's just fun."
"This was the most fun race I've ever been in," she said. "I'm just so thankful to God for all of it."
She now sets her sights on her second consecutive PIAA title at Hershey. She ran a 17:50 last season on the Parkview Course, winning by nearly a minute.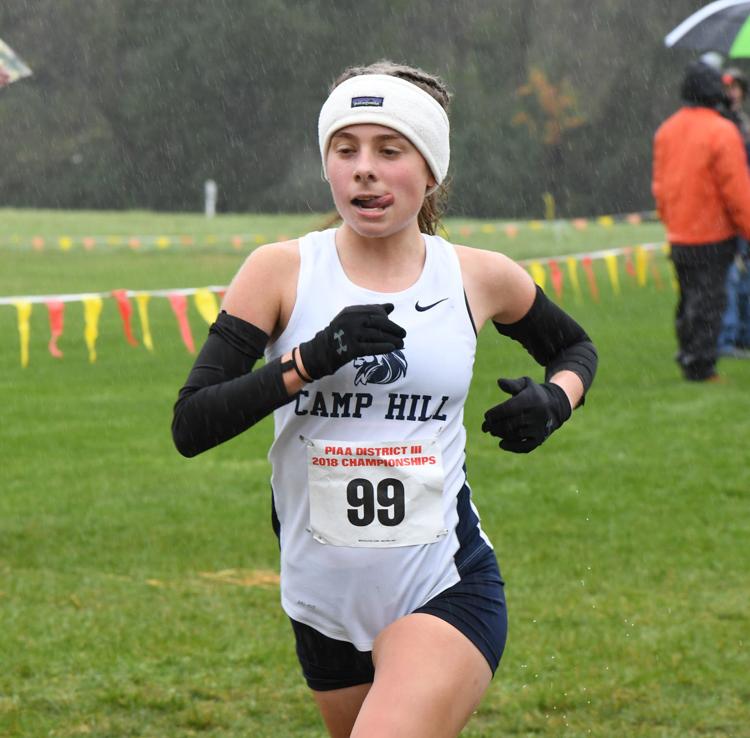 Lions defend throne
It was depth that led Camp Hill's girls to a repeat Class 1A team title.
Kutztown had the better score through the first three 15 runners, 17-20 over the Lions. But Janelyn Vorkapich (18th, 22:25.6) and Julia Aungst (19th, 22:25.8) finished with nearly identical times to push the Lions ahead, successfully defending last year's surprise championship.
Laura Sakol finished second (20:24.8) to pace the Lions' 57-point day, 15 better than Annville-Cleona and 25 better than Kutztown for the district's lone PIAA qualifying spot.
"This year we were like, 'Wow, we know how it feels to be on top,'" Sakol said. "We were like, 'Well let's just go after it. There's nothing holding us back [from a repeat].'"
"We knew there would be another team trying to come after us. … We didn't let that bother us, we just kept pushing. We felt like at the end, If you have it, just go after [it]."
Other local qualifiers
Sentinel-area runners that will compete Nov. 3 in Hershey individually — Big Spring boys also qualified — include:
Boys Class 3A: Cumberland Valley's Luke Klingenberg (7th, 16:49.8), Red Land's Aiden Gonder (19th, 17:13.9).
Girls 3A: Cedar Cliff's Corinne Firestone (18th, 20:03.0), Cumberland Valley's Kate Vonah (21st, 20:11.4), Mechanicsburg's Susanna Gaither (23rd, 20:13.6).
Boys 2A: Boiling Springs' Gabe Tomblin (17th, 17:37.2).
Girls 2A: Big Spring's Gabrielle Reifsnyder (11th, 20:27.7) and Fawn Bennett (25th, 21:11.8).
Boys 1A: West Shore Kristian's Alex Rosenberry (2nd, 17:18.2); Trinity's S
am Predmore (6th, 17:48.5), who outkicked teammate Will Bucher in the home stretch by .1 second
s for the final qualifying spot.
NEWVILLE — Rob Jumper knew prior to the season his Big Spring boys cross country team had the ability to qualify for the PIAA championships.