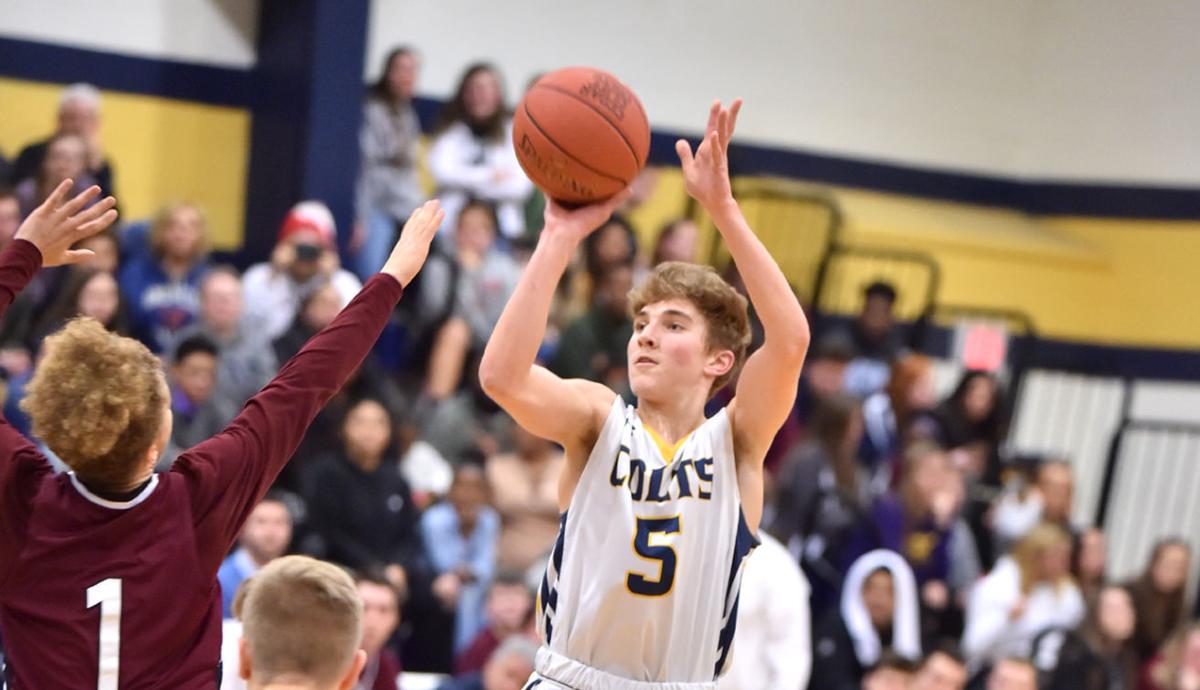 Cedar Cliff guard Joey Zvorsky was nominated Tuesday morning for the McDonald's All-American boys basketball game.
But if he is selected as a finalist for the team, it's unlikely he'd even be able to play.
The Cedar Cliff senior got results Monday from an MRI on his knee and has been diagnosed with osteochondritis dissecans, Colts head coach Tigh Savercool said Tuesday. Zvorsky is likely going to need surgery, presumably ending his high school career prematurely.
The team's worst fear was a ligament tear when Zvorsky suffered an injury Jan. 3 against Susquehanna Township — he finished the game, totaling 17 points — and missed the next two games. He got an MRI Friday, Savercool said.
According to the Mayo Clinic, osteochondritis dissecans, is a joint condition where a lack of blood flow can cause the bone or cartilage under the joint to die. It's most common in children and teens, and occurs most often in the knee. Savercool said that in Zvorsky's case, a portion of his femur broke off and is floating in his knee.
Zvorsky will see a specialist soon and is expected to have surgery. Because the condition isn't common, Savercool isn't sure what Zvorsky's recovery time will be.
You have free articles remaining.
"[Because it's rare, you] don't really know the timeline or the extent," Savercool said. "We certainly want to be optimistic."
Savercool said recently that Zvorsky has been receiving regional NCAA Division III interest.
It's a heartbreaking loss for the team and Savercool, who has been high on Zvorsky since the coach first took over the program four years ago, the guard's freshman year. Savercool called Zvorsky the definition of what he wants in a representative for Cedar Cliff.
"He's a coach's dream, he does everything that we've asked. He's defined the culture of the program over the last four years," Savercool said. "We've got a really sustainable foundation now ... because of what he helped to build."
Zvorsky texted his coach Monday after the diagnosis and said he would still try to help the team any way he can, which Savercool said is in line with Zvorsky's personality. He'll now effectively be "Coach Zvorsky," Savercool said.
But even if the Colts can still benefit from his tutelage, Zvorsky's on-court presence will be sorely missed. He averaged 15.3 points with 15 3-pointers and an 81.2% mark from the foul line to start the season. Savercool said it will take three players to make up for Zvorsky's production on offense and defense.
"He's our best offensive player, he's our best defensive player, he's our best character player," Savercool said.
"We're figuring out our identity. ... Anyone who loses a guy like this, there's going to be an identity shift."
The Colts lost to Bishop McDevitt and Mechanicsburg since Zvorsky's injury and host Palmyra Tuesday night at 7.
Zvorsky wasn't the only Mid-Penn player named a McDonald's All-American Game nominee. On the boys side, Harrisburg's Davon Lee was also nominated. State College's Maya Bokunewicz and Middletown's Katie Fitzpatrick were named girls nominees.