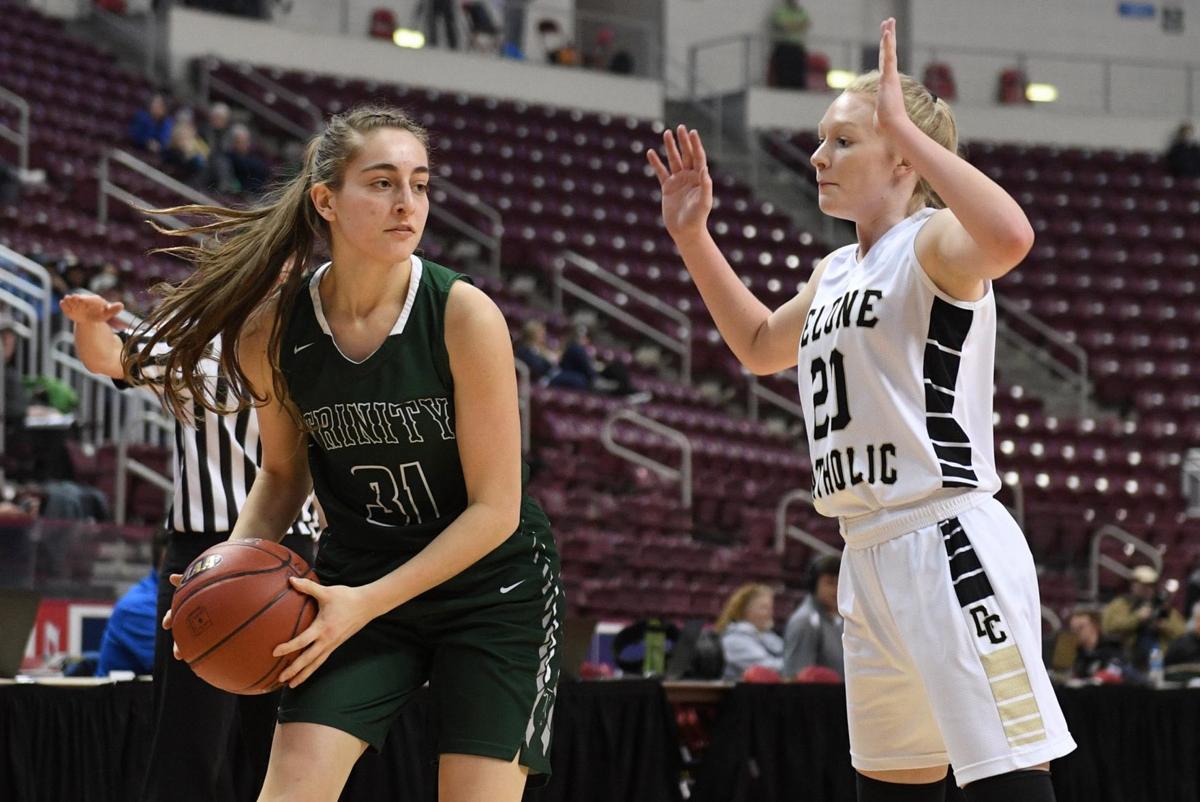 READING — Sometimes all you can do is survive and advance.
As cliché as it is, that's exactly what Trinity girls basketball did Tuesday night at Reading High School, surviving Notre Dame-Green Pond 36-33 to advance out of the PIAA Class 3A second round.
The Shamrocks were not at their offensive best in the Geigle Complex, thanks in part to a well-coached defensive scheme by the Crusaders, but also some less-than-crisp passing. But on the defensive end, the District 3 champs got enough stops against talented center Cassie Murphy and her teammates to hold on.
Trinity (26-2) gets District 12 runner-up Imhotep Charter (19-9) in Friday's quarterfinals at a site and time to be determined. Imhotep beat Loyalsock 49-38.
Murphy, who hit a last-second layup before halftime to record her 1,000th career point, finished with 16 points and four rebounds, but she sat a large chunk of the second half in foul trouble before eventually sitting in the final minute when she fouled out.
She was on the bench for the all-important final play. With 18 seconds left, the Crusaders had a sideline inbounds down three.
Trinity held two fouls and planned to use at least one of them, but was not able to.
A Mary Kate Altmire 3-ball attempt at the top of the key missed, but Notre Dame got the rebound. The ball got back to Altmire, who double-dribbled at the wing to give Trinity the ball and the game.
Notre Dame misses a 3, then gets called for a double dribble.

FINAL SCORE: @RocksGBB survive to win 36-33 and advance to Friday's PIAA Class 3A quarterfinal against Imhotep Charter.

Recap on @Clink_Sports coming up later. pic.twitter.com/lUGF7ZWvSi

— Jake Adams (@jakeadams520) March 12, 2019
"We wanted to let a second or two tick off and foul them," Shamrocks head coach Kristi Britten said. "Make them reset, make them get the ball in again, and we had two opportunities to do that.
"[Sunshine] McCrae, I heard her talking to the girls as they were walking out to the floor, 'We don't want to foul them on a 3-point play.'"
The defensive stand capped a rather strong effort on that side of the ball.
The 'Rocks held Murphy relatively in check, although she did damage with 10 points in the first half. And talented freshman guard Antonia Bates played beyond her years with four points, four rebounds, two assists and a steal. But she also sat a while in the second half in foul trouble.
NDGP shot just 11-of-37 from the field and 8-of-15 from the foul line. In the second half, the Crusaders were just 4-of-22 from the field.
Trinity fronted Murphy all game, forcing NDGP into dangerous lob passes over Trinity's defense to her.
"So I think we focused on that, and that messed up their guards a little bit," said McCrae, who battled inside with Murphy much of the night. "They were overthrowing passes to her, so that was a plus for us, obviously."
"She's a tremendous player," Britten said. "She's strong, and she's got the moves."
But Trinity's offense also struggled to find a rhythm. They managed to shoot 15-of-41 from the field, but went to the line only two times and struggled at stretches to get anything going.
It was not the kind of effort the usually balanced Shamrocks were accustomed to.
"I just think our biggest problem tonight was we didn't hit on the offensive boards, and that's something that we need to work on," Shamrocks guard Ava Stevenson said.
"Offensively, I think that we didn't execute how we wanted to execute," Britten said. "I think they definitely put up a good defensive effort and changed our rhythm a little bit."
But it was enough. McCrae finished with 11 points, including the eventual game-winning three-point play in the final 30 seconds. That came after a three-minute stretch where Altmire buried consecutive 3s to close a 33-27 Trinity advantage, the largest lead of the night for either team, to zero.
The North Carolina-Wilmington-bound forward also added eight rebounds.
Stevenson and Braylee Fetterolf each finished with eight points with a pair of treys. Stevenson added two assists and Fetterolf three boards. Kassidy Ingram had a quiet seven points, but contributed three boards and three assists.