3-1 Cumberland Valley vs. 1-3 Abington
Class 6A Second Round: Tuesday, at Garden Spot HS, 6 p.m.
Next round: Friday, vs. winner of 7-2 North Allegheny/1-5 Upper Dublin
Scouting report: The Ghosts are packed with seniors. The linchpin is Kassondra Brown, a Rhode Island commit and 2018 all-state center averaging a double-double this season. At 6-foot-2, she has 2 inches or more on any Eagles front court player who will try to defend her. Led by junior Hannah Sauve, CV has done an admirable job against bigs this year, but not many are as talented as Brown. Whatever defensive scheme coach Bill Wolf cooks up will be pivotal. Guard Cam Lexow is going to Virginia on a soccer scholarship. She had 16 points and four steals in first round.
Factual: In their last meeting, CV beat Abington in the 2015 state tournament, winning their second of three straight state titles that year. ... Abington is averaging more than 62 points a game, but CV allows just 36.5. In the three games CV has allowed a team to score 50 points or more (twice it was 50), it is 1-2, with losses to Altoona and Mount Lebanon.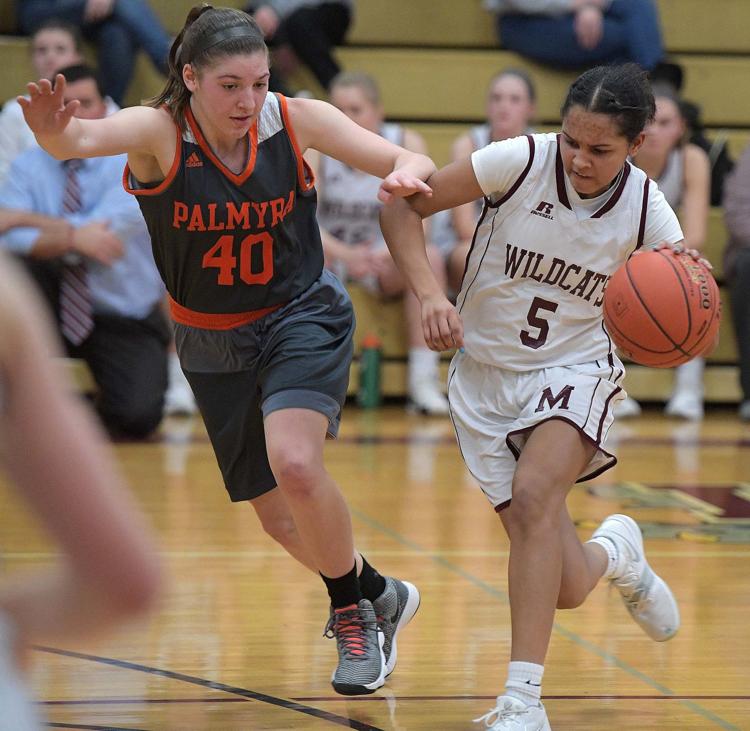 3-6 Mechanicsburg vs. 12-3 Archbishop Wood
Class 5A Second Round: Wednesday, at Garden Spot HS, 8 p.m.
Next round: Saturday, vs. winner 3-2 Gettysburg/12-1 Archbishop Carooll
Scouting report: The Vikings are rather young this year, starting a sophomore (Kaitlyn Orihel: 18 points, six rebounds) with offers from Villanova, Drexel and others; a senior (Annie Whalen: 9 points, 4.1 rebounds) committed to Kutztown; a freshman Ryanne Allen (7 points) and a junior (Lindsay Tretter: 6 points). There's a lot of high-end AAU talent on this roster, perhaps the most talented team the Wildcats have faced this season. Even with a scorer like Orihel, this is a defense-first team.
Factual: Wood has been to five straight PIAA championship games, winning in 2016 and 2017. This is its ninth state tournament appearance in 10 years. The Vikings are favorites to return to Giant Center once again.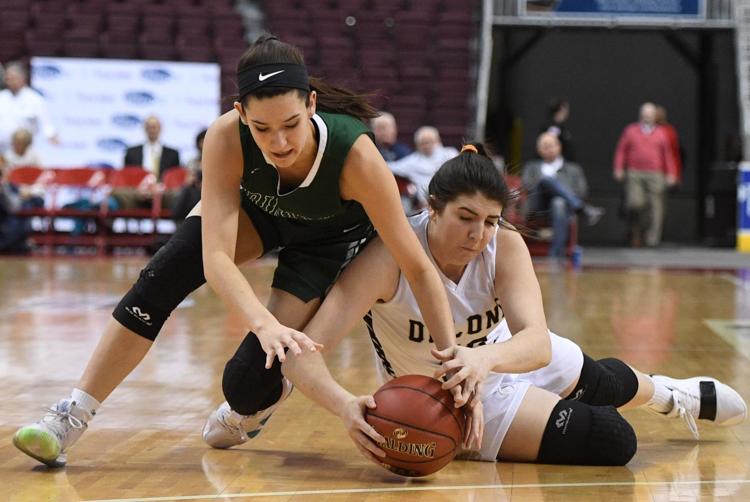 3-1 Trinity vs. 11-1 Notre Dame-Green Pond
Class 3A Second Round: Tuesday, at Reading HS, 6:30 p.m.
Next round: Friday, vs. winner of 12-2 Imhotep/4-1 Loyalsock Township
Scouting report: The offense runs through Cassie Murphy, who is averaging 17.6 points and nearing 950 for her career as a junior. How Shamrocks starting forwards Sunshine McCrae and Kassidy Ingram, plus reserve center Lauren Trumpy, combat Murphy is perhaps the game's most important chess match. Murphy is averaging nearly seven free throw attempts per game. Antonia Bates is second on the team with 9.2 points and Mary Kate Altmire averages 6.2. The Crusaders are not a team that does a ton of damage from 3-point land.
Factual: According to The Morning Call, NDGP has won two state playoff games in the same year just once in the past 25 years. At 24-3, this is the Crusaders' most wins in a season since 1999-2000, when they went 25-4.